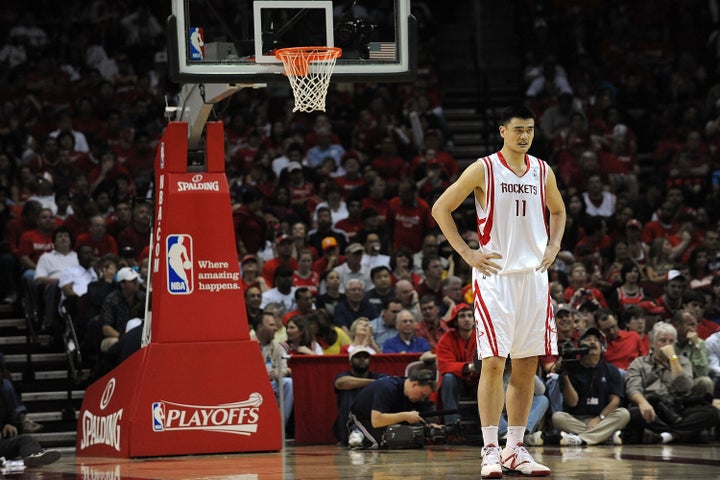 When the Naismith Memorial Basketball Hall of Fame Class of 2016 was announced on Monday morning, universal applause and acclaim cascaded upon Allen Iverson and Shaquille O'Neal, two of the three men's basketball inductees this year. Those two were, after all, the preeminent players and personalities (Kobe Bryant, too) before LeBron James' ascendancy. The third inductee, Yao Ming, an eight-time All-Star and three-time All-NBA Team player during his injury-plagued NBA career from 2002-2011, has had question marks spilled upon his Hall of Fame ballot by basketball fans and media members:
Yes, Yao was often injured during his career. After playing in 244 of his first 246 NBA games, the Houston Rockets' 2002 No. 1 pick would play no more than 77 games in a season throughout the rest of his career. His on-court legacy and ability to propel the Rockets to any meaningful playoff success was cut-down by leg injury after foot injury after knee injury. Such is life as a 7-foot-6 individual carrying over 300 pounds of playing weight.
But throwing cold water over his remarkable career because of what-could-have-been injury-related demarcations ignores not only how great he was on the court, but also his role in connecting the NBA's outstretched hand with untapped China's basketball market, and more basically, how the Naismith Memorial Hall of Fame works.
Yao and Shaq meet head-to-head for the first time on January 17, 2003.
Let's not forget the force of a player he was either. From 2003 to 2007, Yao was arguably the best center in basketball, trading elbows with O'Neal and Tim Duncan for that claim. He twice led all centers in Player Efficiency Rating (PER), and was top five amongst all centers in PER from 2003 to 2009. He retired with the ninth highest career PER in the history of NBA centers, per Basketball-Reference. Yao was a defensive-anchoring, shot-blocking, rebound-grabbing, post-pulverizing monster at the center position, and was a nimble and skillful player for his immense size. He was everything an all-time great NBA center should be, and then some.
His importance as an international ambassador to the game cannot be understated, and reducing his career to injuries and a few healthy seasons is downright narrow-minded. Yao became the first international player picked first overall without playing college basketball in the U.S. Such was the hype around the then 21-year-old giant.
By virtue of his nationality, he became the NBA's bridge into China, a sports-mad country that other major North American sports leagues had yet to stake a legitimate claim in. Yao's stardom and success in the NBA unlocked a country of over a billion people boasting 300 million basketball playing citizens, according to the Chinese Basketball Association (CBA), which the NBA had been trying to crack since opening its first offices in Hong Kong in 1990. When NBA China, the league's Chinese subsidiary, received a $253 million investment from Disney and a few Chinese investment firms in 2008, it was valued at $2.3 billion. Out of Yao's stardom and the league's own diligence in China, the NBA was able to squeeze out a billion-dollar company.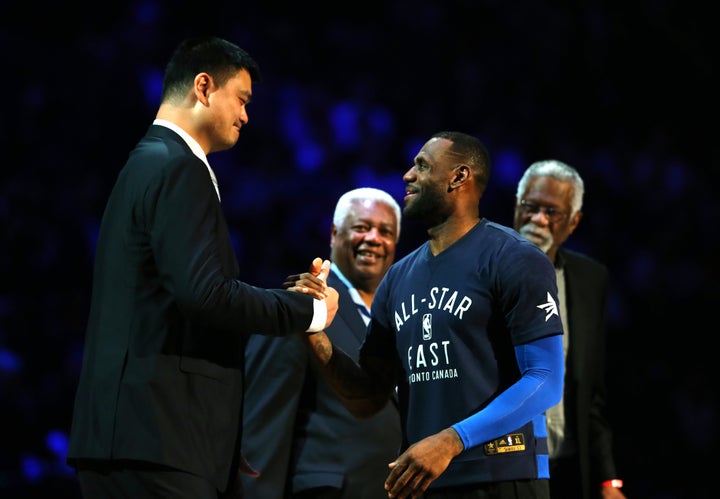 Because of Yao, a billion-person country associates its favorite sport directly with the NBA. He's even gotten credit from many NBA players for, by proxy, landing them endorsement deals in China, which, for some, later helped extend their pro basketball careers in the CBA.
But between business and basketball, Yao's humility and self-awareness is what really steel-coated the NBA's newfound ties to China. During his first game in Miami in 2002, the Heat handed out 8,000 fortune cookies as a promotion, playing off of a Chinese stereotype that's not even Chinese — the fortune cookie was invented in the United States. Yao didn't get angry and accuse his new league of racism — he simply waved it off, because he didn't understand American stereotypes of Chinese people and had never seen a fortune cookie before. Before Yao met O'Neal, the latter was quoted as saying, "Tell Yao Ming, Ching chong-yang-wah-ah-soh," a horrible assortment of mock Chinese, which many took as blatant racism. O'Neal claimed it was a bad joke and apologized, and a statesman-like Yao accepted his apology.
"I believe Shaquille O'Neal was joking with what he said, but I think a lot of Asian people don't understand this kind of joke," Yao said at the time.
"I think there are a lot of difficulties in two different cultures understanding each other, especially countries of very large populations, China and the United States. The world is getting smaller and has a greater understanding of cultures."
He refused to engage in culture wars, instead offering an olive branch to the ignorant, knowing how important the NBA would become to China and vice versa.
No one else, besides Michael Jordan, can claim to have had such a wave of influence over the NBA and basketball, both here and abroad. That's what a wanna-be Hall of Famer aspires for — greatness and legacy — and Yao achieved just that, and more.