 Today is the 84th birthday of avant-garde artist and high priestess of the polka dot, Yayoi Kusama.
The Japanese artist began her career in the late 1940s in Kyoto, but was quickly inspired by the unconventional style of abstract expressionists in the United States. Kusama moved to New York in 1957, showing her works besides the likes of Andy Warhol and Claes Oldenburg. Her earliest claim to fame came in the form of her Body Festivals where she adorned nude forms with her signature symbol: the polka dot. In this 1967 photo released by Yayoi Kusama Studio Inc., Japanese artist Yayoi Kusama poses with a horse in a happening titled "Horse Play" in Woodstock, New York. Kusama's signature splash of dots has now arrived in the realm of fashion in a new collection from French luxury brand Louis Vuitton - bags, sunglasses, shoes and coats. The latest Kusama collection is showcased at its boutiques around the world, including New York, Paris, Tokyo and Singapore, sometimes with replica dolls of Kusama. (AP Photo/Yayoi Kusama Studio Inc.)
Despite her popularity in the American pop art movement, Kusama opted to return to Japan in the 1970s, only to be greeted with a conservative cultural scene. After trying her hand at art dealing in her native country -- and failing -- she voluntarily checked herself into the Seiwa Hospital for the mentally ill; her homebase for the next 40 years. From this unexpected location, she continued to make art of all media, even dabbling in poetry, film and fashion. Kusama has been quoted on several occasions as stating: "If it were not for art, I would have killed myself a long time ago."
She remained faithful to her iconic spots throughout her career, featuring dizzying arrays of black and multi-colored dots that first appeared in childhood drawings when she was 10 years old. In particular, her "Infinity Nets" reference the intense hallucinatory relationship Kusama has with her speckles, an obsession that later encompassed mirrors in her famed "Mirror/Infinity" rooms. Her works have been shown across the world, from the Whitney to Tokyo's Mori Art Museum to the Museum of Contemporary Art in Sydney, taking over the space with her captivating polka-dotted masterpieces.
In honor of Yayoi Kusama's birthday, we've put together a slideshow of 10 of the best artistic moments of the pioneering female artist. Scroll through the slides below and let us know which piece is your favorite in the comments.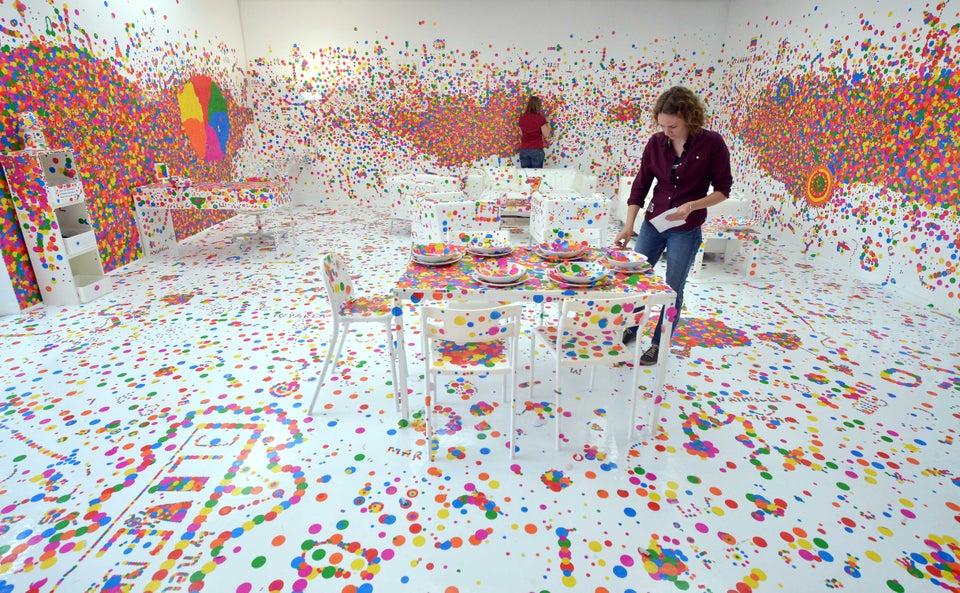 10 Of The Best Yayoi Kusama Moments
Related
Popular in the Community