A 14-room Yayoi Kusama retrospective is making its way to New York. The exhibition invites viewers into the polka-dotted mind of an artist who has spent a life exploring and exploding the damned dot.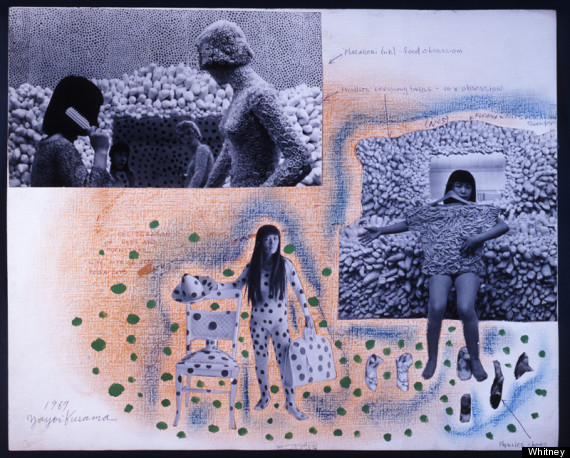 Kusama was born to a traditional Japanese family who was disgraced by her artistic ambitions. Her philandering father was constantly bringing home mistresses, to which her verbally abusive mother turned a blind eye. At the age of 12 Kusama began experiencing hallucinations, seeing polka dots everywhere. Describing them not as a playful diversion but a contagious affliction, Kusama's world was plagued by an obsessive imagination, and she found making art to be her only escape from her omnipresent visions. Throughout her life Kusama expresses the desire to create as the only thing which made her keep on living.
Although the backstory behind her works are often stem from dark childhood wounds, the works themselves are playful as can be, Surrealist wonderlands that would make The Mad Hatter sit down to sober up. Kusama moved to New York in the late 50s after receiving a supportive letter from Georgia O'Keeffe. She soon became immersed with the who's-who of the art world, becoming buddies with Donald Judd, frienemies with Andy Warhol and lovers with Joseph Cornell.
Harnessing the psychedelia of the 60s while retaining her aesthetic, she organized free-love "happenings" in which masses of people got naked and engaged in a polka-dot painting orgy type performance. Kusama was the queen of the events, although she herself did not participate. Since childhood she was terrified of sex and genitalia. In her youth she grappled with her anxieties by drawing dog-chewed vaginas... as a woman she created soft phallus puppets in heaping quantities. Her soft-sculpture penises grow like odd, overripe fruits from couches, chairs and boats, again depicting Kusama's need to combat fear with art. Although the soft phalluses are undoubtedly strange, they are neither quite frightening or erotic. Instead they capture Kusama's addicting way of seeing, childlike yet obsessed to the point of psychosis.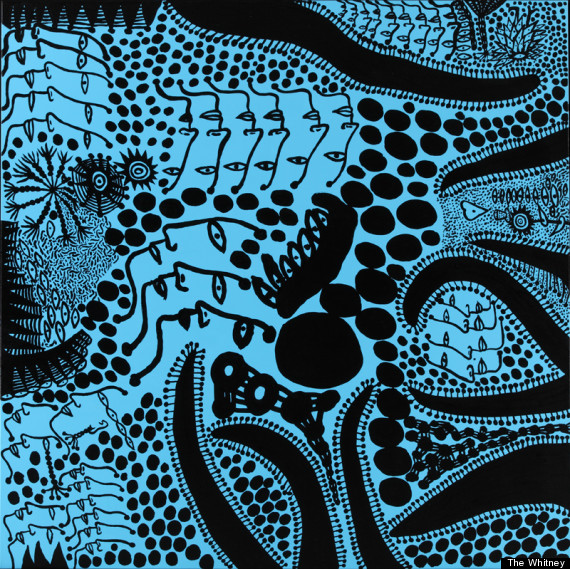 The artist has remained devoted to the decor since she was 12, and continues to create them from a wheelchair in a psychiatric hospital in Tokyo. She told the Guardian: "I'm the one who does it all and this is why I'm in a wheelchair. I have been doing this hard labour all of my life and it has hurt my joints. That's the right approach -- to suffer for your art." (We take this as a dig at Damien Hirst, who has assistants make his polka dot pieces.)
For an artist who seeks self-obliteration in her work, Kusama has been known to be a bit of a narcissist. Her autobiography contains snippets of good reviews and compliments showered upon her throughout the ages, although her artwork attempts to dislodge the ego and place each person as a speck in an infinite universe. Yet when Kusama brags she does it simply and matter-of-factly, lacking the faux-humbleness that often accompanies an inflated ego. Her self-narration feels like a child telling you their secrets and accomplishments; she is as open about her pain and weakness as she is about her plentiful triumphs, and this is evident in both her art and in her recent autobiography, titled, "Infinity Net".
In the slideshow below you can see Kusama's photocollages which range from self-portrait to self-obliteration, which don't turn out to look all that different. You can see the influence of her relationship with Joseph Cornell in her treasuring of small and natural gems. Her more recent works are loudly colored paintings depicting polka-dotted hallucinations filled with eyeballs and alien plant forms. Even at 83, the artist is as fierce and prolific as ever. She still rocks polka-dotted fashion like it is nobody's business and is currently collaborating on a collection with Louis Vuitton.
Yet the real magic of the retrospective, we hear, are Kusama's immersive environments. Entering her polka-dotted world one can finally feel what the artist describes throughout her interviews and autobiographies, the feeling of losing your bearings and losing yourself in the process. While Kusama's innocent and enigmatic mind will forever be a mystery, this exhibition and autobiography gives her fans a chance to connect the dots.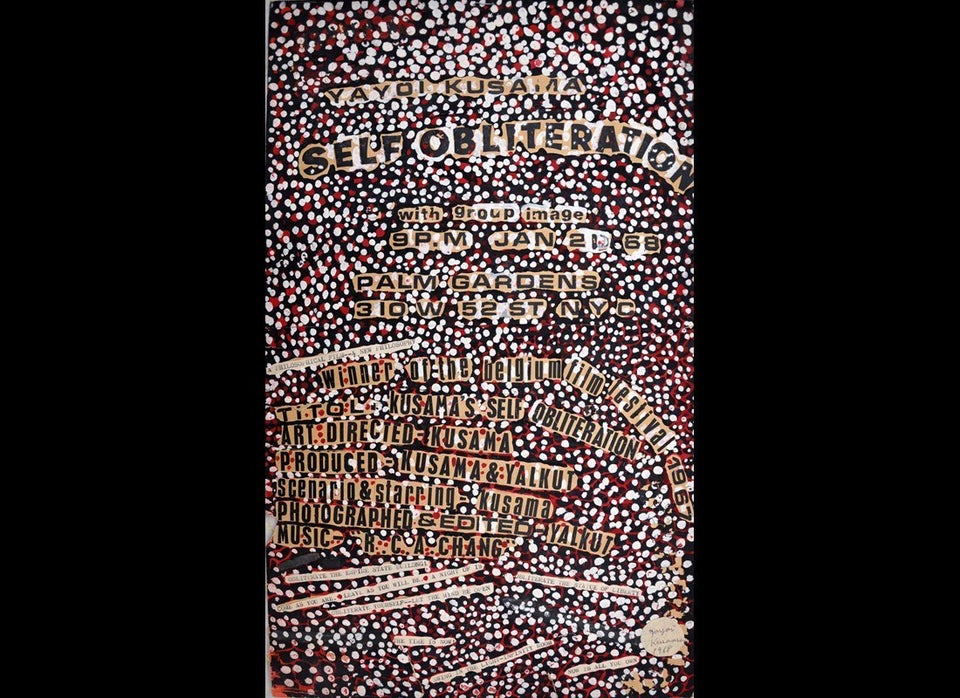 Yayoi Kusama
Related
Popular in the Community