Is it possible to truly let go of your individualized sense of self and coalesce with the universe? Yayoi Kusama is certain it is.
For the past 70 years, the masterful artist has worked to construct three-dimensional worlds ― technically finite yet aesthetically fathomless ― that invite others to join her in shedding the ego and bathing in the infinite everything.
A traveling exhibition spanning Kusama's staggering career is headed to Washington, D.C.'s Hirshhorn Museum this month, bringing six of Kusama's "Infinity Rooms" with it. The show "Yayoi Kusama: Infinity Mirrors," celebrates the genius and vision of a woman who has struggled with mental illness for much of her life, transforming her nightmarish memories and persistent maladies into art.
At 10 years old, while living in Japan, Kusama began experiencing hallucinations ― "flashes of light, auras or dense fields of dots" ― which filled her with anxiety and dread. She confronted her obsessive delusions by giving them concrete form, ushering them from fantasy into reality by painting the abstract images everywhere she could.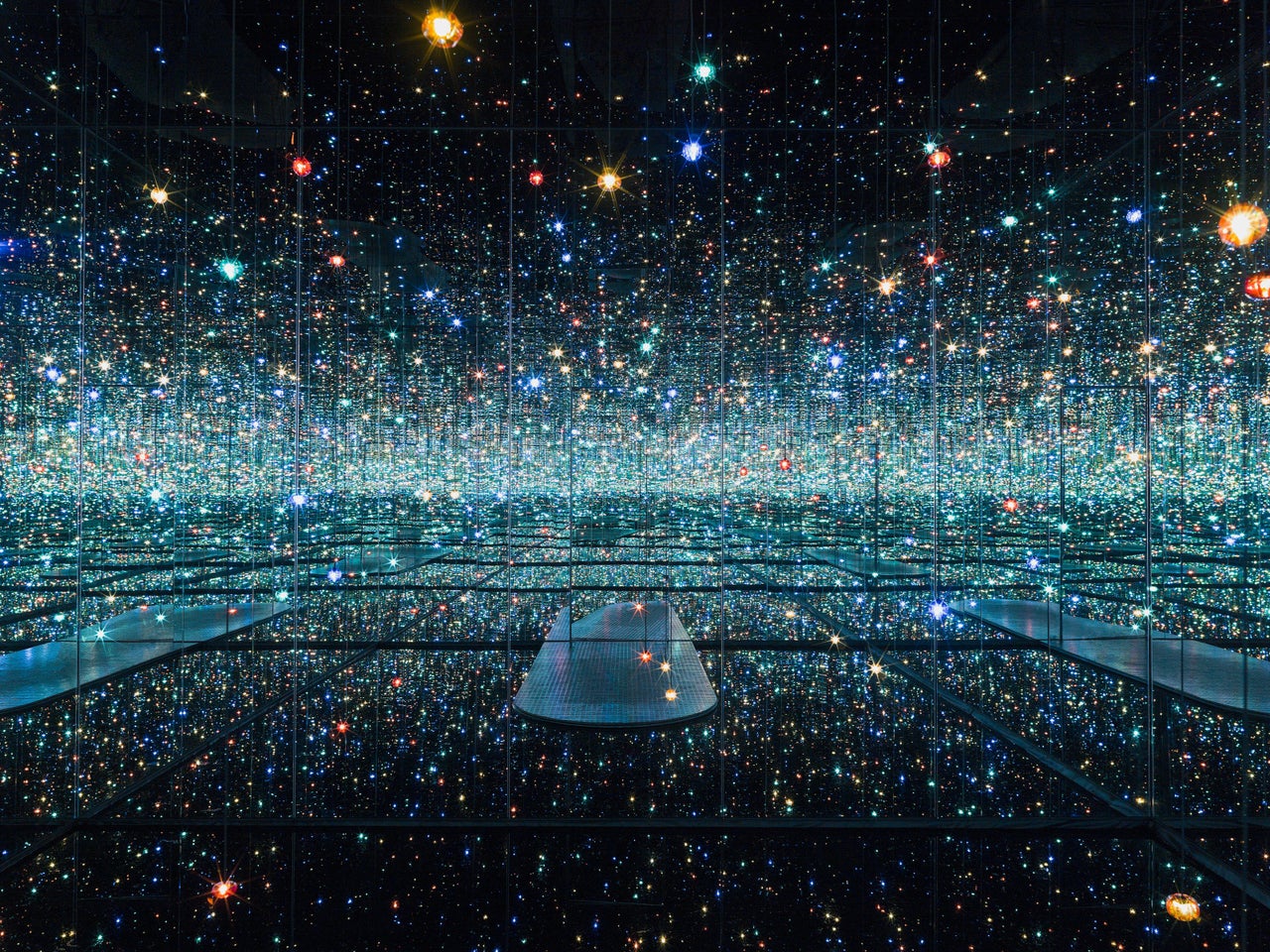 "I would cover a canvas with nets," Kusama writes in her autobiography Infinity Net, "then continue painting them on the table, on the floor and finally on my own body. As I repeated this process over and over again, the nets began to expand to infinity. I forgot about myself as they enveloped me, clinging to my arms and legs and clothes and filling the entire room."
The artist was brought up in Matsumoto by a purportedly absent, womanizing father and a violence-prone mother. "There were some very dark, unhappy moments in my childhood, which art helped me heal considerably," she explained in an interview with The Wall Street Journal. "Through art, I was also able to enter into normal society, but up until then I was haunted by suicidal impulses."
In 1958, Kusama moved to New York, eager to escape an environment she saw as "too small, too servile, too feudalistic and too scornful of women." She became enmeshed in the art scene, forging close relationships with Donald Judd and Joseph Cornell. For decades, however, Kusama failed to get the same critical recognition as her male contemporaries, most often only being acknowledged for work that was blatantly sexual or extreme.
The pieces that were often pegged "erotic" by critics and scholars were, in reality, quite the opposite. Performances dubbed "Happenings" consisted of live interventions by Kusama and a team of collaborators. Sometimes they would be nude, painted in polka dots to best find harmony with the earth and moon and sun. Or, they'd don outfits coated in soft, drooping phalluses that resembled rotten potatoes.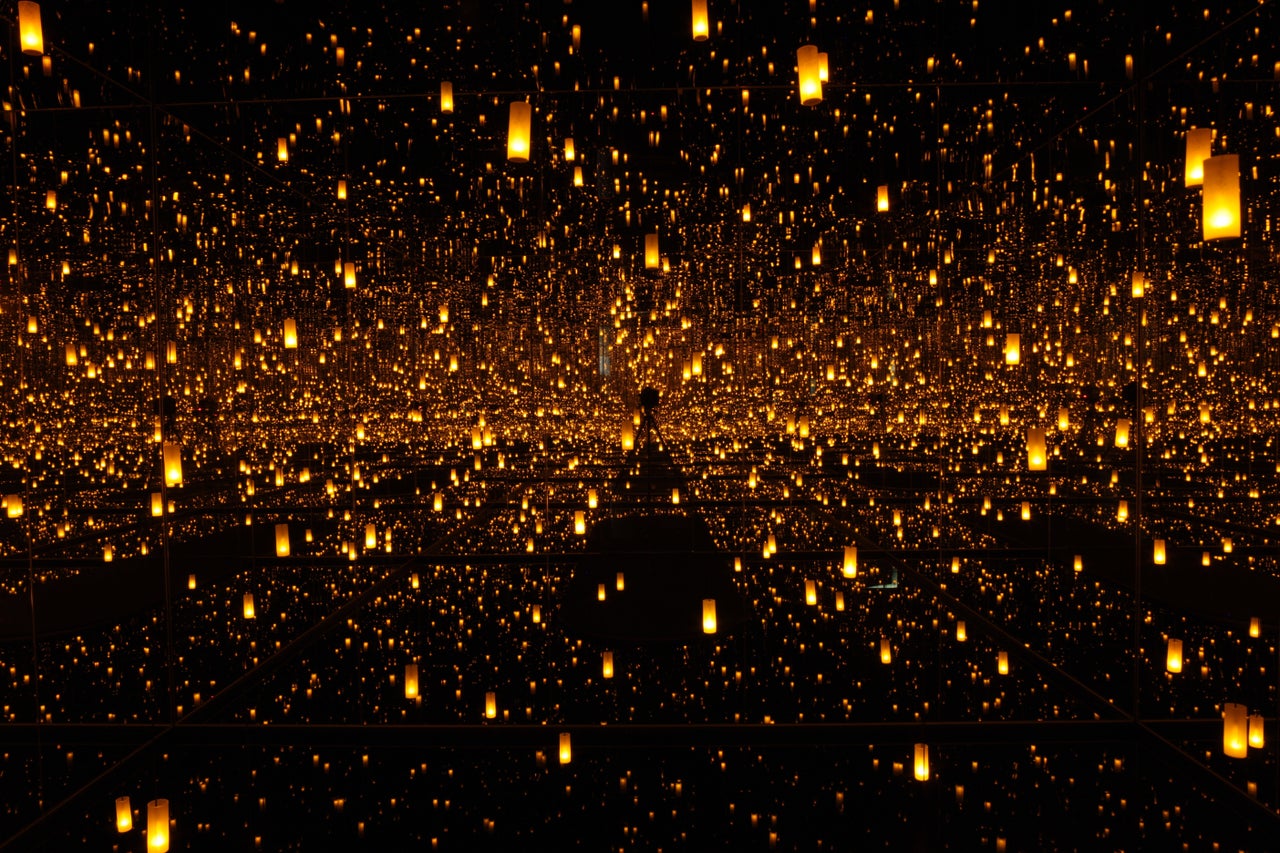 Both variations stemmed, like most of Kusama's work, from her obsessive fears and delusions, which often revolved around sex and men. Discussing a collaged photograph that similarly grapples with sexual phobias, Kusama said: "Polka dots symbolize disease. The couch bristled with phalluses. The macaroni-strewn floor symbolizes fear of sex and food, while the nets symbolize horror toward infinity of the universe. We can not live without the air."
Kusama returned to Tokyo in 1973 for health reasons, and has lived primarily in a psychiatric facility there since 1975. She continues to make art for eight hours a day, while also undergoing medical treatment. She is now, at 87 years old, regarded as one of the most famous living artists in world, and the most expensive living female artist on aggregate.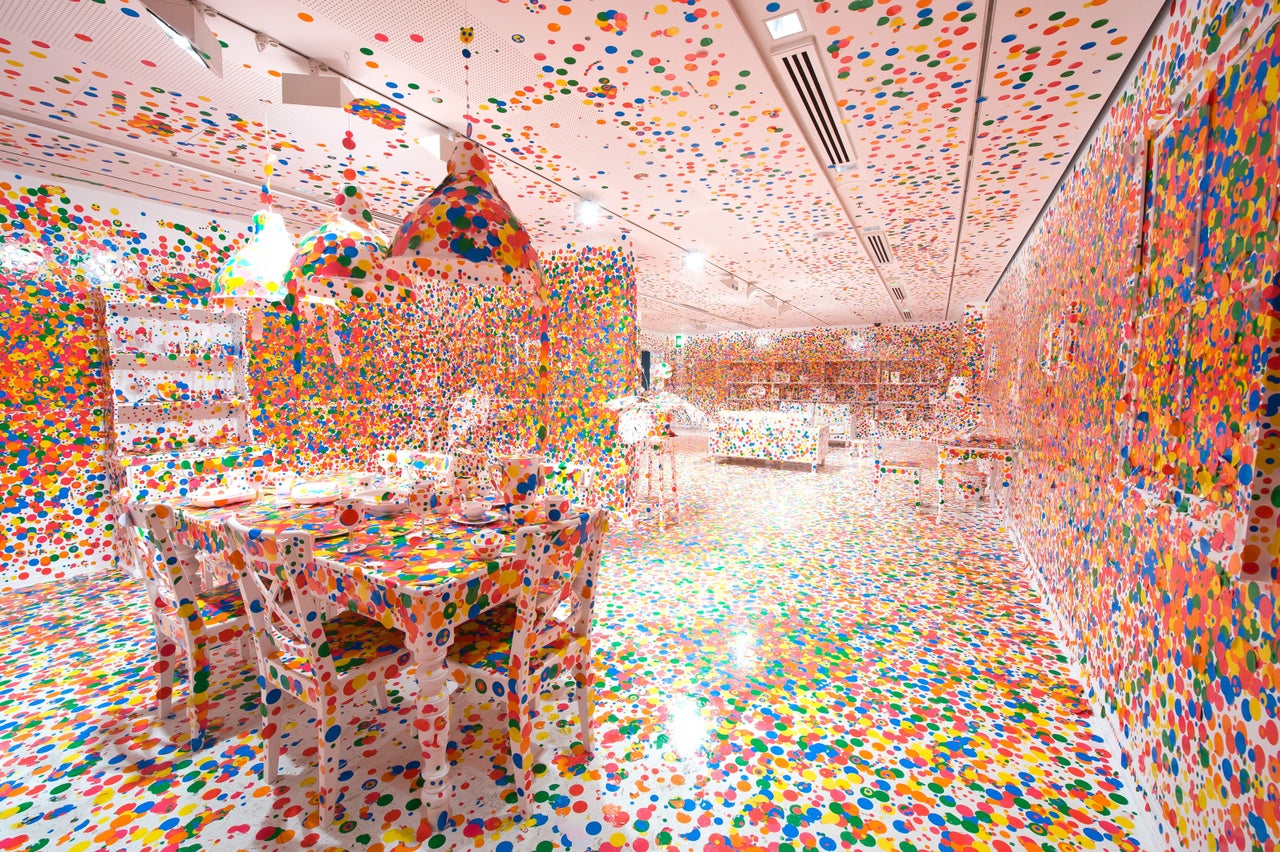 Her dizzying installations, which alternately feature polka dots and twinkly lights and pumpkins and soft phalluses, feature mirrored walls that collapse the boundaries of the enclosed space, beckoning the viewer into an echo chamber. There, she is both a person and an image, proliferated into infinite, mirrored projections that both affirm the self and erase it.
It's an experience not dissimilar to scrolling through the selfies stashed on your phone, examining the moments when you do not resemble yourself. It appeals to that contagious, contemporary desire to "go viral," while hinting at the mental instability, the literal virus, at the seed of the desire to be everywhere and nowhere at once.
You can experience this other world in the flesh ― and beyond it — this month.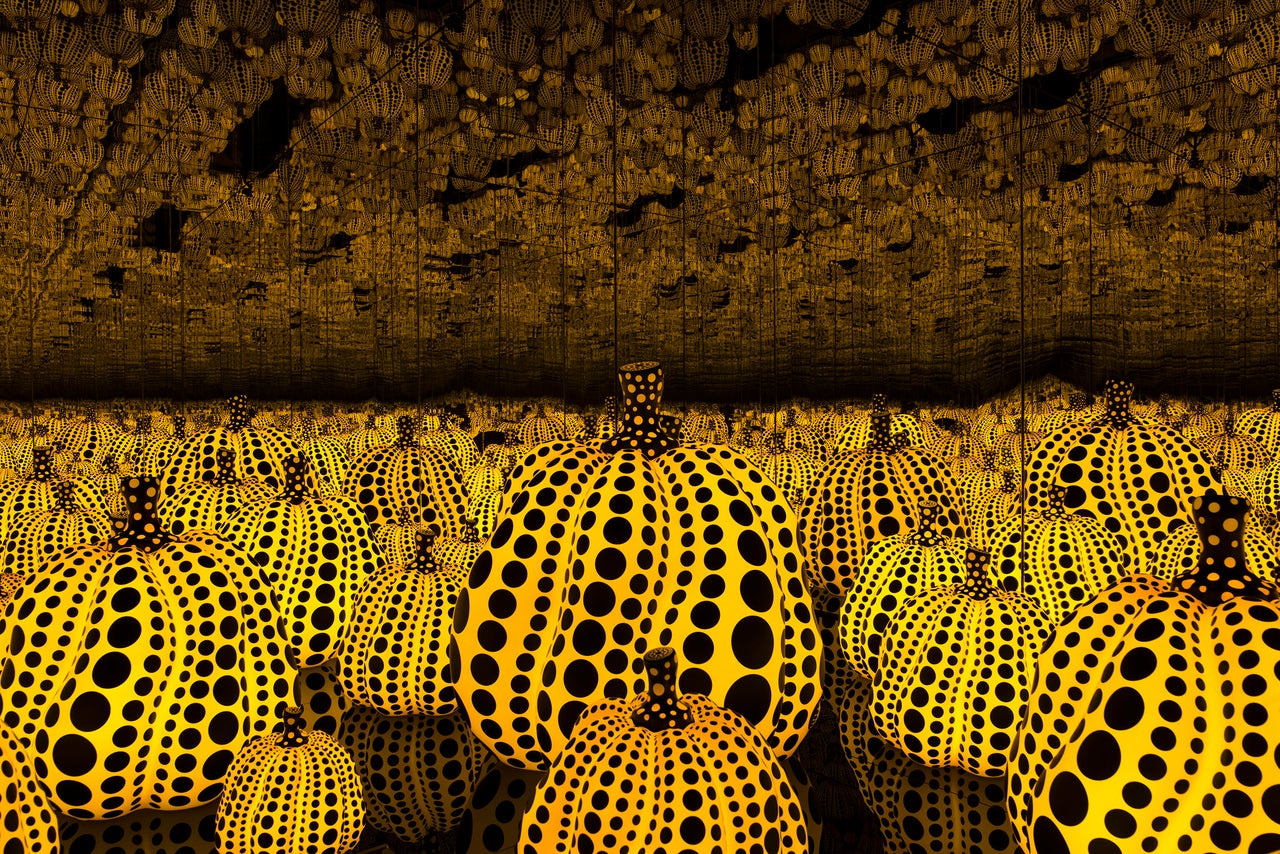 "Yayoi Kusama: Infinity Mirrors" will be on view at the Smithsonian's Hirshhorn Museum and Sculpture Garden from Feb. 23–May 14, 2017; the Seattle Art Museum from June 30–Sept. 10, 2017; The Broad in Los Angeles from October 2017–January 2018; the Art Gallery of Ontario from March–May 2018; and the Cleveland Museum of Art from July–October 2018.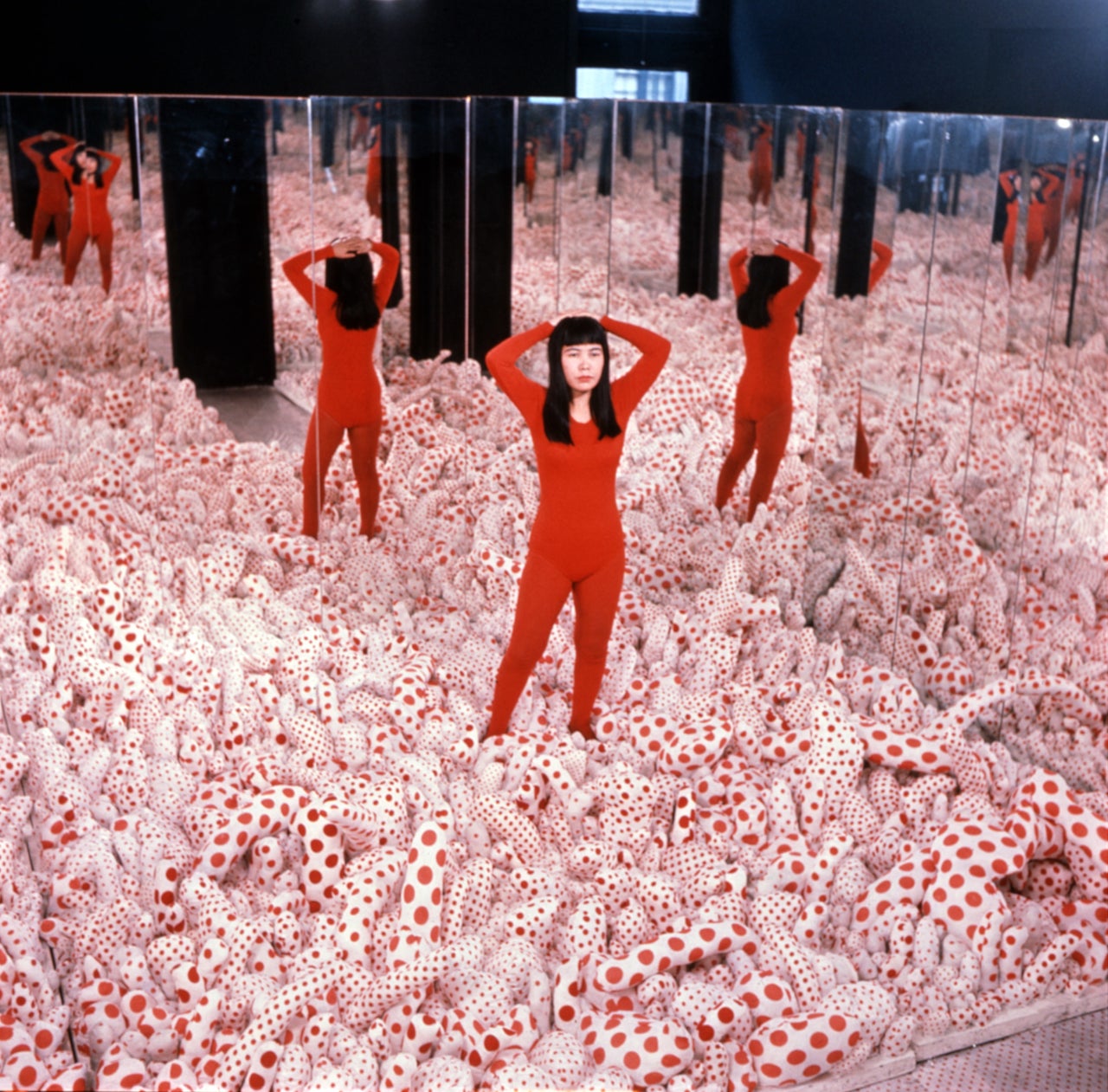 Support HuffPost
The Stakes Have Never Been Higher
Related
Popular in the Community