I consider myself fortunate to be able to call bisexual poet, actress and director Yazmin Monet Watkins a friend and was thrilled to find out that the Russell Simmons had included one of her spoken word poems on his YouTube channel. I sat down with Yazmin to discuss:
What is your poem that Russell Simmons is showcasing on his YouTube channel about and what was the inspiration behind it?
When She Smiles is a poem/short film about same-sex love with a queer woman of color's story at the center. My goal with this project was to redefine conventional notions of black love in a meaningful, relatable and powerful way. The poem itself was first introduced in my book of poems Love Without Limits: The Bi-Laws of Love. Aside from my own personal and political commitment to creating art that makes a difference, the story for the short film came to me after reading about a couple specific hate crimes in the US, including the attack on Justin Alesna, 23, in Detroit, Mich., and the death of Mollie Olgin, 19, in Portland, Texas. I was deeply moved by their stories and wanted to create a work of art that showed that, despite how far we may have come, hate crimes still occur on a frequent basis.
Although I was happy to share the poem in written form, as a spoken word poet, actress and director I wanted to give voice to the poetry both verbally and visually, on my own terms, in my own voice. It was important to me to share the beauty of queer love, but also the all too harsh reality of hate crimes in our community.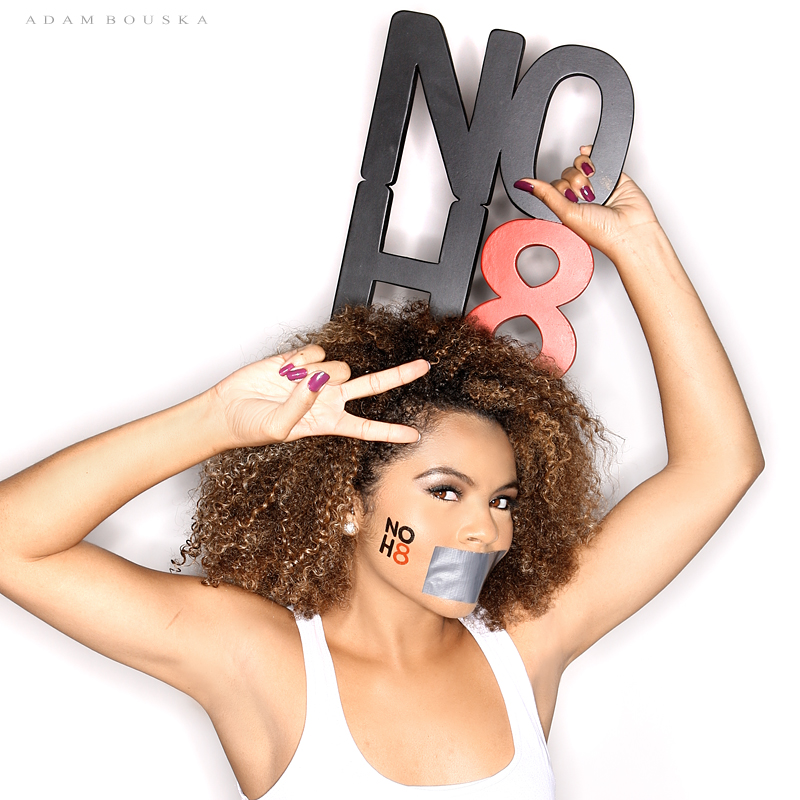 How did Simmons come to feature your work?
I firmly believe in the power of networking. I belong to a networking group in Los Angeles called Industry Minds and at one of the meetings I met some of the staff involved in the development at Simmons's new YouTube channel, All Def Digital. When She Smiles had screened and won awards at a couple local Los Angeles film festivals and I wanted to see where else I could take my content. As they were rolling out their new All Def Poetry page, they reached out to me to showcase my work.
How did you feel when you heard your poem was on Simmons's channel?
When I heard the news I was hype! I've been spending the month of August in France performing and on vacation with my current partner's family, and I just so happened to be in a wifi zone when I received the news. As most people would be, I'm sure, I was super excited to have the opportunity to share my work on such a large platform. I came up watching Def Poetry Jam and always wished that I could have performed on that show. Although it ended long before I spit my first poem, in some sense I feel as if things are coming full circle and that this was my moment to finally become a part of that poetry community.
Why is it important that Simmons is making a commitment to queer content?
The media is a powerful tool that has the ability to shape and form public opinion. When She Smiles is one of the first few poetry videos released on All Def Poetry and I am beyond pleased that the bar has been set with queer content. My goal as an artist is to create work that represents the lives and stories of African-American women, queer women of color, and our myriad experiences and identities. For Simmons to release a short film/poem regarding queer womyn of color/same-sex love/a story with W.O.C. at the center is groundbreaking. These kinds of stories are important in fostering understanding, acceptance and support for the queer community. In seeing our stories represented in the media, we are validated and find role models that look more like ourselves.
Can you tell readers a bit about your background as a poet and an actress?
I first discovered spoken word poetry in college as a vehicle to discuss and provoke critical dialogue about the issues that matter most to me and my community. I belonged to an activist poetry group on campus called the Silent Poets, started by a fellow Posse scholar from NYC. I actually ended up writing my senior thesis on spoken word poetry as a viable tool of communication, but also a means of social activism. After graduation, spoken word poetry transformed from a hobby on campus to a way of survival in the real world. I was working an administrative assistant job and did not have a way to express myself creatively except for spoken word. I started hitting up the Los Angeles open mic scene and those appearances gradually developed into features, various community activist events, conferences, and now colleges and universities around the country bring me out to perform on their campuses.
I currently work full-time as an internationally touring spoken word poet and actress. I made a commitment about two years ago to focus solely on my artistry. I've booked several short and feature films, webseries and a couple commercials thus far, and am looking forward to what the future holds for my career. In the meantime I am constantly honing my craft, training with my acting coach and taking on-going improv classes at Upright Citizens Brigade (UCB).
You wrote Love Without Limits: The Bi-Laws of Love. What was your impetus for writing this book of poetry and how has it been received thus far?
Love Without Limits: The Bi-Laws of Love was initially born from a need to share my story. Ranging from a variety of topics dealing with love, religion, sexuality, heartache and eventual self-love, my goal was to share a piece of my heart and my queer identity. Around the time I was beginning to bring my collection together, another Posse friend of mine started Red Journal Publications and approached me to see if I wanted to embark on this creative adventure with her. I was open to the idea of blending poems with photographs and soon after, my book of "poetography" as I like to call it was created.
In terms of reception, it's crazy how one person's singular experiences can be so universal. I have had several people reach out to tell me how much my poetry has touched their lives and that they can relate to the stories I've shared. I am incredibly grateful for the opportunity to share my gifts and hope to continue to inspire others.
I also heard you recently had a Twitter conversation with Spike Lee. How did that happen and what was the outcome?
As an artist, I believe its important to stay connected with other artists. I follow Spike Lee on Twitter and saw that he published a list of films all filmmakers should see. I was incredibly disappointed, however, to see that there was only one woman on the list (a co-director at that). I tweeted @SpikeLee my disillusionment and he responded (!) by asking me who I would put on my list. A few days later he sent out a message saying the following:
Over the course of the last few days since I released my NYU GRAD ESSENTIAL FILM LIST I have been rightly told that my list did not have at least One Woman Filmmaker. This serious omission has been corrected. These films will be added to my list: LINA WERTMULLER - THE SEDUCTION OF MIMI -1972, LINA WERTMULLER - LOVE AND ANARCHY - 1973, LINA WERTMULLER - SWEPT AWAY - 1974, LINA WERTMULLER - SEVEN BEAUTIES - 1975, EUZHAN PALCY - SUGAR CANE ALLEY - 1983, JULIE DASH - DAUGHTERS OF THE DUST - 1991, JANE CAMPION - THE PIANO - 1993, KATHRYN BIGELOW - THE HURT LOCKER - 2008.
It was pretty cool to see that not only did two of my film recommendations make his updated list (Julie Dash and Kathryn Bigelow), but also to see that our voices are powerful and can even impact those who may seem out of reach.
That's so true -- I'm so glad he took your suggestions to heart and amended his original list. You've certainly been on the radar of some very influential people! I'm sure readers would like to know what's next for you?
REAL LIFE. REAL NEWS. REAL VOICES.
Help us tell more of the stories that matter from voices that too often remain unheard.