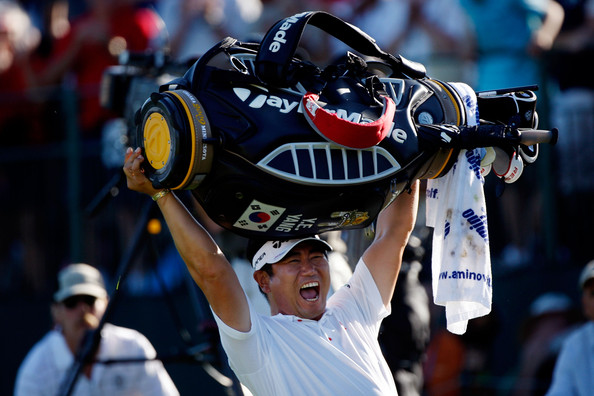 Let's give credit where credit is due: Y.E. Yang won the Wanamaker Trophy. Period. Many will say Tiger Woods "lost" the tournament. No. Yang hit the shots when it mattered and that's what wins major championships.
The final result was surprising -- simply because of Tiger's track record. He didn't putt the way he had historically in a major. Nothing dropped. Also, when he held the lead after 36 and 54 holes of a major, he was 8 for 8 and 14 for 14, respectively. Well, there's a first for everything.
But, the day goes to 37-year-old Yang, a relative unknown. He never backed down. He took the tournament in his own hands. He played like a champion. He saw the opportunities and took advantage when it counted. Unlike most players who face Tiger on the final day, he was fearless, not to mention embraced the moment.
The turning point was the 13th hole. When it looked like Tiger was going to perform his normal back-nine heroics by hitting a dart on the long par-3, Yang responded. He pulled his shot into the bunker and left it 10 feet short, drained the par putt. Clutch. Tiger missed his makable birdie attempt. Fail.
He took the momentum to the next hole and chipped in for eagle. Apparently he missed the memo that Tiger is supposed to be the one fist-pumping on the final nine holes on a Sunday.
Even when he'd taken the lead, he never tried to protect it. On the 16th, Yang made an aggressive approach shot. The pin was tucked against the water with the wind blowing left to right towards the water. His ball landed about 15 feet right of the hole.
Finally on the 72nd hole, he hit a 3 hybrid from 220 yards over the trees to a tucked back left pin with the wind gusting left to right, drew it and held it against the wind. And, it landed softly to about 10 feet. Unbelievable. Then, he drained his birdie putt to win the '09 PGA Championship by three strokes over Tiger. Now that's the way to finish a tournament!
We witnessed history today -- Yang became the first Asian-born male player to win a major championship. And he did it in fine form. Perhaps we didn't get the outcome we expected, but we did get the drama we hoped for.

[Photo by Streeter Lecka/Getty Image]
Related
Popular in the Community