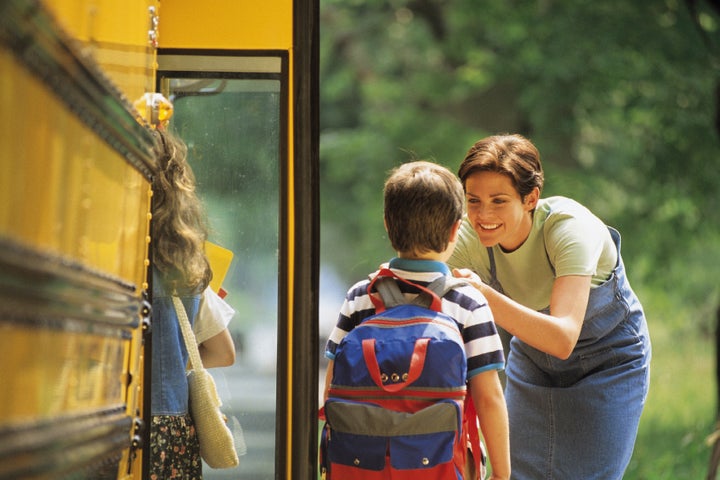 It's tough enough for kids to go back to school, and it's even harder for the children of parents who are separated or divorcing. Kids may worry that their lives will change dramatically or that they will be forced to move away. Toss in the butterflies that come with a new school year, and your child may be more stressed than you realize.
Here are 5 key things parents can do make the transition back to school easier, when everything else about the family is in transition:
Talk to your child about what he/ she is feeling. Divorce can affect a child's behavior, well-being and even academic achievement. Look for signs of depression, withdrawal, or behavior and other issues. And, be sure to talk to your child about what they're feeling. There are resources available if you or your child need professional help (Catholic Services, Jewish Family & Child Services, Parents without Partners, Rainbows, Up to Parents, a therapist for you or your child).. Help your children overcome these symptoms, and get them the help they need.
Reassure your child you love him/her. . It is natural for a child to worry if he/she is loved or if he/she was somehow to blame for the divorce. Ensure your child knows he/she is not to blame--and that he/she is very loved.
Make time to answer his/her questions. Your child may have a ton of questions that he/she is dying to know. Set aside time for those questions, perhaps during or following your child's favourite activity. You can always start the ball rolling if they are quiet: "If I were you, I'd want to know where I will be living...."
Try and maintain a normal after-school schedule. Just because your child's home life is different doesn't mean his school life has to be. Ensure he is participating in the activities he wants to, over worries about cutting into "mom's time" or "dad's time." The goal is to put your child's best interest first.
Get involved and share the excitement. There is much to do to get your kids ready for school -- from buying school supplies and clothes, to dentist and doctor appointments. Show your kids you both care and divide up the responsibilities and help them get ready for back to school. You and your former spouse want to send a message that you are both looking forward to the coming year and want your child to do well.
Develop a parenting to ensure routine, structure and stability. Your parenting plan should include: a schedule of when and where your child will live, pickup times and locations, where they are on PD days, holidays, and so on. The goals of the parenting plan are to encourage the children's relationship with both parents and protect them from any parental conflict.
Reduce your child's stress and anxiety. An effective parenting plan will give your child a sense of control over their lives when so much will feel out of control. It will also help them know their whereabouts, to give them reassurance, when making plans with their friends, establishing study schedules and routines.
Get your kids off to a great school start. Try to diminish the family conflict, work at maintaining your relationships, and send out positive messages. By taking time to listen to your child and creating a plan that puts your child's needs first, you will help them transition through a very stressful time and into the new academic year.
Related