Alt-rock trio the Yeah Yeah Yeahs have had it up to here with inconsiderate concertgoers. No, not attendees starting fires or hurting each other. In 2013, the most annoying are people filming the concert with a crummy smartphone cameras, thus forcing many attendees behind them to watch the concert they paid money to see through a tiny screen.
At a headlining show on Sunday night at New York's Webster Hall, the band took issue with iPhones and their ilk. According to Spin, the band posted some rather blunt advice for fans attending the show with a sign above the venues door, that read in part: "PLEASE DO NOT WATCH THE SHOW THROUGH A SCREEN ON YOUR SMART DEVICE/CAMERA." Watch out for the NSFW language below: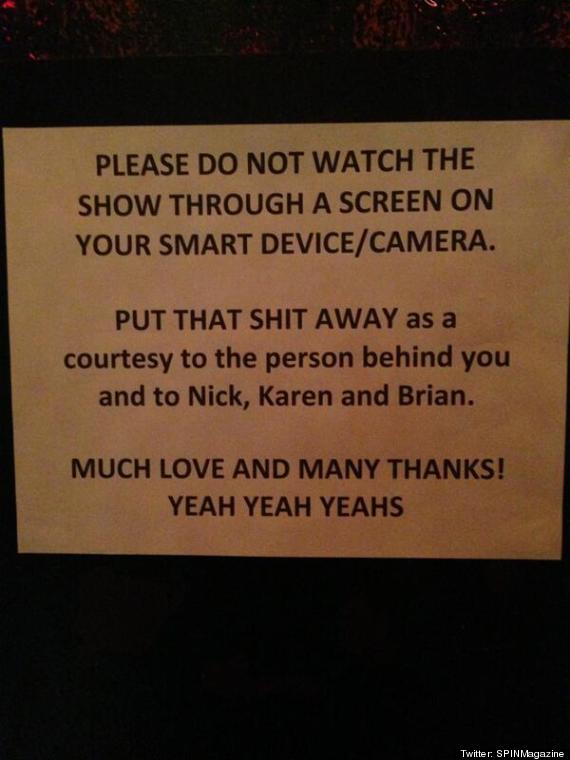 SPIN's tweet featuring the sign, which read "We wish every band posted show rules like @YYYs [Yeah Yeah Yeahs]," was retweeted over 800 times and met with near unanimous agreement.
One particular fan wasn't happy with the Yeah Yeah Yeahs or indie rockers Ra Ra Riot, who agreed with the group and SPIN via tweet. "oh, did you forget that fans with phones at your shows are paying your bills? How about you be courteous to your fans," @megan_kearney tweeted.
At the show, eclectic lead singer Karen O let fans get their photo kicks during "Gold Lion," the second song in the band's set. Spin reports that while some concertgoers continued to use their cellphones, the crowd generally obliged the band's wishes. The Los Angeles Times noted that famed comedian Aziz Ansari follows a similar formula, allowing the audience to take as many pictures as they want prior to the show before shutting down smartphone photography.
While both groups have an argument -- fans paid and want digital mementos, while musicians don't want to play to a sea of despondent phone users -- perhaps there are some tactful ways to use your smartphone at a concert without ruining the experience for everyone. Over at Gizmodo, Sam Biddle's "How to Use Your Smartphone at a Concert Without Being A Jerk" is a good start.
Related
Before You Go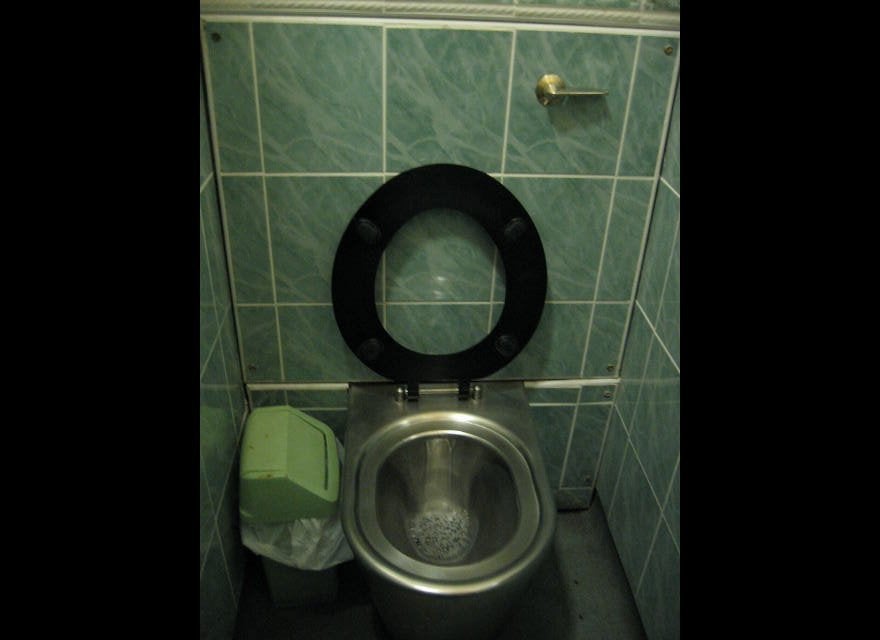 11 Bad Habits We Picked Up From Our iPhones
Popular in the Community