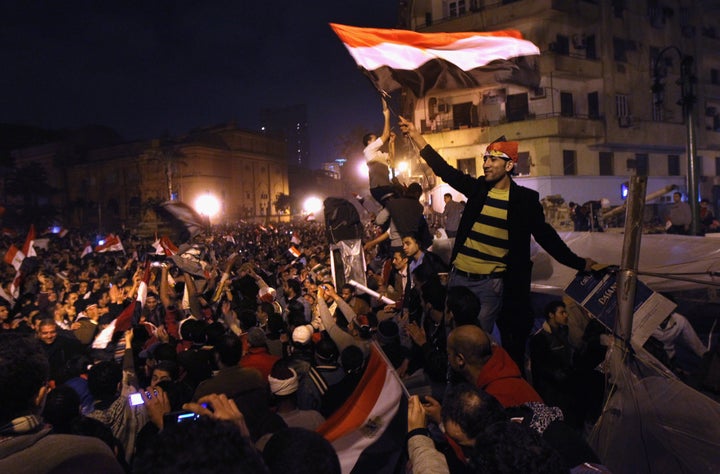 When Mohamed Bouazizi, a young Tunisian fruit seller, set himself on fire toward the end of December 2010, he did so out of economic despair and outrage over rampant corruption in his native Sidi Bouzid.
In 2011, the world saw protest movements that demanded an end to that inequality. Bouazizi became a symbol for millions of people around the world who found themselves similarly facing daily government oppression and misrule. "The people want the downfall of the regime" became a slogan that united people across Syria, Yemen, Libya, Egypt and Tunisia.
Protests toppled leaders that previously had seemed untouchable -- Muammar Gaddafi in Libya, Hosni Mubarak in Egypt, Tunisia's Zine Abidine Ben Ali and Yemen's Ali Abdullah Saleh. Meanwhile, the brutal crimes of the governments of Syria and Bahrain captured headlines worldwide and rose to the top of the international agenda.
In the United States, activists in New York's Zuccotti park launched a protest movement that challenged corporate culture and the unequal division of wealth. Protesters questioned the foundations of the global economic system and defended the rights of "the 99 percent."
Natural disasters continued to wreak havoc around the world, with floods in the Philippines killing nearly one thousand, devastating earthquakes in Turkey killing hundreds as buildings collapsed, and the worst earthquake and resulting tsunami in Japan's history creating a nuclear disaster at the Fukushima Daiichi power plant. The United States claimed the deaths of al Qaeda's leader Osama bin Laden in Pakistan, and the American, radical Muslim cleric Anwar al-Awlaki in Yemen.
Meanwhile, violence from Mexico's bloody drug wars killed raged on, bringing the death toll to at least 46,000 people.
The world population hit 7 billion, and the world welcomed its newest country, South Sudan.
HuffPost World looks back at the biggest events of this long, tumultuous year. What was the biggest story for you in 2011?
Calling all HuffPost superfans!
Sign up for membership to become a founding member and help shape HuffPost's next chapter
BEFORE YOU GO
PHOTO GALLERY
Events of 2011