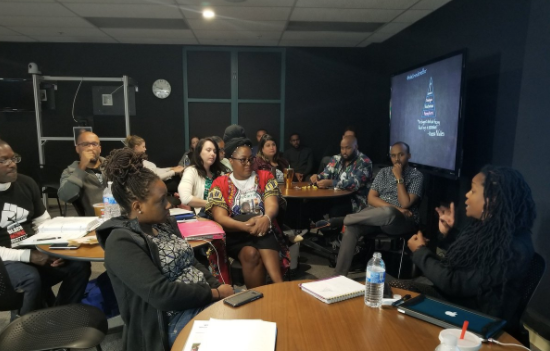 The year 2017 represented an upswing in the nation's focus on Black males in education. While the Obama administration's My Brother's Keeper (MBK) initiative had helped to raise greater awareness about issues facing Black men (and other men of color), the election of President Trump and the pursuant end to MBK had served as a psychological blow to the public face of these efforts. However, the continued work of a collective group of scholars, practitioners, and policymakers persisted in the absence of executive support. The continuation of these efforts is embodied within numerous non-profit organizations, national convenings, statewide initiatives, and consortium. Some of the most recognizable of these efforts include the Campaign for Black Male Achievement (CBMA), RISE for boys of men of color (RISE), Black Brown and College Bound (BBCB), African American Male Education Network and Development (A2MEND), Student African American Brotherhood (SAAB), and the Coalition of Schools Educating Boys of Color (COSEBOC).
Beyond these efforts, 2017 also saw the offering of Black Minds Matter, a national broadcast public course that drew linkages between issues facing Black boys and men in society (as inspired by the Black Lives Movement) and similar issues in education. The course touted over 10,000 registrants and 260 live broadcast and replay sites throughout the nation. It was the first course of its kind, a massively open online course guided by a mission for change. The course was led by Dr. Luke Wood, a Distinguished Professor of Education at San Diego State University who sought "to raise the national consciousness about issues facing Black boys and men in education." The course featured many of the most respected researchers and advocates for Black boys and men. As part of my contributions to HuffPost, I covered each week of the course, highlighting some of the comments offered by the leaders in the field. In closing out 2017, I wanted to recall some of the great words of wisdom that emanated from the closing speakers.
1. It all Begins with Perception
Vanessa McCullers (Moms of Black Boys United) argued that improving the education of Black boys and men begins with perception. When asked what she perceived was the biggest obstacle facing Black males in education and society, she quickly responded… perception. This refers to perceptions that view them as holding inherently less worth than others.
We learned: The fight for Black lives and Black minds begins with the battle for perception.
2. Relationships are a Precondition to Effective Teaching
Luke Wood (San Diego State University) extended McCuller's arguments on perceptions. He argued you cannot prepare educators to teach Black males without first addressing perceptions and relationships, otherwise their teaching practices will only further disenfranchise the learners that they seek to build up. Perceptions influence relationships which influence teaching.
We Learned: You can't teach someone who you don't value or have relationships with
3. Every Black Minds Matters
Eboni Zamani-Gallaher (University of Illinois – Urbana Champaign) contended that educators "must break binaries and shadowlands." While the course focused on Black boys and men, a clear takeaway was that conversations on Black male success should not be isolated from critical conversations on Black students of all genders (e.g., girls and women, transgender, gender non-conforming). We must recognize the interconnectedness of all learners in the Black community.
We learned: Black minds truly matter when every Black mind matters.
4. Mattering and Belonging are Intertwined
Terrell Strayhorn (CEO of DoGoodWork) suggested that Black lives and minds matter because "mattering is a component of belonging." He argued that students must feel a sense of belonging in school environments in order to experience success. Belonging is a core need of every human being. We all have the desire to feel connected to others, valued, and needed. Black minds must feel that they belong.
We learned: 'Black minds matter because Black minds belong' and 'Black minds belong because Black minds matter'.
5. It all Begins with Love
Robert Simmons (Campaign for Black Male Achievement) reminded us all that the "revolution is inside of us." He further argued that "we need a love revolution in our schools" that brings a "dignity framework" to Black male work. We cannot teach someone that we do not love, as teaching is an act of love itself.
We learned: Our revolution for change is strongest when it is rooted in a framework of love.
6. Where You Do Your Work Matters
Jerlando Jackson (University of Wisconsin – Madison) offered numerous words of advice to improve the hiring and retention of Black professionals. He also offered advice on choosing where to work. He noted that "where you do what you do matters more than what you do". Therefore, advocates for Black boys and men must find spaces that value their work.
We learned: We must find spaces that value what we do and how we do it.  
7. Engage Research for Change
Robert T. Palmer (Howard University) noted that there is a need to deepen the effectiveness of research on Black boys and men. While there is much that is already known, he argued that scholars must engage in research for change by "being more intentional about pushing the literature forward." Ultimately, if research does not serve to improve the lives and conditions of the individuals it is focused on, then it is useless. #preachbrotherPalmer
We Learned: Research is only a tool for change when it is designed to create change.
8. Black Males are Constantly Forced to Prove Themselves
Kimberly A. Griffin (University of Maryland) proffered that having to prove oneself can be both a good and bad thing. But, she noted that some groups are forced to prove themselves more than others. For Black males, she noted that being constantly forced to prove one's abilities "drains energy from the task at hand…[and] becomes tiring."
We Learned: Black males are forced to prove where others' abilities and capacities are assumed.
9. Ignore the B.S. (Bad Stats)
Ivory Toldson (Howard University) put on a clinic on how bad statistics have served to create false narratives about Black boys and men. Myth # 1 – There are more Black men in prison than in college. Myth # 2 – Black families do not have fathers in the home. Largely, these myths are decontextualized or outright lies.
We Learned: Don't believe the popular B.S.
10. Educators Are Not Always Ethical Wielders of Power
Chance W. Lewis (University of North Carolina – Charlotte) noted that parents and students can sometimes allow educators to hold too much power. While many educators have good intentions, not all do. He argued "teachers do not get to decide who is college material."
We Learned: Only value advice from educators that believe Black minds matter.
REAL LIFE. REAL NEWS. REAL VOICES.
Help us tell more of the stories that matter from voices that too often remain unheard.
This post was published on the now-closed HuffPost Contributor platform. Contributors control their own work and posted freely to our site. If you need to flag this entry as abusive,
send us an email
.