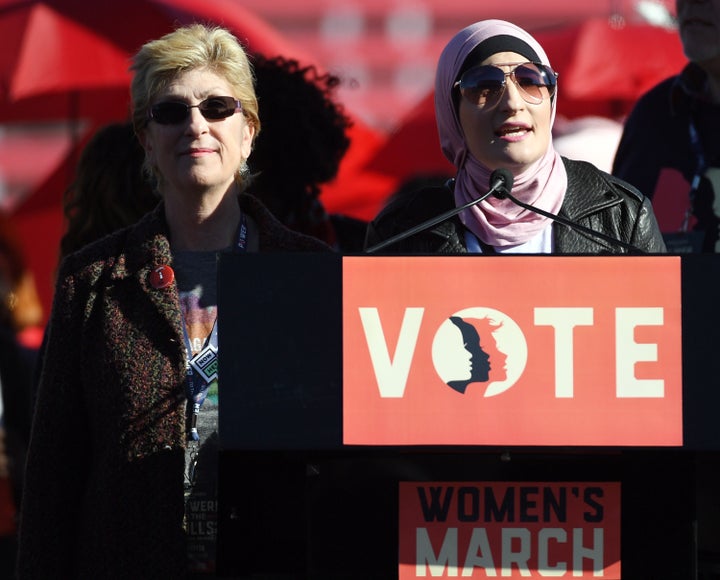 The "year of the woman" will face its stiffest test yet in Tuesday's Democratic gubernatorial primary in Nevada.
Chris Giunchigliani and Steve Sisolak, the two contenders, are both members of the Clark County Commission, which governs Las Vegas and the rest of Nevada's most populous jurisdiction. 
Giunchigliani, commonly referred to as "Chris G," has the backing of EMILY's List, which supports female Democrats who back abortion rights, and of former Democratic presidential nominee Hillary Clinton, who endorsed her on Sunday night. But Sisolak, widely seen as the more moderate of the two candidates, has the backing of the man who matters most in Nevada Democratic politics: former Senate Majority Leader Harry Reid.
Reid and his allies think Giunchigliani's liberalism will scare business and gaming industry leaders, leading them to back Adam Laxalt, the state's conservative attorney general and the man operatives in both parties expect to be the GOP nominee.
Candidates endorsed by EMILY's List have a sterling record in primaries so far this year ― more than two-thirds in federal and gubernatorial races have won. But taking on Reid's political machine, which lifted him to a stunning re-election victory in 2010 and helped Democrats sweep Nevada's elections in 2016, might be the group's biggest challenge so far this cycle.
In a 15-second ad released last month, Reid highlighted his endorsement of Sisolak and said he'd "be one of the best governors we've ever had." Sisolak has hyped his role in bringing the NHL's Golden Knights and the NFL's Raiders to Las Vegas and has slammed Giunchigliani as a career politician who voted to raise her own pay.
Polling in the race has been sparse, but Sisolak and his allies have been able to outspend Giunchigliani and her allies on television $7.6 million to $2.4 million, according to a media-buying source. Giunchigliani has responded by emphasizing her background as a special education teacher and has attacked Sisolak for receiving an 'A' rating from the National Rifle Association earlier in his political career. 
And on Sunday night, she unveiled what her campaign hopes will be a coup de grace: a robocall to voters from Clinton.  
"She's been an extraordinary progressive leader in Nevada," says the former Democratic presidential nominee, who describes Giunchigliani as "uniquely qualified to stand up for Nevada's families and children."
Will A Confederate Sympathizer Rise Again In Virginia?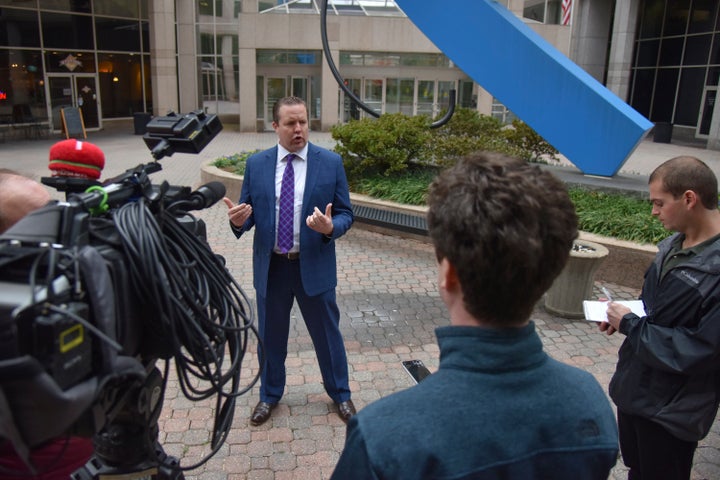 Prince William County Board of Supervisors Chair Corey Stewart is favored to win the GOP nomination for Senate in Virginia ― a potentially disastrous outcome for establishment Republicans. 
Stewart nearly upset former Republican National Committee chair Ed Gillespie for the GOP gubernatorial nomination in 2017 with a campaign focused on cracking down on immigrants and defending Confederate monuments. Now he's competing against state Del. Nick Freitas and pastor E.W. Jackson.
Stewart called Gillespie a "cuckservative" during his last campaign and compared politicians who wanted to take down Confederate monuments to the self-described Islamic State.
Most GOP operatives think it's likely Stewart, who has plenty of residual name identification from his gubernatorial bid, will triumph in a low-turnout primary.
Yet none of the three GOP candidates is expected to have much chance to defeat Democratic Sen. Tim Kaine, who has more than $10 million in his campaign account. And some GOP operatives fear Stewart's nomination could hurt the party's effort to hold on to four congressional seats that Democrats are targeting in the state.
Americans for Prosperity, backed by the political network of billionaire brothers Charles and David Koch, is running digital ads on Freitas' behalf and dislikes Stewart's stances on immigration and trade. 
Freitas also directly attacked Stewart's history of "dog-whistling of White supremacists, anti-Semites, and racists" in an e-mail to supporters earlier this week.
"It is well past time we defeat the hate mongers and say this is enough," he wrote.
Stewart's advertising directly references his notoriety and Gillespie's loss to Democratic Gov. Ralph Northam.
"The left hates him, and so does the anti-Trump GOP establishment," the narrator declares in a radio ad calling Stewart "the man we should have run last year."
A Trump Ally And A Trump Critic Struggle In South Carolina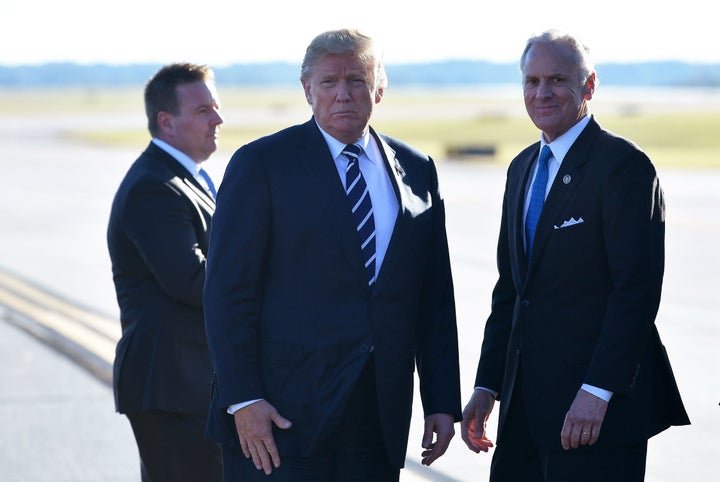 Two races in South Carolina highlight President Donald Trump's political power within the Republican Party ― and its limitations. While Rep. Mark Sanford's frequent criticism of Trump may hamper his re-election bid, Gov. Henry McMaster's tight embrace of the president is apparently doing little to help him.
In the Palmetto State's solidly Republican 1st District, which includes the Lowcountry and the city of Charleston, Sanford is facing a strong primary challenge from state Rep. Katie Arrington. Sanford is vulnerable not because of his infamous walk on the Appalachian Trail, but because he's not a Trump fan.
"We've all seen Mark on TV, trashing our president," Arrington says in one of her television ads. "Who does he think he's fooling?"
Trump isn't enormously popular in the district ― he won it with 54 percent of the vote in 2016, the lowest percentage of any of the state's GOP House districts. But a history of trashing the president has been enough to drive other Republicans, like Arizona Sen. Jeff Flake and Pennsylvania Rep. Charlie Dent ― into retirement. 
Sanford is trying to hold on to his seat by airing television ads attacking Arrington's support for tax hikes and boasting that he was "rated best in Congress for cutting spending and attacking debt." 
By contrast, McMaster ― who became governor after Trump picked former Gov. Nikki Haley (R) to serve as U.S. ambassador to the United Nations ― was an early Trump endorser who delivered a speech at the 2016 Republican National Convention nominating him.
But the now-incumbent governor is currently in a three-way race against veteran and businessman John Warren and former Haley administration official Catherine Templeton. If no candidate cracks 50 percent, the top two finishers will compete in a June 26 runoff. 
Many GOP operatives think McMaster will be denied a majority and could lose in this scenario, despite a Twitter endorsement from the president and heavy advertising highlighting his relationship with Trump. 
One 30-second ad highlights Trump and McMaster's shared goals and endorsements ― including backing from the NRA and moves to ban so-called sanctuary cities and stop funding to Planned Parenthood.
"President Trump knows that when your team's winning, you don't fire the coach and put in a rookie," the narrator says. "You just keep winning."