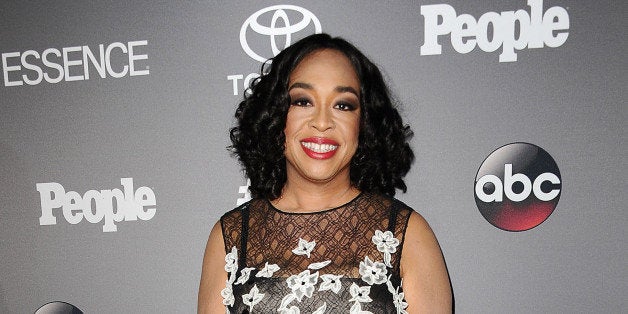 What do you think would happen if you spent a whole year saying yes to opportunities that came your way? What if you said yes to things that worked for you and not against you? I had the opportunity to explore these questions with Shonda Rhimes and other Shonda-ites at the 92Y in New York City as we gathered to hear her discuss her new book Year of Yes with CNN's Jake Tapper.
It was a great night to be inspired. The weather was pleasant allowing fans to stand in line eagerly anticipating entry into ShondaLand. Passersbys wondered out loud "Who is this line for?" Some fans yelled "Shonda Rhimes" others simply stated in a way that only a New Yorker can: "If you don't know then you don't need to be on this line!" Either way, the excitement to be in the same space as the creator of top shows: Grey's Anatomy, Private Practice, Scandal and How to Get Away With Murder was building. What was most rewarding were the inspirational nuggets that I was able to take away about how to live life out loud:
1. Tap Into Your Imagination:
"The only limit to your success is your imagination" -- Shonda Rhimes
If you can dream it and believe it then you can achieve it. Your imagination is the key to your future. We are currently living in a society where creativity is the driving force to success. Creativity depends on your imagination, propelling you to think of new ideas that are unique and valuable. Shonda Rhimes stated that as a child she would create characters in her head and journal them. Her imagination has led her to where she is today. Find your inner child and let your imagination motivate you towards your destiny.
2. Do Things that Terrify You:
It's very easy to be in a place where we are comfortable. Our instincts may tell us we should be doing more, but our fear of the unknown hold us back. Our soul may feel like it is slowly withering away because we are too afraid of doing the uncomfortable. In this moment we have decisions to make: Do I take the leap although I am terrified or do I stay complacent and wonder what if for the rest of my life? The very thing we are afraid to do could very well be the "It Factor" we need to be, in Shonda's words "FOD" (First Only Different)
3. Know Your Desired Outcome:
Shonda Rhimes has inspired many to become doctors and lawyers through her shows. Also, she has motivated a new generation of television writers and producers. Her desired outcome is to inspire the next generation through television and she is just getting started. When asked about her current shows, she stated "I know where I want my shows to end." Like Shonda, It's important for us to begin with the end in mind allowing flexibility to track and adjust as we see fit.
Answer this: When I complete ________________ this is what I would like to see in the end __________________________.
For example: When I complete this art program, I would like to see my artwork in galleries across the country.
Once you do this, you have already begun the first step to making your dreams come true and living your life out loud.
For more information about Year of Yes by Shonda Rhimes visit here.
REAL LIFE. REAL NEWS. REAL VOICES.
Help us tell more of the stories that matter from voices that too often remain unheard.