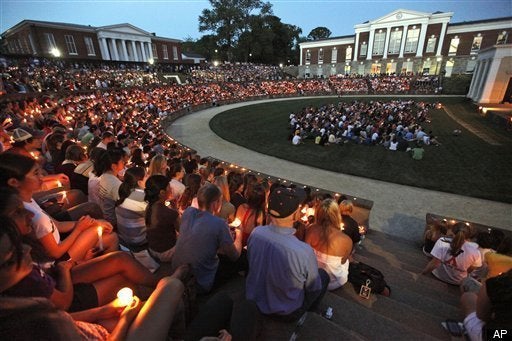 Thousands gathered at the University of Virginia last night to commemorate slain lacrosse player Yeardley Love and share in their grief over the senior's violent death, allegedly at the hands of her ex-boyfriend George Huguely.
UVA President John Casteen told students they should be 'outraged.' He encouraged students to support each other and to speak out if they are in abusive relationships.
Meanwhile, editorials and theories about the murder and domestic violence on college campuses emerge across the internet. In a piece on AOL News, UVA graduate Mary Beth Lineberry wrote that "Love's death ... exposes an unfortunate reality of college life that's often obscured or silenced in communities, university and otherwise, nationwide."
At U.Va., it's not so much that resources and advocacy about the dangers of dating violence don't exist; it's that students generally don't think the statistics apply to them.

[University of Virginia Women's Center director Claire] Kaplan argued that "cultural, social and institutional silence surrounding partner abuse is embedded in every person at U.Va." It is part of a larger problem: People are culturally conditioned to dismiss violent and jealous acts perpetrated by men as "boys will be boys," while the predominantly female victims are blamed for putting up with such behavior when things begin to turn sour.

Yahoo Sports writer Lee Carpenter questioned if UVA's athletics program should have done more, or at least known more, about Huguely's violent past -- the lacrosse player was arrested and Tasered by a police officer in 2008, and new reports from the Miami Herald reveal his scrapes with the law near Manalapan, where his family has a home. In 2007, he was charged with possession of alcohol by a minor and one year later, police were called to family boat on which Huguely was involved in a "very heated" family argument.

At Virginia, athletes who have been arrested are supposed to report their crimes to their teams. And yet who is going to call the coach or the athletic director and volunteer that he is facing charges of disorderly conduct if there's a good chance the school will never learn of the arrest in the first place? Virginia is far from alone in this. Such policies exist on most campuses. Information on athletes' misdeeds, especially in non-revenue sports, is rarely gathered. And even when it is collected, the facts are often tucked away in hopes no one will notice. College presidents hire coaches who constantly make poor decisions in the name of winning.
Huguely is being held in a prison not too far from the lacrosse fields he once played on. He is on 23-hour lockdown, allowed scant phone calls and checked on by guards twice an hour.
Love's mother, Sharon Donnelly, met with police yesterday as friends removed her daughter's personal affects from her Charlottesville apartment. Her funeral is scheduled for Saturday.
WATCH: Video of the memorial (footage starts 45 seconds in).