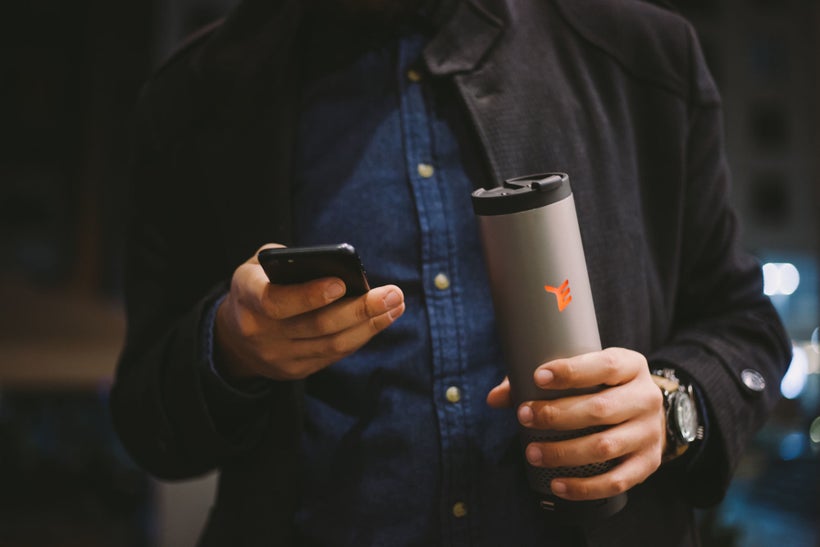 If you thought the reusable travel mug conversation was restricted to whether the liner should be plastic or metal, this is going to shock you. Imagine a smart mug that you can heat or cool as you travel, and control with your smartphone. You can also use the Yecup as a power bank for your phone or tablet, track its location, and schedule the heating or cooling of your beverage.
How does the Yecup work?
The Yecup is controlled by an app in your smartphone that allows you to set the desired temperature. You can set a schedule; if you know, for example, that you're always going to be pouring your coffee and hitting the road at 7:30, you can have your cup prepped and ready to go. Meanwhile, if you want to have your water nice and cold just as you grab your mug from your locker, set your timer and get to your workout.
Once you've set the temperature on your Yecup, the patented technology adjusts the temperature appropriately. A push notification lets you know when your beverage is ready to drink. It also stores power that you can use to charge your phone or your tablet. If you're a freelancer getting some work done at a café, this can be one less thing to pack in your roll-along. Be environmentally friendly and skip the paper cup, and have a way to charge your phone for that important call you're waiting for.
Compared to other travel mugs?
The Yecup's primary job, of course, is to function as a travel mug. Temperature retention is a huge factor for those who compare and contrast travel mugs; Yecup already has this dialed in. Another discussion point, however, is leakage. The Yecup has a leak-proof lid that means it can be tossed into your bag or drink holder without making a mess out of your stuff.
In a world where AI is taking over manufacturing, big data means that Target knows you're pregnant before you do, and self-driving cars are on the horizon, there is absolutely no reason for commuters to blow on their coffee to cool it down or risk a scorched mouth.
The Yecup works with Android and iOS, has on-the-cup features to let you know when ideal temperature has been reached, and can keep drinks at all sorts of temperatures. The food grade aluminum insert means flavors won't stick around from drink to drink, and the cup can also be charged wirelessly, giving you one less cord to deal with. Don't ruin your drink by microwaving it or putting ice in it; just pour it into your Yecup, set the temperature in the app, and be on your way.
Who Loves Yecup?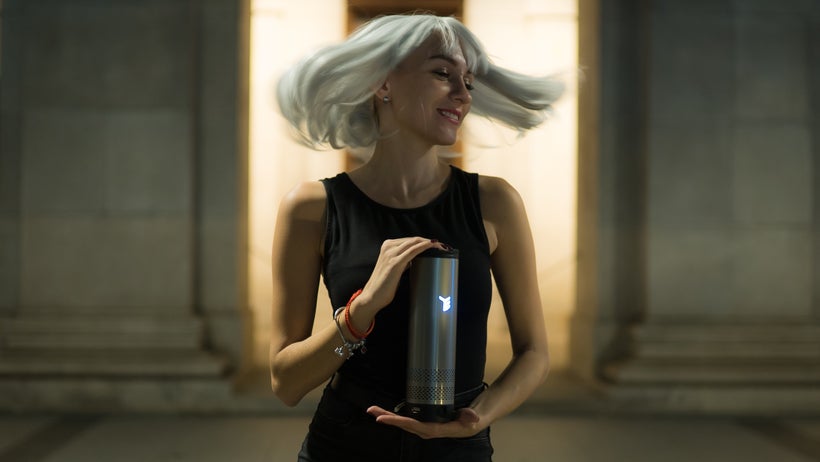 We make jokes about convenience, but let's face it. When you're trying to get going in the morning, you want your coffee or tea to be a hot, drinkable temperature. When you're getting out of the gym, you want your water or energy drink to be cold, but not so much it hurts. Having a smart mug that can heat and cool your drink for you means fewer scorched mouths, fewer lukewarm water experiences, and more drinks that are just right.
Plus, there's nothing more annoying than having your drink cool down or warm up too quickly. Maybe you take an hour to drink your first cup of coffee and don't want to lose all that heat; maybe you're tired of filling your water bottle with ice and dealing with condensation to have a cold drink when you need one. The Yecup takes all of that hassle out of the scenario; you get your drink at the perfect temperature, every time.
Another great feature of the Yecup is location tracking. Do you frequently set down your mug and then spin in circles trying to figure out where you left it? Your phone uses Bluetooth signals to help track it down. This keeps you from having old beverages stuck in a mug that you now have to clean out. Yuck.
And if it takes you a while to get to drink your beverage, it feels pretty great to have it still be the right temperature when you get to it. This can be a factor in long meetings, on big commutes, or while you're out in nature. Imagine hiking for a few miles, and still having your coffee be just right.
Busy parents also know the struggle of getting a cup of coffee or tea in between all the things children need during their days. With Yecup, your morning caffeine will still be just right, even if you don't get to it until the afternoon.
REAL LIFE. REAL NEWS. REAL VOICES.
Help us tell more of the stories that matter from voices that too often remain unheard.
This post was published on the now-closed HuffPost Contributor platform. Contributors control their own work and posted freely to our site. If you need to flag this entry as abusive,
send us an email
.