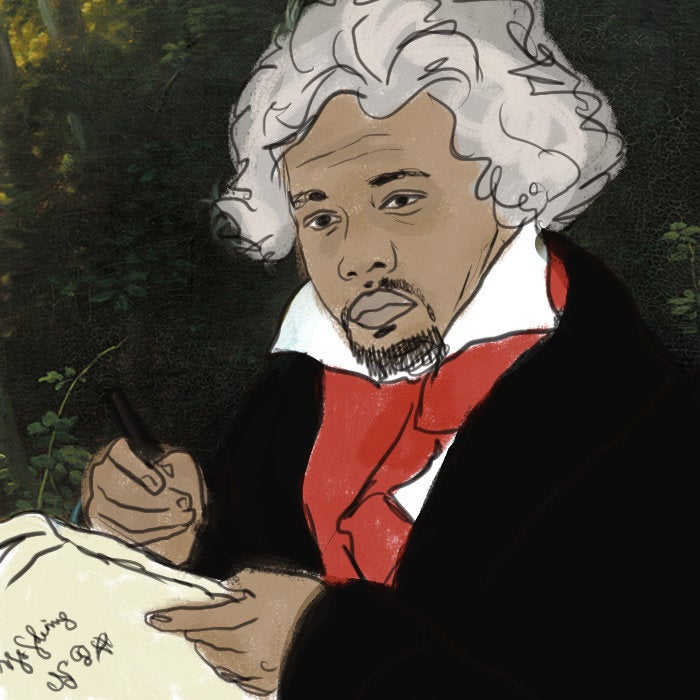 When Kanye West released his sixth solo album, titled "Yeezus," in 2013, he --with a single turn of phrase -- fused his identity with that of the central figure of Christianity. The connection between Ye and JC was more than just an egotistical outburst from a narcissistic rock star, but a message about power, sacrifice, influence and vision, albeit a bombastic one.
Now, three years later, Ye has received another rather complimentary comparison. On April 16, at the Artani Theater in Los Angeles, the Young Musicians Foundation Debut Orchestra will perform "The Great Music Series: Yeethoven," comparing Mr. West to Ludwig van Beethoven, and thus exploring the overlap between classical and hip-hop, 18th-century poofy collared shirts and 2013-era leather pants. 
Yuga Cohler is directing the performance, along with project co-creator and composer Stephen Feigenbaum. The two, natives to the classical music world and longtime fans of Kanye's work, have played music together since high school.
The Young Musicians Foundation Debut Orchestra is made up of 70 Los Angeles-based musicians between 15 and 25 years old. Cohler was appointed director last year. "I knew one of the things I wanted to do was make classical music engage with music of today, music that is very widely heard and massively popular," Cohler explained to The Huffington Post. 
From the beginning, Cohler and Feigenbaum were interested in "Yeezus," the dark, grating, vinegary album that at once feels like a protest, a divine revelation, a nightmare and an industrial rave. "There are a lot of things in the album more reminiscent of classical than pop or hip-hop," Feigenbaum said. "We tried to examine that and make that case that the commonalities across genres are more interesting than genre barriers."
With "Yeezus" as a starting point, Cohler and Feigenbaum set out to find an unlikely musician whose sound reverberated with Ye's. And if said musician happened to have an extremely punnable name, so be it. "We quickly came to Beethoven as someone similarly controversial in his time, someone brash and aggressive," Cohler said. "Beethoven was rough around the edges. He's one of the earliest examples of modernity, and often the audience really didn't like it."
They then began matching up Yeezus songs with analogous pieces from Beethoven's oeuvre. For example, Kanye's "New Slaves," an epic harangue encompassing everything from systemic racism to fashion addiction, showed similarities to "Egmont Overture" in its dark, tumultuous energy. "In both songs, the endings are bizarrely uplifting, it almost feels bitter," Cohler explained. 
At first, the concert will juxtapose songs by Kanye and Beethoven to illuminate the comparisons aligning them. As the concert continues, the artists' work will become ever more integrated, until the line between them becomes jagged and molten. "I think the boundaries we set up [in music] are necessarily artificial and don't need to be adhered to," Cohler said. Feigenbaum added: "We're interested in getting out of the box that classical music puts us in."
Although Cohler and Feigenbaum stress that their project is less concerned with the personas of the artists at play, and more concerned with their work, it's hard to ignore the fact that, like Kanye, Beethoven was also something of an egoist. When a review of his "String Quartet No. 13" declared the work "incomprehensible, like Chinese," he responded indignantly and without a hint of self-doubt, calling his audience "Cattle! Asses!" One of his most iconic quotes, "There are many princes and there will continue to be thousands more, but there is only one Beethoven," sounds similarly familiar. 
The show concludes with a comparison of the last movement of Beethoven's "String Quartet No. 14" and Kanye's "On Sight," which opens his album. "If you don't know the pieces you would have no idea where one piece starts and the other ends," Cohler described. "It's so emblematic of the artistic embryo that characterizes both Beethoven and Kanye -- that propulsion, impulse and drive." 
Not everyone is psyched about the performance. Pitchfork Senior Editor Jayson Greene called the project "spectacularly ill-conceived." Greene, who writes about both classical and hip-hop music, sees little connection between the two artists beyond a catchy conjoined nickname, and described the effort as a lazy attempt to bridge high and low culture that underestimates both artists and their audience.
"Lumping things on two sides of a room and drawing a line is less difficult than figuring out where each individual element belongs in a space," Greene wrote. "And if you are going to start mixing and matching -- say, by establishing a parallel between a rapper and a composer that leaps over genre boundaries, countries, and hundreds of years -- for god's sake, think hard about what you're doing."
Whether or not you like the resulting Yeethoven mashup, after speaking with briefly with both Cohler and Feigenbaum, it's difficult to deny that they've put quite a lot thought into the pairing. This concert has been in preparation for about a year. And while Greene posits Igor Stravinsky as a stronger parallel to West, his argument is based as much upon the artists' characters and visions as the actual content, which Cohler and Feigenbaum privilege. 
As someone who knows far less about classical music, I cannot confidently comment on the solidity of the parallel between Ye and Be, at least not until the show takes place on April 16. However, I fully support the mission of a free, instructive concert performed by an orchestra of young people, illuminating bridges between unlikely artists that can be embraced or rejected by the audience as they see fit. 
Rather than insulting their audience, Cohler and Feigenbaum invite people to participate in an imperfect experiment, one that can illuminate the tenuous nature of boundaries and categories confining all art forms. "The more young musicians that realize they can learn Bach and also improvise and play in a band and [learn that] those don't have to be totally separate," well, these are all good things, right?
Besides, the potential for "Yeethoven" to result in outrage, disagreement, slippage, disharmony and even misguided overconfidence sans apologies seems quite appropriate for the subject matter, no? 
"The Great Music Series: Yeethoven" takes place Saturday, April 16, at 7:30 p.m. The event is free, but tickets are required, available first-come first-serve starting at 6:00 p.m.
REAL LIFE. REAL NEWS. REAL VOICES.
Help us tell more of the stories that matter from voices that too often remain unheard.
BEFORE YOU GO