Yell at my kids? No, that's just my loud voice.
Okay... Let's keep it real: Yes, I absolutely do yell at them, but if you had a Ninja Turtle beating on Batman, you would too!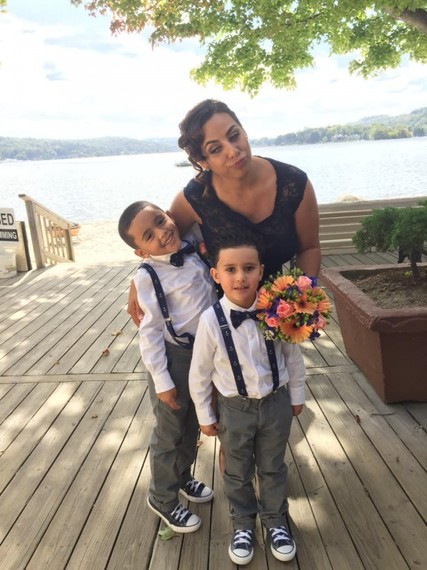 Let's put this into perspective: I have two sons, how could I not? Devin is 6 and Tristan is 4; the two of them have converted from ninjas to superheroes to military son alphas. They are young leaders and both have tenacious, outgoing and charming personalities. Combined they are the equivalent of Hollywood's charming leading men and our courageous world leaders. They are relentless and stubborn; talking to them yields no solutions or results. I also was raised in a traditional Hispanic family and was trained to fear yelling and react to anger. So it's only obvious that I too shall carry on that tradition.
I, however, was an only child and pranced around believing in fairytales and rainbow-filled lands with shimmering unicorns. My boys are being raised with a Navy veteran father and super entrepreneur mother. Both fierce and stern, with a severe soft spot, but nonetheless respected deposition. We expect our boys to understand that their good behavior in public, towards each other and to their elders is not debatable and, for sure, nonnegotiable.
Screaming, crying and talking back are all traits that were immediately removed from the equation and replaced with smiles, genuine conversations and explanations. Yes, we yell but then it's followed up with the why's and why not's. A child will learn by what we teach them, not just by the act of discipline. The art of communication has to be a part of the parent-child relationship in order for it to be effective. Yelling is not the problem, it's a moment. It's the quick attention grabber in their ear right before you instill proper etiquette so next time.. Well let's be honest, the next 200 times you can reiterate it all over again till they understand.
I was raised in a strict home and yelling was very well apart of my childhood, but it never caused me to fear my parents or shy away from them. I knew they were the enforcers. I knew it wasn't hurting me, matter of fact, I knew the whole time when I was up to no good and when to expect a quick holler. Yelling at me was never the focus of my relationship with my parents, it was part of the process. I am 33 years old and still get yelled at -- no harm, no foul.
My kids are young, but they are old enough to understand when mommy or daddy is frustrated. They also know they can come to us and ask us questions.
Our relationship is based on an incredible foundation filled with opportunities to ask endless questions and gain the trust that I will always allow them to be them. I want them to laugh, play and be silly. A few innocent cheap shots in the backseat build character, but the occasional "STOP IT" is needed. They know I'm always watching and it's not acceptable, but we let it slide so little guy can land that confidence booster every once and awhile. Little brothers are entitled to have secrets and relationship boosters with their siblings, the occasional "Hey Devin, can you climb and get me a cookie?" never REALLY hurt anybody, but it's my job to count to 10, let them get as far as climbing back down from the pantry and then bust them. It's the quick reminder that they technically shouldn't be doing it, and I can't help but walk away with a smile knowing Devin went out on a limb to do something "kinda" nice for his brother.
Yeah, I yell. It reminds them that mommy isn't happy and makes the talks a bit more meaningful. And the end result is sweeter when all I have to do it say it once, and they stop. Hopefully by the time they are 18 and 20 they will realize how much slack I really gave them... Kids will be kids after all.