Yellowstone National Park officials made "heroic efforts" before deciding to euthanize a newborn bison that well-meaning tourists put into the trunk of their SUV, a spokeswoman said.
The death of the bison calf, announced Monday, followed repeated failed attempts to reunite it with its herd, Charissa Reid, a Yellowstone spokeswoman, told The Huffington Post. She said the euthanasia decision was "not made lightly" and followed "heroic efforts."
In the end, Reid said, Yellowstone's resources and mission focus on protecting the natural process, not rescuing animals.
"This is what they had to do," Reid said.
On its Facebook page, Yellowstone explains: "In order to ship the calf out of the park, it would have had to go through months of quarantine to be monitored for brucellosis. No approved quarantine facilities exist at this time, and we don't have the capacity to care for a calf that's too young to forage on its own."
The baby bison's heartbreaking death, if nothing else, shines a spotlight on a pervasive issue facing America's national parks: Some visitors are completely ignorant to the fact that wildlife is -- get this -- wild.
"Really, all you need to do is go online and look at" social media, Reid said, when asked how often visitors ignore warnings not to get too close.
"It's not safe for the people or the animals," she said.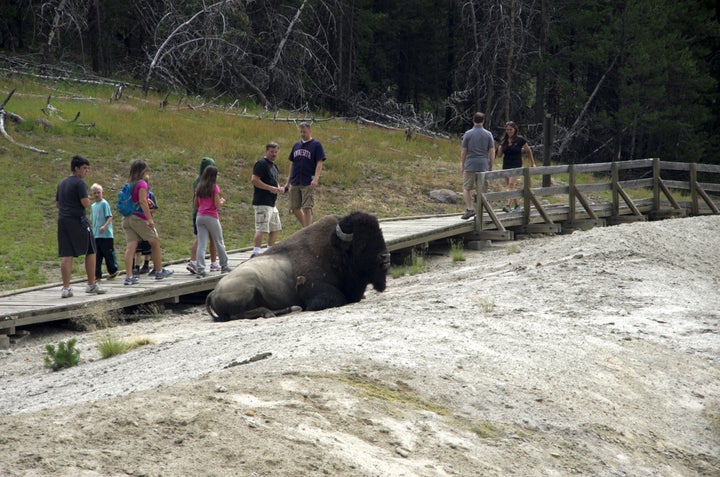 Morgan Warthin of the National Park Service said in a statement Monday that the visitors, who were cited for their actions, acted out of a "misplaced concern for the animal's welfare."
"In terms of human safety, this was a dangerous activity because adult animals are very protective of their young and will act aggressively to defend them," Warthin said. "In addition, interference by people can cause mothers to reject their offspring."
Federal law is quite clear about protecting the natural process. It prohibits not only the harvesting of wildlife from national parks, but also the "feeding, touching, teasing, frightening or intentional disturbing of wildlife nesting, breeding or other activities."
In Yellowstone, regulations require that visitors remain at least 25 yards from bison, elk, bighorn sheep, deer, moose and coyotes, and at least 100 yards from bears and wolves.
Reid said rangers enforce the rules. But in a 3,472-square-mile park with 466 miles of roads, "it's hard to keep track of all the people that are here," she said.
In 2015, five visitors were seriously injured after getting too close to bison, also known as American buffalo. In April, a female visitor was filmed petting a bison near the park's Old Faithful geyser, seemingly unaware that the animal could charge at any time.
"A lot of people aren't clear about how to interact with wild places," Reid said. "Yellowstone -- this is a wild place."
Yellowstone officials said they are aware of only one other incident, more than a decade ago, that compares with the baby bison death. Other national parks, however, have seen similar situations.
Timothy Rains, a spokesman for Glacier National Park in Montana, told HuffPost that human-animal encounters have become a "chronic problem" in parts of the park, including Many Glacier and along the Going-to-the-Sun Road.
"It's heart-wrenching," Rains said. "It's not just frustrating, it's very said, because people have come here to see wildlife."
Kyle Patterson, a spokesman at Rocky Mountain National Park, said in an email that the majority of the park's visitors interact with wildlife responsibly, but rangers do receive occasional reports that visitors think a deer fawn has been abandoned.
More than a decade ago, a visitor to Rocky Mountain park loaded a fawn into a car and brought it to a visitors center, according to Patterson. The animal was later released back into the wild, but park officials aren't sure whether it survived.
"When we interfere with natural processes, through actions such as moving young animals, feeding wildlife (even small mammals) and approaching too close, especially without a full understanding, we can hurt the species involved or ourselves," Patterson said. "If wildlife react to your presence you are too close. Let wildlife be wild and observe from a distance."
Mark Biel, Glacier National Park's natural resources program manager, advised keeping space between you and the fauna on display at America's parks.
"They are wild," Biel said in an email. "They may seem tame, but they are wild, and can be unpredictable and dangerous."
In other words, don't end up like this guy:
This post has been updated with comment from Yellowstone via its Facebook page.
Related
Before You Go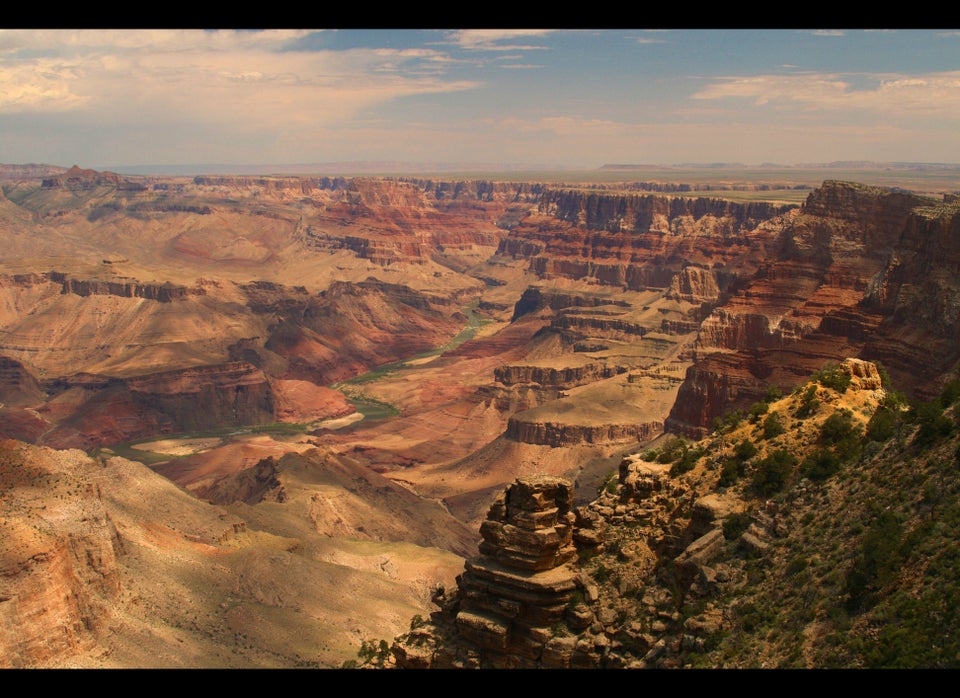 Ten Best U.S. National Parks
Popular in the Community