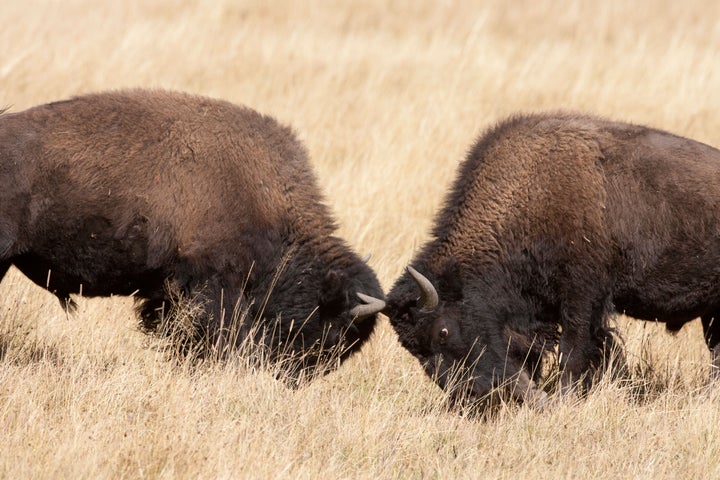 The American bison has always been a powerful symbol of our nation's history. It has graced our currency, served as mascot and flown on our flags. That iconic image is a haunting reminder of what we've lost -- not only the massive bison herds that once stampeded across the Great Plains, but also the wild spirit of the West that was so quickly tamed.
But like all great symbols, the American bison is taking on new meaning as a token of our future as well as an emblem of our past.
I watched in awe as the tribal wildlife manager flipped the latch of the first trailer, opened the door, and out roared the first two wild bison from Yellowstone National Park, storming back onto the Fort Peck Indian Reservation. The bison had spent all day traveling about 500 miles from a quarantine facility just outside Yellowstone, where some had been held for more than five years. But that night, they were finally released in their new home, beginning a new chapter in bison conservation and cultural restoration for the tribes.
In total, 61 bison completed the journey. These are some of the only genetically pure descendants of the historic herds that once roamed our nation's vast prairies by the millions. They are also the first wild Yellowstone bison ever to be relocated to the Great Plains -- the heart of their historic range-to start new herds.
Half of them will soon be moved to the nearby Fort Belknap Reservation once fencing is completed there. Both reservations will manage their new herds sustainably as a valuable cultural resource for the tribes. These animals will also serve as a source for future relocations to other key parts of the bison's historic range.
Some day we hope to see herds of wild bison in more places where they can help revitalize America's prairie ecosystems. Bison adapted to life on the plains over thousands of years and played an essential role in shaping the ecology of the Great Plains. Their grazing helps maintain native grasses and allows other animal species to flourish. Prairie dogs prefer heavily grazed areas for their colonies, wolves once relied on bison herds as a major food source, and numerous scavengers feast opportunistically on bison carcasses.
Unregulated shooting during westward expansion in the 1800s wiped bison off the landscape. But miraculously a few were spared, including 23 bison found hiding out in a remote section of Yellowstone National Park -- the only bison remaining in the wild (a couple hundred other bison remained in captivity at ranches and zoos). Their descendants have made an incredible comeback from the brink of extinction and now number around 3,500 in Yellowstone.
Today, many Yellowstone bison continue to be sent to slaughter when they roam out of the park. We need more places to restore Yellowstone's genetically pure bison as the herd continues to grow, including on lands around Yellowstone National Park. With the help of Montana Gov. Brian Schweitzer and state and federal wildlife managers, bison have been given more room to roam north of the park boundary during winter. Yet hundreds of Yellowstone bison will continue to be shipped to slaughter unless we continue to increase tolerance around Yellowstone and also help find new places to restore them.
Hopefully, what began last week at Fort Peck Reservation is just the start of restoring bison to more of their historic habitat still available in other parts of the Great Plains. The Assiniboine, Sioux and Gros Ventre tribes of eastern Montana have shown their leadership and willingness to be pioneers for bison conservation. Their persistence and perseverance has ensured that future generations of Americans will be able to witness magnificent wild bison out on the Plains once again. Now it's up the rest of us to build on their success and help restore these iconic wild animals to additional places.
With genetically pure bison back on their ancestral stomping grounds, we have the chance restore our nation's great conservation legacy, preserve our wildlife heritage, and reinvent a classic symbol of our wild American spirit.
Related
Popular in the Community