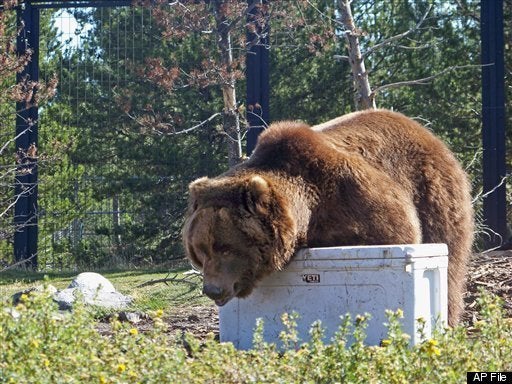 The bears that attacked and killed a man and injured two others at a campground in Yellowstone National Park have been captured, according to the Associated Press.
A 300- to 400-pound mother grizzly and two of her three cubs were lured into a trap made from pipe covered by the dead man's tent on Wednesday night. The bear tore town the trap and was captured.
By Thursday morning, two of her year-old cubs had been caught and the third was nearby, calling out to its mother.
The dead man was identified on Thursday at Kevin Kammer, a 48-year-old man from Grand Rapids, Michigan. He was pulled from his tent and dragged 25 feet to his death. The other two victims, Deb Freele of London, Ontario and an unidentified man were being treated at a hospital in Cody, Wyoming.
Fish, Wildlife and Parks Warden Capt. Sam Sheppard said that the attack earlier this week was highly unusual. "She basically targeted the three people and went after them," Sheppard said. "It wasn't like an archery hunter who gets between a sow and her cubs and she responds to protect them."
Officials have said the bear will be killed after they confirm she was the killer through DNA evidence (just like with humans!). As for the cubs, their fate is not set yet. Sheppard told the AP it is unlikely they'll be returned to the wild since they may have learned certain predatory skills from their mother.
Wildlife officials said the attack was the most "brazen" in the Yellowstone area since the 1980s.