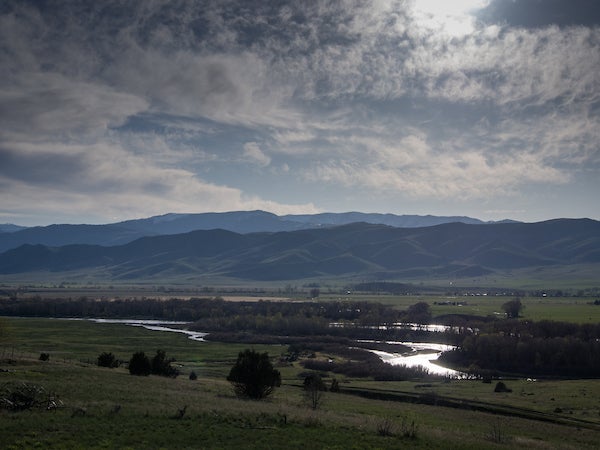 The Yellowstone River is one of the largest, healthiest and wildest free-flowing rivers in the United States. For anglers, it's also one of our most spectacular and iconic trout waters.
So it was a shock when Montana officials last month closed more than 180 miles of the Yellowstone due to an outbreak of Proliferative Kidney Disease (PKD), a parasite that can infect and kill fish. PKD has only been found twice in Montana—and this time it killed an estimated 30,000 mountain whitefish.
We forget that even healthy rivers, like healthy people, can get sick. But the Yellowstone is a reminder, too, that we have powerful medicine for improving the health of our rivers. It's called resilience.
The fish kill comes during the most severe drought in Montana in a century. The Yellowstone River is flowing at near historic lows, due to poor snowpack and a dry summer, and until water temperatures drop consistently below about 55 degrees Fahrenheit, the parasite will likely continue to infect fish. Hopefully, the coming of cooler fall weather and rains will alleviate the situation. Water temperatures have been dropping of late—an encouraging sign.
While there has certainly been a toll, both to fish populations and the local recreation economy, the fishery will undoubtedly bounce back. It's good to hear that many sections of the Yellowstone have already been reopened to anglers.
What is important right now is to collect data and make decisions based on the best available science and while employing the precautionary principle to do no additional harm. To date, there appears to be minimal impact to wild trout. The impact to mountain whitefish populations is less clear at this point, underscoring the need for more monitoring of this species.
Sportsmen need to do our part by preaching the gospel of Inspect, Clean and Dry. While Aquatic Invasive Species, including PKD, can be introduced into rivers in a number of ways, be they by bird or by boot, sportsmen can help limit their spread by adopting best practices such as cleaning our wading boots and boats.
What else can we do? Keep at our work of making America's coldwater trout and salmon waters resilient and healthy. A stream or river is more resilient when it has lush riparian habitat (the "green zones" along rivers), connected tributaries, and healthy flows of cold, clean water. And a resilient river is more likely to survive the assaults of disease, drought, wildfires and changing climate.
More than two decades ago, Trout Unlimited worked with other conservationists and state biologists to change Montana water law to allow irrigators to conserve water for instream flow. Soon after, Montana Fish, Wildlife, and Parks began securing water leases in key tributaries of the Yellowstone River—boosting late summer flows during critical spawning and egg-incubation periods and reinvigorating the Yellowstone fishery with tens of thousands of Yellowstone cutthroat fry.
In recent years, TU has worked to establish water leases with ranchers and landowners on tributaries like Brackett Creek and the North Fork of Fridley Creek. We're currently partnering on a half dozen other projects aimed at restoring tributary flows and supplying clean, cold water to the Yellowstone.
Here's why this work to protect, reconnect and restore rivers is so vital: A healthy and resilient river will recover more quickly from a major blow like the one the Yellowstone just took.
And as our climate continues to change, these hits and assaults will keep coming.
Yes, even a healthy person can get sick, but healthy people also tend to bounce back faster—and they're less prone to get sick in the first place.
The same is true of our rivers. Let's urge our policymakers and partners to keep up the good work of promoting river resilience.
Calling all HuffPost superfans!
Sign up for membership to become a founding member and help shape HuffPost's next chapter
This post was published on the now-closed HuffPost Contributor platform. Contributors control their own work and posted freely to our site. If you need to flag this entry as abusive,
send us an email
.