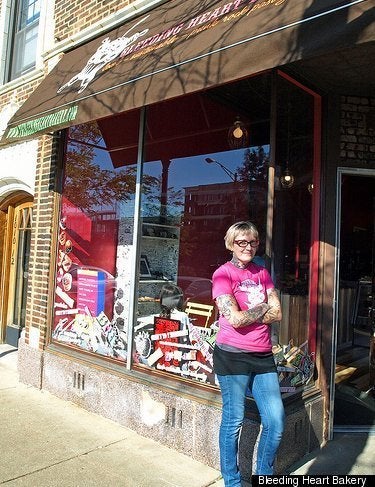 Last week, Chicago's Bleeding Heart Bakery joined 9 plaintiffs from across the nation in a class-action lawsuit against consumer review site Yelp. The bakery's decision to join the suit sparked a debate between Yelp lovers and haters throughout the city, and not only over the "extortion tactics" alleged in the suit.
Yelp, the company that prides itself on "Real People, Real Reviews," is the most popular review site online, and one of the top 150 websites in the United States. The platform allows users to review pretty much everything--from a diner down the street to a gas station. Yelp has become a destination for consumers looking for "the best" in their cities--be it car mechanics or falafel, but for many businesses, the site has been a headache.
In recent weeks, the site has been slapped with three class-action lawsuits from businesses accusing it of extortion. The suits claim that Yelp's sales team pressures businesses into advertising by offering to manipulate reviews, or get rid of negative ones altogether--an allegation that Yelp vehemently denies.
"It's not true," Yelp spokesman Vince Sollitto told HuffPost Chicago. "It didn't happen, it doesn't happen, we don't do it, we never have and we never would."
Michelle Garcia disagrees. The owner of the Bleeding Heart Bakery, an organic and sustainable bakery in Roscoe Village, said she joined the class-action suit against Yelp because she feels their sales practices damage small businesses.
"The reason we joined the lawsuit has nothing to do with good reviews or bad reviews," Garcia told HuffPost Chicago. "[We joined because of] the extortion tactics that Yelp has used against us and several of our customers that own small business."
"This has nothing to do with our cupcakes," Garcia said. "I would have a problem [with Yelp's business practices] if we had 500 just 5 star reviews. I don't bribe people to get their wedding cakes from me."
Sollitto insists that Yelp's sales staff is unable to alter content on a business's page, and calls people who believe the extortion claim "conspiracy theorists."
But while Yelp's popularity among consumers remains, business owners have been increasingly vocal about their problems with the site.
Mike Maloney, manager of the Grafton Pub in Lincoln Square, said he does not think people who write the reviews realize how much harm they can do--especially if the review is malicious or untrue.
"Businesses can be destroyed [by someone's review]," Maloney said. "You really try to please every single person. Obviously you're going to get one or two people [who are unhappy with something.] It's kind of unfair."
"People take themselves very seriously when they have a computer and fingers that work," she said.
As for Yelp's advertising practices, Maloney said he turned them down "several times" but did not feel like he was bribed into anything. He did say he had trouble getting a review off of the Grafton's page when a patron personally attacked a server by name.
Sollitto said filtering reviews is a "very difficult task," but said the system Yelp has in place does a good job of filtering out malicious content, posts from disgruntled former employees or even glowing reviews that business owners can place themselves.
"We believe that this filtered content is the critical," Sollitto said. "[It is] why consumers use and trust Yelp."
"We know this lawsuit to be without merit, we will fight it vigorously, and we are confident we will prevail," he wrote.
Whether or not Yelp used extortion tactics, the consensus among users is that review sites like Yelp will prevail:
Chicagoan Shannon Miller said the site provides a needed service--especially in a big city like Chicago.
"I personally love it," she said. "Chicago is such a huge, wonderful city but it's hard to know off the top of your head where to go if you want to try something or somewhere new or you're looking for something in particular. It gives me options outside of endless Internet trolling and sometimes it's nice to hear other opinions."
Nick Kokonas, co-owner of upscale Chicago restaurant Alinea, told HuffPost via email that his business embraces review sites like Yelp.
"Alinea was among the first to embrace online reviews...and we have always allowed our patrons to take pictures and even review from the table," Kokonas said. "Is it the way I want to dine? No. But we definitely appreciate the reviews and have nothing to hide -- and have from the beginning believed in the power of unbiased public reviews."
What about the bad reviews?
"Sure, you will get a few haters, but again I think the public can suss out sour grapes from real reviews," Kokonas said. "The Internet is here to stay."
Calling all HuffPost superfans!
Sign up for membership to become a founding member and help shape HuffPost's next chapter