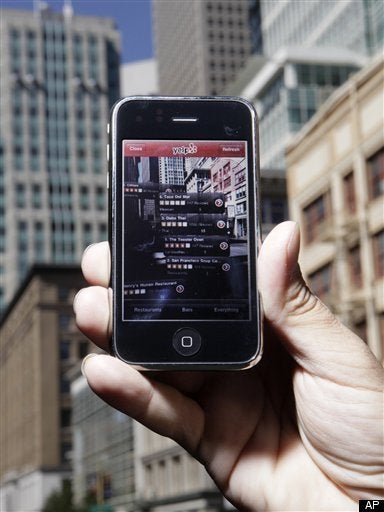 Local business review service Yelp has added a Foursquare-like feature to its mobile check-in option. Now, small business owners can reward loyal customers and encourage new visits with Yelp's "check-in offers."
Using the newly updated Yelp business dashboard, business owners in the U.S., U.K., Canada and Ireland can activate the rewards feature by creating a special coupon that will entitle returning customers to a percent discount, a fixed price discount, or a free item. A Yelp mobile user activates the special offer when he checks in (at participating locations) using his iPhone or Android device.
For example, a local bar might offer customers a free cocktail when they check in. A restaurant might give a 25-percent discount on select menu items after three check-ins. Business owners set the terms and conditions of their reward.
National chains like Sports Authority and 24 Hour Fitness are also participating, says Yelp. Sports Authority has created a nationwide check-in offer specifically for Black Friday shoppers: Anyone who checks into a Sports Authority location on November 26 will receive a $10 cash card, according to Clay Cowan, Sports Authority's Vice President of E-Commerce.
Check-in offers were pre-released last Tuesday in conjunction with an update for Yelp business tools. As Mashable reports, "The update brings with it new navigation, the ability to manage multiple business listings and additional mobile tracking and analytics, including stats around redeemed offers."
Yelp's check-in offers mimic elements of Facebook Places' new Deals service, which lets merchants broadcast discounts and other deals to users who check in using Places.
Search Engine Land notes that Yelp check-in offers may have an advantage over similar location-based rewards offered by Foursquare and Facebook. "Yelp is more established than Foursquare with a larger and more active user base," SEL writes. "Further, Yelp's potential advantage over Facebook on the business side is that Yelp is already recognized and accepted by (many) local businesses as a viable (and necessary) marketing/customer service venue."
On the other hand, a recent Pew study found that only 4% of online adults use location-based services.
Will you check using Yelp at participating locations, or will you stick to other services? Let us know in the comments below.
Popular in the Community