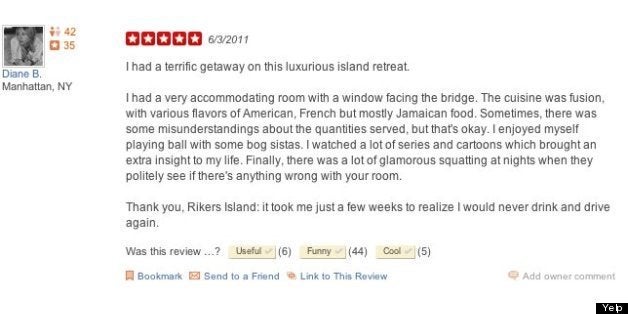 Reviewing prisons online isn't a new practice, and it's often easy to detect sarcasm or rage in former inmates' comments about their facilities.
But The Washington Post reports that lawyers and family members are getting good insight from some reviews on Yelp, one of the most popular online review sites generally dedicated to restaurants and shopping. Some inmates and their families have few other avenues to report allegations of abuse, poor conditions and terrible food, says longtime California lawyer Robert Miller.
"I started reviewing because I needed something to kill time while I waited to see clients," Miller told the paper. "But I think the reviews are actually helpful for bail bondsmen, attorneys, family members — a lot of people, actually."
CHECK OUT MORE PRISON YELP REVIEWS (Story continues below):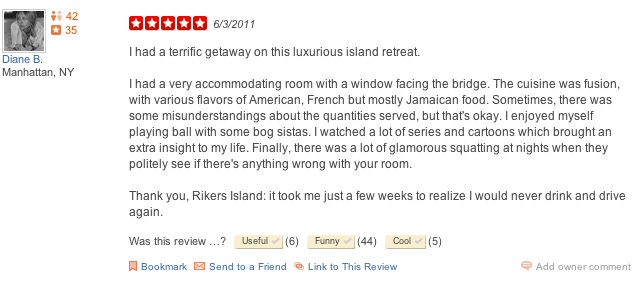 Prison Yelp Reviews
On their surface, prison reviews on Yelp don't provide any confirmed information. It's hard to tell if users are giving accurate information, if they're being sarcastic or even whether they were incarcerated in the first place. BuzzFeed has posted several tongue-in-cheek prison reviews from Yelp, including a three-star rating from a user who claims he wasn't strip searched at Manhattan Central Booking in New York.

Still, lawyers have used some information to bolster their clients' defenses, and Yelp reviews can lead to internal investigations. A spokesman for the Los Angeles County Sheriff told The Washington Post that "every allegation" is investigated, but noted that "this Yelp phenomenon I find curious."
Popular in the Community