There comes a time when you're vacationing with your best friend in the Caribbean, and you casually mention how you've always dreamed of opening a hotel, and she counters with her dream of opening a restaurant. And the answer, right there, smacks you in the face like a Panama breeze. At least that's how it worked for Pascale Boucicaut and Lamar Bailey Karamañites when, exploring their Caribbean roots, their origins and dreams collided to create Yemanja, a retreat on the island of Bastimentos. At Yemanja, feeling at home snuggles up next to seemingly new and experimental food experiences, all rooted in the area's deep culinary history.
Yemanja is a business, certainly, but it's also a throwback to a time when hospitality meant something more than a corporate checklist. The owners share a vision of Caribbean culture that's about family and friendship and love, eschewing the usual tourism pandering. Pascale's kitchen is actively trying to revive traditional recipes that the young people of the island are rejecting, like "cow foot soup," while also making delicious modern Caribbean concoctions like piña colada pancakes. Together, she and Lamar have created a place that feels like home.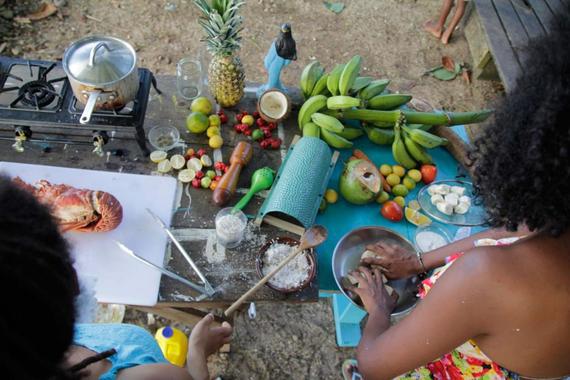 Pascale and Lamar had a dream, worked hard and made it happen. The fact that their dream involved warm tropical waters, gentle ocean night breezes, and delicious cocktails and dancing shared with an ever-rotating cast of friends and travelers, just makes their accomplishment all the sweeter. Just try a Vampira -- tequila, tomato, and some secrets even Bloody Mary wants to know -- and see if you ever want to go home again. It's a hard place to leave, especially because a room starts at USD$10 a night, and a private cabina is only $30.
"Sometimes I get homesick," Pascale wrote last year on Yemanja's Tumblr page. "Especially on stretches of rainy days when I feel so far away from the people I really love, and fall asleep wishing that, for just an hour, I could leave this island and return to my friends and family. Then I wake up early and catch a rainbow on my way to work."