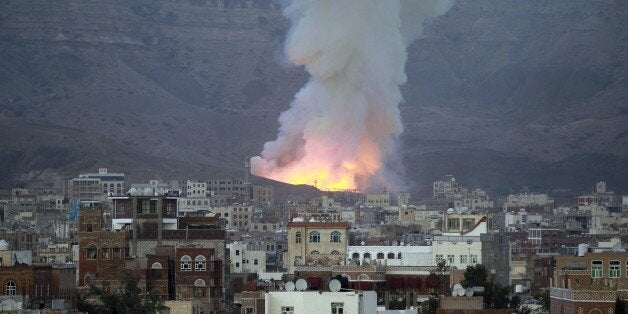 By Mohammed Ghobari and Mohammed Mukhashaf
CAIRO/ADEN, May 12 (Reuters) - Saudi-led air strikes hit the rebel-held Yemeni capital Sanaa hours before a five-day humanitarian truce took effect on Tuesday, and Washington cautioned against "provocative actions" after Iran dispatched a cargo ship to Yemen.
The ceasefire began at 11 p.m. (2000 GMT), said Brigadier General Ahmed Asseri, spokesman for a Saudi-led coalition which has been striking the country's Houthi rebels since March 26.
It is intended to allow the shipment of food and medicine to the country, which aid groups warn faces a humanitarian catastrophe after more than seven weeks of war.
There was no let up in fighting, despite the imminent truce.
The Houthis shelled Saudi border areas in Jizan province until the last moments before the ceasefire started, Asseri said on al-Arabiya television, adding that this gave him no confidence the rebel group intended to keep to the truce.
And as the ceasefire neared, witnesses said the Saudi-led alliance bombed Houthi positions in the southern port of Aden, where local armed groups were still fighting the rebels.
The United States said it was tracking Iranian warships accompanying the vessel bound for Hodaida port, and urged Iran instead to use a U.N. distribution hub in Djibouti to provide help to people in the war-damaged Arabian Peninsula country.
"We would discourage any provocative actions," said U.S. State Department spokesman Jeff Rathke.
Iran is an ally of the Houthi movement, Yemen's most powerful political faction which the coalition accuses of toppling the country's rightful government.
Iranian warships will escort the vessel, a naval commander was quoted as saying by state news agency IRNA.
"The 34th fleet, which is currently in the Gulf of Aden, has special responsibility to protect the Iranian humanitarian aid ship," Admiral Hossein Azad said, referring to a destroyer and support vessel in international waters off Yemen.
Asseri said any Iranian vessels sailing to Yemen, whether accompanied by warships or not, needed the permission of the Yemeni government or the coalition to make the journey.
In the latest violence, warplanes bombed targets in the northern province of Hajja near the border with Saudi Arabia, killing 20 people, most of them civilians, residents said.
Looking to prepare for the truce and jumpstart stalled political talks among Yemen's civil war factions, the new U.N. envoy to the country arrived in Sanaa, saying fighting would not resolve a conflict that crosses ethnic and religious faultlines.
"We are convinced there is no solution to Yemen's problem except through a dialog, which must be Yemeni," the envoy, Mauritanian diplomat Ismail Ould Cheikh Ahmed, was quoted as saying by the local Saba news agency.
Seeking to restore exiled President Abd-Rabbu Mansour Hadi, an alliance of Gulf Arab nations has since March 26 been bombing the Iranian-backed Houthi militia and allied army units that control much of Yemen.
Backed by Washington, top oil exporter Saudi Arabia worries that the Shi'ite Muslim Houthis are a proxy for arch-rival Iran to expand its sway in the Saudis' backyard.
Saudi-led air strikes on a rocket base in Sanaa on Monday killed 90 people and wounded 300, a local official was quoted as telling Saba. If confirmed, the death toll would be among the highest in a single bombing incident throughout Yemen's war.
Sanaa residents said there were three air strikes on a base for army contingents aligned with the Houthis in the north of the capital on Tuesday, sending up a column of smoke.
Saudi Foreign Minister Adel al-Jubeir was quoted as saying on Monday that the truce in Yemen may be extended if "(aid deliveries) succeeded and if the Houthis and their allies don't engage in hostile activities."
Adrian Edwards of U.N. refugee agency UNHCR said planes were poised to take off from Dubai in the United Arab Emirates bearing 300 tonnes of sleeping mats, blankets and tent material.
"The UNHCR is making final preparations for a huge airlift of humanitarian aid into Yemen's Sanaa, to take place over the next days if today's proposed ceasefire comes into effect and holds," he told a briefing in Geneva.
In Aden, locals said four residents were killed in Houthi shelling, while four anti-Houthi militiamen operating a tank were killed in an Arab air strike - one of the first reported incidents of friendly fire since the campaign began.
On Monday, the Houthis and Saudi forces exchanged heavy artillery fire along the two countries' rugged desert border.
UN human rights spokesman Rupert Colville told a news briefing in Geneva on Tuesday the total number of civilians killed since March 26 stood at 828, including 182 children and 91 women, with a further 1,500 injured. (Additional reporting by Sam Wilkin in Dubai, Angus McDowall in Riyadh, Mostafa Hashem in Cairo, Stephanie Nebehay and Tom Miles in Geneva; Writing by Noah Browning and William Maclean; Editing by Crispian Balmer, Dominic Evans and Howard Goller)
Calling all HuffPost superfans!
Sign up for membership to become a founding member and help shape HuffPost's next chapter
BEFORE YOU GO
PHOTO GALLERY
Saudi Airstrikes Yemen