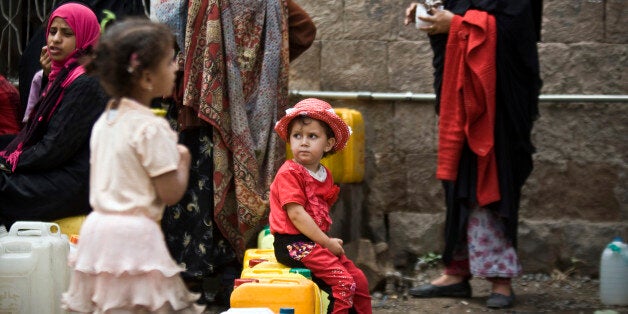 CAIRO, May 13 (Reuters) - A five-day humanitarian truce in Yemen appeared to be broadly holding on Wednesday, despite reports of air strikes overnight by Saudi-led forces and continued military operations by the country's dominant Iranian-allied Houthi group in the east.
Witnesses in the southwestern city of Abyan said air strikes hit Houthi positions there after they seized the area for hours after the pause began at 11 p.m. (2000 GMT).
Residents of the southern provinces of Shabwa and Lahj, which have also witnessed heavy ground clashes between local militiamen and the Houthis, also reported air strikes overnight.
At least 35 civilians were killed by Saudi-led air strikes on cities of Abs and Zabeed in western Yemen on Tuesday, residents said, before the beginning of the ceasefire that is intended to ward off a humanitarian catastrophe.
Seeking to restore exiled President Abd-Rabbu Mansour Hadi, an alliance of Gulf Arab nations has since March 26 been bombing Houthi militia and allied army units that control much of Yemen.
Saudi Arabia and its Sunni Muslim allies believe the Houthis are a proxy for the influence of their arch-rival, Shi'ite Iran, in a regional power struggle that has helped exacerbate sectarian tensions across the Middle East.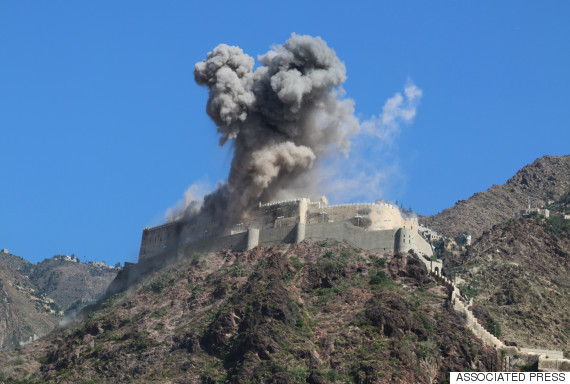 Smoke rises from Al-Qahira castle, an ancient fortress that was recently taken over by Shiite rebels, following a Saudi-led airstrike in Taiz city, Yemen, Tuesday, May 12, 2015.
Saudi state television quoted an official source at the Defense Ministry as saying projectiles had fallen on the Najran and Jizan areas on Wednesday morning and that some sniper fire by the Houthis had been detected. There were no casualties.
"The position adopted by the armed forces was to exercise restraint, abiding by the humanitarian truce approved by the coalition forces," the television quoted the official as saying.
There was no immediate confirmation of the accusations by Saudi media.
The truce is meant to allow in aid and medicine to Yemen, where 828 civilians, including 182 children, have been killed since March 26, according to the United Nations.
The scattered reports of incidents would suggest violence at a far lower level than before the truce formally began.
The Houthi TV channel al-Masira said Saudi ground forces shelled their northern stronghold province of Saada and called the bombings a violation of the ceasefire.
The Saudi state news agency SPA said King Salman, at a royal court ceremony attended by Hadi and his Prime Minister Khaled Bahah, authorized the laying of the foundation stone for a humanitarian relief center.
The Saudi-owned al-Arabiya channel said the monarch had allocated one billion riyals ($265 million) to the Yemen relief work, in additional to a similar amount he had pledged earlier.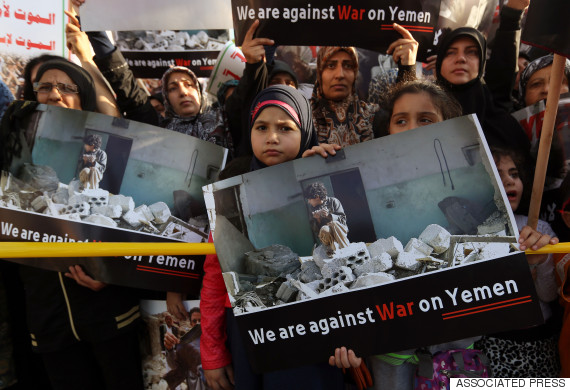 Women and children hold up placards, during a demonstration organized by the Shiite Lebanese militia group Hezbollah, against the Saudi-led airstrikes targeting Yemeni Shiite rebels known as Houthis, in front the United Nations headquarters in Beirut, Lebanon, Tuesday, May 12, 2015.
(Reporting By Mohammed Ghobari; additional reporting by Omar Fahmy in Cairo, Writing by Noah Browning, editing by Sami Aboudi and Ralph Boulton)
Calling all HuffPost superfans!
Sign up for membership to become a founding member and help shape HuffPost's next chapter
BEFORE YOU GO
PHOTO GALLERY
Saudi Airstrikes Yemen