On Friday night, Farea al-Muslimi, a young Yemeni journalist and activist, went for a drive with a friend around the capital city of his home, Sanaa.
It was a holiday weekend, the second day of the Muslim holy festival of Eid al-Fitr, and the streets were calm. But what struck al-Muslimi the most as they crossed through the town, was that they hardly encountered any security presence.
"We didn't see a single checkpoint," he told HuffPost. "No one buys the idea that there is a security threat here. They simply don't see it -- I don't see it."
Over the previous week, the United States and other Western nations ramped up terror alerts about Yemen, a small nation on the tip of the Arabian peninsula that attracts a disproportionate amount of American attention. A recent terrorism alert prompting the closures of nearly two dozen American embassies around the Arab world was "emanating from Yemen," the U.S. said, and earlier in the week American citizens were urged to flee Yemen. The staff of the U.S. embassy there was spirited to Germany on a military cargo plane.
However, as the week progressed, signs of terror did not take the form of an attack by al Qaeda of the Arabian Peninsula, an increasingly powerful franchise of the feared terrorist organization, but instead, as Haykal Bafana, a Sanaa-based Yemeni lawyer, put it recently, of an "orgy of drones."
For those left in Yemen, it has been like living in a universe parallel to the one described in American terror alerts, Bafana said on Saturday. "It's like there are two different Yemens," he said. "The one the U.S. and Yemeni government claims is always under a terrorist threat, and the one we actually live in, with drones. It's like they stepped through the looking glass."
For Farea al-Muslimi, that's meant a week of fear and anger. "You can tell how frustrated the people here are," al-Muslimi said, when reached by phone late on Friday.
Earlier in the week, he said, when an American P-3 Orion spy plane circled over Sanaa for nearly 10 hours, loudly buzzing as residents tried to celebrate the start of Eid, residents stopped in their tracks to protest. "People were standing in the street and screaming at it," he said.
Al-Muslimi became something of an American household name, at least in the relatively small circle of people who monitor America's counter-terrorism policies and drone usage, earlier this year when he live-Tweeted accounts of a drone strike from his family's village, Wessab.
He subsequently traveled to Washington, D.C., where he testified before Congress about the experience, telling lawmakers that drone strikes were destroying America's image in Yemen, and driving ordinary citizens into the arms of al Qaeda and other militants. "What violent militants had previously failed to achieve, one drone strike achieved in an instant," he said at the time.
In the ensuing months, amid a growing atmosphere of dissent about the use and abuse of drone warfare in Washington, President Barack Obama found himself compelled to speak publicly about the policy. In a speech in May, he acknowledged America's role in drone strikes and pledged to create a legal framework for oversight of the program.
But The New York Times and others have since reported that the reality in targeted areas like Yemen shows that drone policy is anything but reformed.
In Yemen, there have already been 22 strikes this year, close to the pace in 2012 when Obama ordered a record 42 drone strikes, according to the Long War Journal. And in Pakistan, another frequent target of American drones, there were more strikes in July than in any month since January.
The history of U.S. drone wars in Yemen includes a number of tactical successes, of course, including the strike that killed feared al Qaeda propagandist Anwar al-Awlaki, an American citizen. But it's also littered with devastating failures: innocent families and children have been hit by misguided missiles, first-aid responders have found themselves targeted by a practice known as "double-tapping," and even some prominent anti-al Qaeda clerics have been assassinated.
The day after Obama was reelected for his second term, for instance, he ordered a strike that killed a tribal leader known for negotiating with al Qaeda militants to reduce their lethality. More recently, officials acknowledged that a strike last summer killed Salem Ahmed bin Ali Jaber, a popular sheik who a few days earlier delivered a sermon on the evils of al Qaeda. Mohammed al-Qadhi, a Sanaa-based Yemeni journalist, said that so far there is no conclusive evidence that the current attacks killed innocents. Others, including Bafana, who tracks the strikes through his own network, said the first strikes last week in Hadhramauat killed at least four civilians, including a child.
Either way, al-Qadhi said the latest strikes are producing an uptick in popular discontent and protest -- on Facebook and Twitter, in the targeted villages, and at the now-vacant American embassy in Sanaa.
"People feel they don't have a government anymore," al-Qadhi said by phone. "They feel we don't have a government to attack the militants, so the Americans are handling it for us, and they are encroaching onto the sovereignty of Yemen."
The killings, he added, "may be good for Americans but in the end it doesn't solve the problem completely, especially if some civilians are killed. It just creates a kind of sympathy with al Qaeda. And I think al Qaeda will not stop attacking. I think they will retaliate, and they will fire back again in retaliation to these attacks."
The practitioners of America's counterterrorism strategy also sometimes seem at a loss to explain the U.S. policy's objectives.
"It's too early to tell whether we've actually disrupted anything," a top U.S. official told The Washington Post this week, of the most recent round of strikes. "What the U.S. government is trying to do here is to buy time."
To al-Muslimi, the return of drone warfare almost reflects an aimlessness among American policymakers. "Just like troubled teenagers with bad parents might run to the addiction of drugs and alcohol when it has problems, Americans are running to drones when they have terrorism problems," he said. "Alcohol makes you forget your failures, and for the Americans it seems like drones are for when they want to forget their counter-terrorism failures. It's senseless."
Meanwhile, he said, this week's action may have made some Americans feel better, but it's only increasing the sense of terror in Yemen.
"When there is a normal war, people can hide, or they can stay away from the military -- they can make choices and be careful," al-Muslimi said. "But when drones come, you just don't know when you'll be next. The fear is incredible."
Related
Before You Go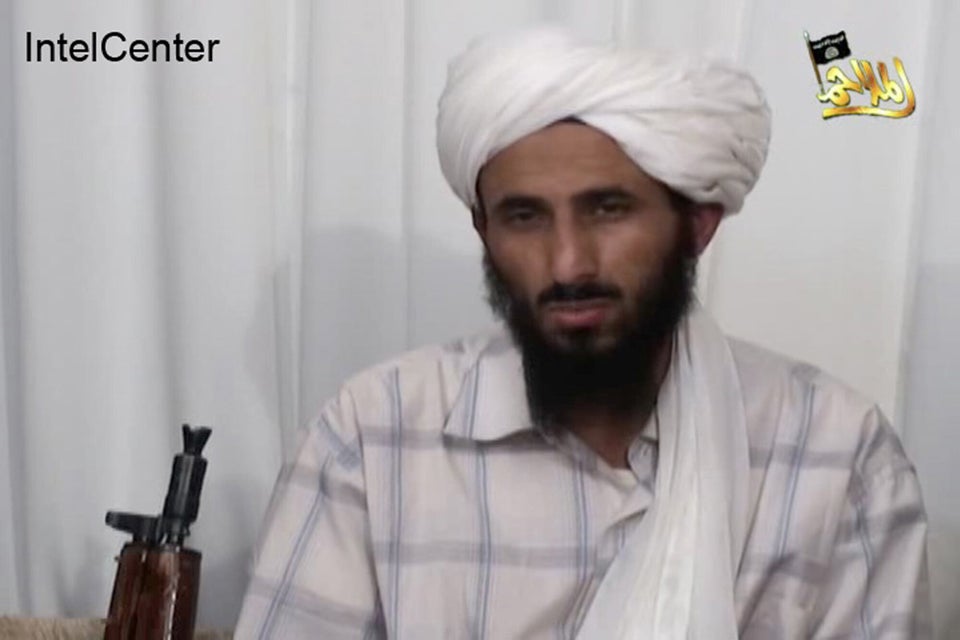 Al Qaeda In The Arabian Peninsula (AQAP)
Popular in the Community