DULLES, Va. ― Nine individuals from Yemen arrived in Virginia on Monday morning, nine days after being turned away by U.S. authorities tasked with implementing President Donald Trump's travel ban that targets seven Muslim-majority countries.
After their third transatlantic journey in a week-and-a-half, brothers Tareq Aqel Mohammed Aziz and Ammar Aqel Mohammed Aziz, 19 and 21 respectively, walked out into the international arrivals terminal at Dulles Airport, where their father, Aqel, was eagerly waiting for them, his blue blazer adorned with an American flag pin. Fifteen minutes later, they were joined by Ebrahim Abdo Ali Al-Murisi and Tahani Ali Ahmed Al Zubairi, a couple traveling with their five children, ranging from 3 to 14 years old.
The two families embarked on a nearly identical journey late last month. They traveled from Djibouti to Ethiopia, Ethiopia to Ireland, and then from Ireland to the U.S. on Friday Jan. 27. But last time they were on U.S. soil, they never made it out of customs. Hours after their flight took off, Trump signed an executive order temporarily banning individuals from Yemen, Iran, Iraq, Syria, Somalia, Sudan and Libya from entering the country. Shortly after, the State Department canceled the Azizs' and Al-Murisis' visas.
When the Yemenis arrived at Dulles the morning of Jan. 28, authorities detained them, questioned them and forced them to sign paperwork without access to lawyers or interpreters, said Simon Sandoval-Moshenberg, a lawyer from the Legal Aid Justice Center who is working on their case.
Authorities at the airport marked their immigration visas with a stamp that read, "canceled DWAS, application withdrawn." Sandoval-Moshenberg believes the travelers were coerced into signing documents to voluntarily cancel their visas.
A couple hours later, the Aziz brothers and the Al-Murisis boarded a flight back to Addis Ababa — an unexpected expense tacked onto an already costly journey. They spent several days in the airport there before Ethiopian authorities told them they had exhausted their welcome, said Paul Hughes, a lawyer at Mayer Brown who is also working on their case. Then they continued on to Djibouti, where they waited for news from their lawyers.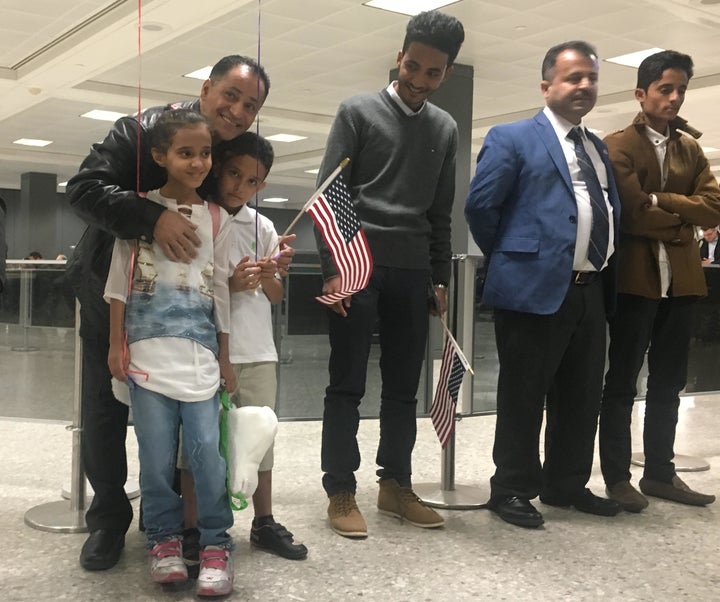 Back in Virginia, a team of lawyers from the Legal Aid Justice Center and Mayer Brown secured a temporary restraining order in federal court, giving their clients a short period of time to reenter the country. But they also had to get assurances that the U.S. government would facilitate their clients' reentry to the country, despite the cancelation stamp on their visas. In the days ahead of the Yemenis' second attempt to enter the U.S., their legal team worked the phones constantly to ensure that authorities in the several airports they would pass through knew to allow them to travel to the U.S.
But as they waited for the Aziz brothers and the Al-Murisis again on Monday, their family members still couldn't be certain their loved ones wouldn't be turned away again.
"I was looking at the door thinking, 'Nobody's going to come through that door,'" said Aqel, who had waited in vain for his sons to arrive in Detroit last week.
Aqel, a U.S. citizen who has lived in Michigan since 2001, began the process of bringing his two sons to the U.S. as lawful permanent residents a year and a half ago. Late last year, immigration authorities invited Tareq and Ammar to be interviewed at the nearest U.S. embassy. The U.S. shuttered its embassy in Yemen in 2015 due to the escalating war there, so the brothers traveled to Djibouti for their Jan. 4 interview. Three weeks later, their passports were returned to them, stamped with immigration visas, meaning they were approved for lawful permanent residency. They boarded their flight the following day, unaware that the new U.S. president was preparing to block their entry.
"They had the bad luck of taking off on Friday instead of Thursday," Sandoval-Moshenberg said. "They took off thinking this was going to be the happiest day of their lives. When they landed, it turned into a nightmare they could have never ever expected," he continued.
The entire process of getting the Aziz brothers to the U.S., which including extensive security vetting of both men, cost over $70,000, their father estimated. "I owe so many people money to bring them here," he said. But even as he reflected on his debt, Aqel couldn't stop smiling at his sons.
"I am so happy, I am so glad," Aqel said. "This is America, America is for everybody."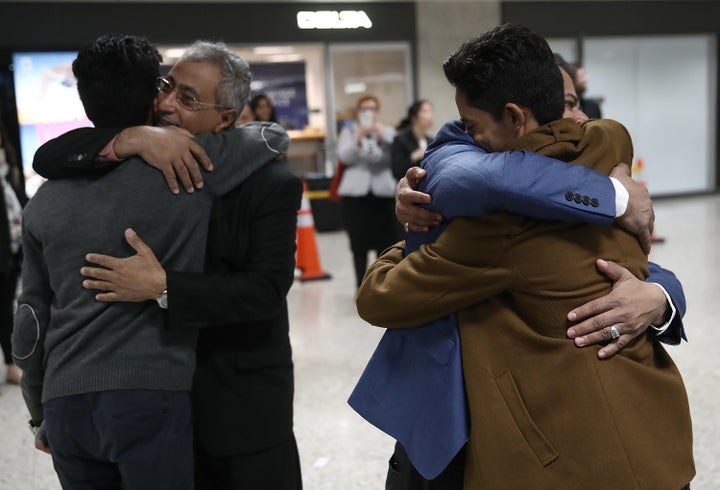 The Aziz brothers plan to travel to Flint, Michigan, with their father, where they will continue their studies, they said. The Al-Murisi family will continue on to Richmond, California, where Ebrahim's father lives.
Ebrahim's father has been trying to convince his son to move the family to the U.S. for the past fifteen years, said Gawhar Fadhle, Ebrahim's step-brother, who met him at the Dulles airport. But Ebrahim, a dentist who worked at a clinic in Sanaa, didn't want to leave his home. It wasn't until the escalation of the war in Yemen, where the U.S. is backing Saudi Arabia in the conflict, that he agreed to move.
Despite their unwelcoming introduction to America, the Azizs and Al-Murisis said they are grateful and relieved to have made it to the U.S. Tareq smiled as he gazed at the lawyers who fought to bring him and his brother to the U.S.
"They made me feel like there is a family here," he said.
Sign up for the HuffPost Must Reads newsletter. Each Sunday, we will bring you the best original reporting, long form writing and breaking news from The Huffington Post and around the web, plus behind-the-scenes looks at how it's all made. Click here to sign up!
REAL LIFE. REAL NEWS. REAL VOICES.
Help us tell more of the stories that matter from voices that too often remain unheard.