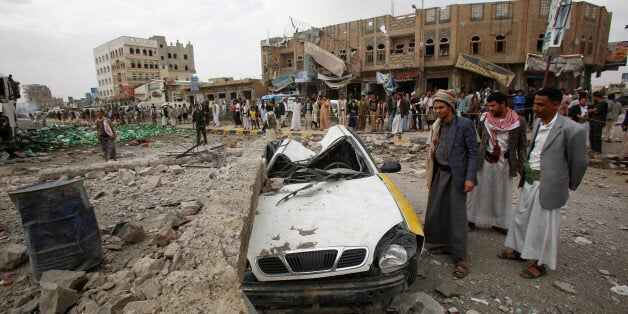 At one hospital, lights flickered as generators ran low on fuel, patients lay on the floor and cardboard was used as mattresses, reported a U.N. official after a trip to Yemen.
"The scale of human suffering is almost incomprehensible. I was shocked by what I saw," Stephen O'Brien, the undersecretary-general for humanitarian affairs, told a U.N. Security Council meeting on the Middle East nation whose 24 million people have been battered by five months of warfare.
And only on Wednesday, 13 educators and four of their children were in a teacher's office in Aran, north of Sana'a, the nominal capital, said Anthony Lake, the executive director of UNICEF, the U.N. Children's Fund, in an email.
They were killed during an air strike that injured 20 others.
"The educators were gathered together to prepare exams for thousands of children who had missed the end of their school year because of this brutal conflict. Working after hours, they had brought their children with them, some of whom were playing outside when the bomb exploded. A selfless activity turned in a moment into senseless bloodshed."
Since the escalation of warfare on March 26, the United Nations recorded at least 6,221 civilian casualties with at least 1,950 civilians killed, and 4,271 wounded. Some 21 million people, about 80 percent of the population need some kind of assistance.
Some 1.8 million children are likely to suffer from some form of malnutrition by the end of the year. Nearly 3,600 schools have closed down, affecting over 1.8 million children, UNICEF reported. The U.N. World Food Program says the country is on the brink of a famine.
Yemen is bordered by Saudi Arabia, the Red Sea, the Gulf of Aden, the Arabian Sea and Oman. Sana'a is the capital but is under rebel control. The temporary capital is in the port city of Aden.
Who is fighting whom?Yemen has remained engulfed in full-scale war four months after a Saudi Arabia-led coalition began air strikes against the Houthis (a Shiite rebel group) in an effort to restore President Abdo Rabbo Mansour Hadi to power. The conflict pits the Houthis and military units loyal to former President Ali Abdullah Saleh against forces supporting Hadi, southern separatists, Sunni tribes, Al-Qaeda in the Arabian Peninsula (AQAP) and the Saudi-led coalition.
The Houthis are said to receive military help from Iran, which has no troops on the ground. In the past they were known for being moderate and were closest to Sunni Islam of all the Shi'a sects. The United States and the U.N. Security Council support the Saudi-led coalition.
But the crisis dates back to 2011 when street protests began against poverty, unemployment and corruption -- and President Salah's plan to make himself president for life.
No good guys herePro-Houthis forces have repeatedly fired motor shells and rockets indiscriminately into populated areas and on Monday seized the embassy of the United Arab Emirates in Sana'a. But the Saudi-led air strikes are more powerful and include dropping cluster munitions in civilian area.
For example, Human Rights Watch, travelled in May to the northwestern city of Saada, a Houthi stronghold of about 50,000 people. The coalition bombed not only military installations but built-up areas of the city, destroying hundreds of buildings and five markets and at least one school. No one has been held accountable and no one knows which member of the coalition of Gulf nations conducted the strikes.
O'Brien, in his Security Council address, also condemned reports of air strikes and other shelling in and around Hudaydah port earlier this week, which damaged the main lifelines for the import of basic goods.
"I am extremely concerned that the damage to the port of Hudaydah could have a severe impact on the entire country, and would deepen humanitarian needs, making more people food insecure, leaving them without access to water or medicines, which could also mean the spread of disease," he said.
The coalition, fearing weapon imports, has restricted goods at all ports, including food and fuel and needed commercial supplies.
Is it time to talk?According to research by the Brussels-based International Crisis Group, the Saudi-led coalition should pivot to a political solution. The UN special envoy Ismail Ould Cheikh Ahmed, a Mauritanian, has already met with Houthis and Saleh's representatives in Muscat, Oman, to discuss a package deal that would facilitate a ceasefire and a move to political negotiations.
The Yemeni government in Riyadh and the Saudi-led coalition should support progress made in Muscat and work with the UN envoy to secure a framework plan that provides, among other things, an immediate ceasefire, withdrawal of militias from cities and a return to a political process.
As soon as a ceasefire is in place, the Houthis should remove heavy weapons from the Saudi border and Saudi Arabia should expedite aid to the northern Yemeni governorate of Saada.
The permanent members of the UN Security Council, especially the United States, which has been providing weapons and other support for the coalition war effort, should be ready to criticize any side that rejects a compromise backed by the UN envoy.
"If this opportunity is missed, the next round of violence promises to be more devastating, not only in the north, but also in the south and east, where a range of anti-Houthi fighters - from southern separatists to al-Qaeda - are heavily armed and likely to turn on each other," the Crisis Group said.
Popular in the Community