A Saudi-led blockade of desperately-needed aid supplies in Yemen has pushed the war-torn country to the brink of "the largest famine the world has seen for many decades," the United Nations said this week, forecasting millions of casualties if the siege is not lifted.
Saudi Arabia announced Monday that it had decided to "temporarily close" all ports in Yemen, where 7 million people are at risk of starvation. Nearly 70 percent of the population relies on foreign assistance brought in via land, sea and air for survival.
Over the past two-and-a-half years, Yemen has been engulfed by a raging conflict that has spiraled into one of the world's worst humanitarian crises. Its staggering deterioration has come amid an ongoing Saudi-led intervention there, under the direction of Saudi Crown Prince Mohammed bin Salman.
Salman became the world's youngest defense minister in January 2015 after his father ― King Salman ― claimed the Saudi throne. Two months later, Saudi Arabia led a coalition of Gulf Arab states in launching a military campaign in support of embattled Yemeni President Abed Rabbo Mansour Hadi against Houthi rebels, an Iranian-allied Shiite group that took control of large parts of the country in 2014. But the resulting conflict has had a devastating impact on millions of civilians.
The crown prince made international headlines this week after orchestrating a stunning anti-graft crackdown under the decree of his father. He's arrested hundreds of people, including several Saudi princes and ministers, without formal charges. The purge has been viewed by many as an attempt by Salman to consolidate power.
Saudi-led airstrikes in Yemen have already killed thousands of men, women and children, with no end to the carnage in sight. Saudi Arabia admitted in December to using British-made cluster bombs ― known to cause mass civilian casualties and banned by more than 100 countries. Human Rights Watch accused the coalition earlier this year of committing war crimes and carrying out indiscriminate attacks in Yemen. The Houthis and their allies have also come under criticism by rights groups, with HRW decrying their "numerous laws-of-war violations."
"Although all agreed that the kingdom had to respond when the Houthis seized the Yemeni capital and forced the government into exile, Prince bin Salman took the lead, launching the war in March 2015 without full coordination across the security services. The head of the National Guard, Prince Mutaib bin Abdullah, had not been informed and was out of the country when the first strikes were carried out, according to a senior National Guard officer."
The Saudi-led Yemen offensive began during the Obama administration, which provided the coalition with arms and logistics support. But the Trump administration has been an even more vocal backer of Saudi Arabia's regional policies, particularly its hawkish posture against Iran and its allies.
U.S. President Donald Trump met with Salman at the White House in March of this year, and visited Saudi Arabia in May. During his time there, Trump announced a $110 billion dollar arms deal with the kingdom, said to be the largest in American history. (But according to an investigation by Washington-based Brookings Institution, it may never come to fruition.) Trump this week expressed apparent support for Salman's massive purge.
In May, Salman told state broadcaster Al-Arabiya that "no one wants the war to go on." But the humanitarian impact of the Saudi-led military intervention have since intensified, with the international community now warning that its newly imposed aid blockade will bear catastrophic consequences in Yemen, including widespread starvation.
"The humanitarian situation in Yemen is extremely fragile and any disruption in the pipeline of critical supplies such as food, fuel and medicines has the potential to bring millions of people closer to starvation and death," read a joint statement released by leading international organizations and NGOs on Wednesday.
Saudi Arabia intercepted a ballistic missile fired toward its capital from Yemen on Saturday. Houthi rebels claimed responsibility for the attack, which the coalition has framed as justification for its blockade.
U.S. Senator Chris Murphy (D-Conn.), who's been a vocal critic of the Saudi-led and U.S.-backed offensive in Yemen, condemned the siege on Thursday.
"Houthi attacks on Saudi Arabia are unacceptable but do not justify collective punishment of an entire population," he said. "If the United States continues to support the Saudi-led coalition as they enforce the blockade, we will be enabling starvation as a weapon of war."
Medical workers in the Yemeni capital of Sanaa told Al Jazeera on Thursday that hundreds of sick and elderly people "will die within the next week" if the siege continues. "Unless Saudi Arabia eases its restrictions and allows food and medical supplies, I could end up losing all of my cancer patients," one doctor said. "Even those suffering from diabetes will die."
Related
Before You Go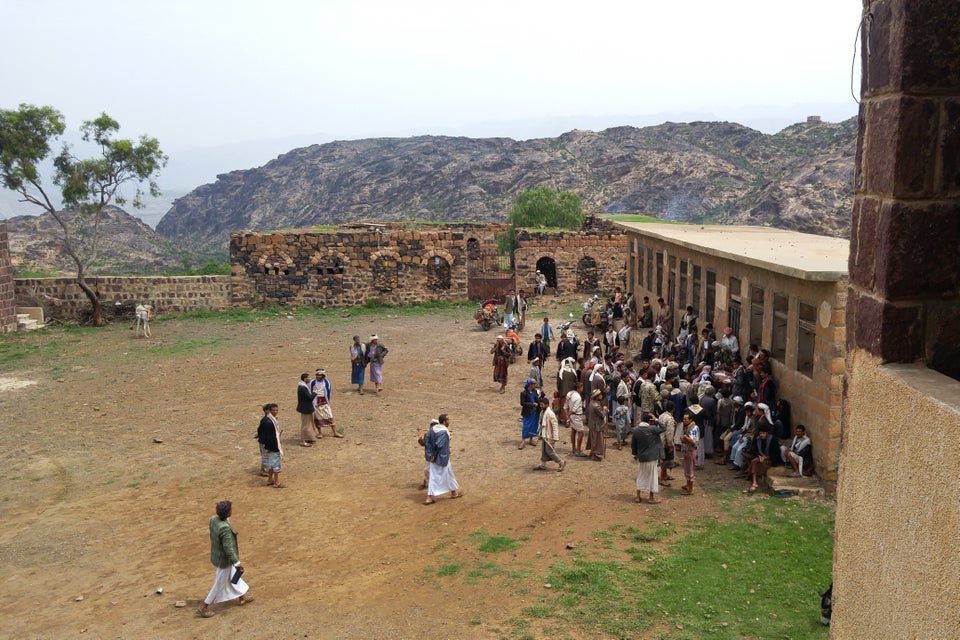 Aid Distribution in Yemen
Popular in the Community