Members of the international community pledged to meet just over half of the United Nations' $2.1 billion appeal to support crisis-afflicted Yemenis at a summit in Geneva on Tuesday, which U.N. Secretary General Antonio Guterres declared a "remarkable success."
He thanked donors for "generosity and solidarity" to help those affected by the two-year conflict in Yemen, where extreme violence between Saudi-led coalition forces and Houthi rebels has triggered mass displacement and one of the world's most dire food crises.
"Donors are leaving Geneva without having committed enough funding to meet the needs of just the 12 million most vulnerable" Yemenis, said Mutasim Hamdan, Yemen country director of the Norwegian Refugee Council. "I fail to grasp how the international community can see this crisis unfold without doing its outmost to limit the suffering that Yemenis are facing." 
Of Yemen's approximate 27 million citizens, a staggering 19 million are in need of humanitarian assistance ― including 17 million who don't have enough food to eat. Desperate circumstances have forced families to resort to extreme survival measures, sometimes sending girls into early marriages and boys into combat.
More than 2 million children in the war-torn country are malnourished, and some 500,000 could starve to death without imminent treatment. As Guterres noted at the summit, a Yemeni child under the age of 5 dies from preventable causes every 10 minutes.
"With the [funding pledges] realized today, at least the U.N. and UNICEF would be able to respond to the most urgent needs," Bismarck Swangin, UNICEF Yemen communication specialist, told HuffPost. However, he added, "We are asking the world to fiscally provide the needed resources for us to save lives. Until we're able to get that full amount, any amount is definitely less than our expectations from the international community."
Geert Cappelaere, UNICEF regional director for the Middle East and North Africa, issued a grim statement Tuesday, describing the severity of the crisis in stark terms: "Without further action from parties to the conflict and the international community, Yemen is at a serious risk of plunging into famine," he said. "We are in a race against time."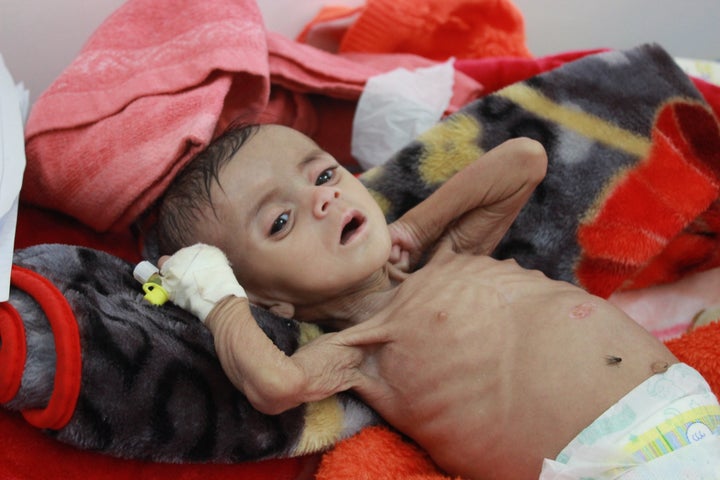 Swangin further stressed that the country's rapid deterioration highlights the urgency for an immediate escalated response.
"The summit today will make a difference and will save children's lives if we're able to get the funds that have been raised as soon as possible," he said. "Pledges are good, but money is better."
Swangin echoed Guterres' warning that "funding alone will not reverse the fortunes of millions of people in Yemen," asserting that humanitarian access and a cessation of violence are also essential.
"The parties to the conflict on the ground must allow for unimpeded access to all parts of the country," Swangin said. Additionally, "we need hostilities to cease so that displaced families scattered across the country are able to come out to points where they can receive medication and food."
Anxiety is growing over increased tensions and reports of a looming military offensive by the Saudi-led coalition in the city of Hodeidah. Located along the western border with the Red Sea, Hodeidah is a crucial port for humanitarian supplies transported from Djibouti, and nearly 80 percent of food imports.
"The Hodeidah port is a critical lifeline," David Beasley, executive director of the U.N.'s World Food Programme, said at the summit in Geneva. "Any disruption to the port would gravely hamper efforts to prevent famine." 
When asked about the complicity of major donors that have supplied arms to warring parties in Yemen, Guterres reportedly responded: "The day in which there are no weapons sold to any warring parties anywhere in the world, it would be very difficult for war to take place."
Calling all HuffPost superfans!
Sign up for membership to become a founding member and help shape HuffPost's next chapter
BEFORE YOU GO
PHOTO GALLERY
Aid Distribution in Yemen