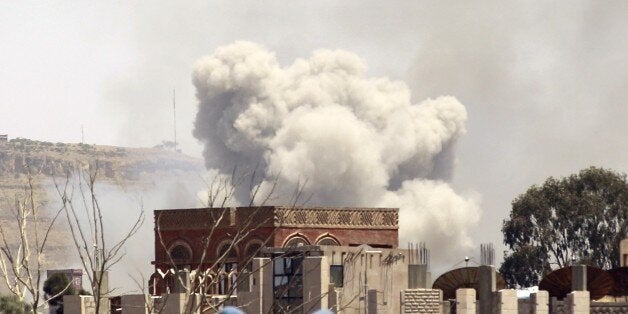 ADEN, April 19 (Reuters) - The leader of Yemen's Iranian-allied Houthi militia accused Saudi Arabia on Sunday of plotting to seize the country, in a fiery speech suggesting he was in no mood to compromise despite more than three weeks of Saudi-led bombing.
Saudi Arabia's goal is "the invasion of this country, its occupation and placing this country again under its feet and hegemony," Abdel-Malek al-Houthi said.
"It's the right of our people to resist the aggression and face the aggressor by any means," he added.
The air campaign has mostly failed to reverse recent gains by Houthi guerrillas fighting alongside Yemeni army allies.
However, in a blow to the Houthis, a Yemeni commander of a vast military district covering half the country's border with Saudi Arabia pledged support on Sunday to exiled President Abd-Rabbu Mansour Hadi, local officials said.
The announcement puts at least 15,000 troops in the desert and mountain border area on the same side as Saudi Arabia, which hosts the embattled Yemeni president in its capital Riyadh.
"Brigadier General Abdulrahman al-Halily of the First Military District announced today his support for constitutional legitimacy as represented by President Hadi," one of the officials told Reuters.
Most of Yemen's military is loyal to powerful ex-president Ali Abdullah Saleh, whose forces are fighting alongside the Shi'ite Muslim Houthi militia in battles stretching across Yemen's south and east.
But the latest defection brings to about 10 the number of divisions that have switched sides. It may point to a growing sense in the military that momentum favors Hadi.
Beginning last week, most of the army divisions along Yemen's eastern Arabian Sea coast evacuated their posts and handed security of their bases and Yemen's Masila oil fields, the country's largest, to armed Sunni tribes.
Other powerful tribes followed suit on Saturday within the First Military District, announcing after a huge gathering that they supported Hadi and the Saudi-led military operation, in a move which likely encouraged the commander's decision.
"The announcement followed that of the tribes. It would be impossible to oppose their will and continue to live side by side, and there was likely some pressure from Saudi Arabia, which is keen to secure its border," Radhi Subaih, a political analyst in Seiyun, told Reuters.
Citizens from Hadramawt, Yemen's largest province which stretches from the coast to the Saudi border, are linked closely to the kingdom by family and historical ties.
The remainder of Saudi Arabia's border with Yemen encompasses the northern stronghold of the Houthi guerrillas. (Additional reporting Mohammed Ghobari; Writing by Noah Browning; Editing by Michael Georgy and Crispian Balmer)

Related
Before You Go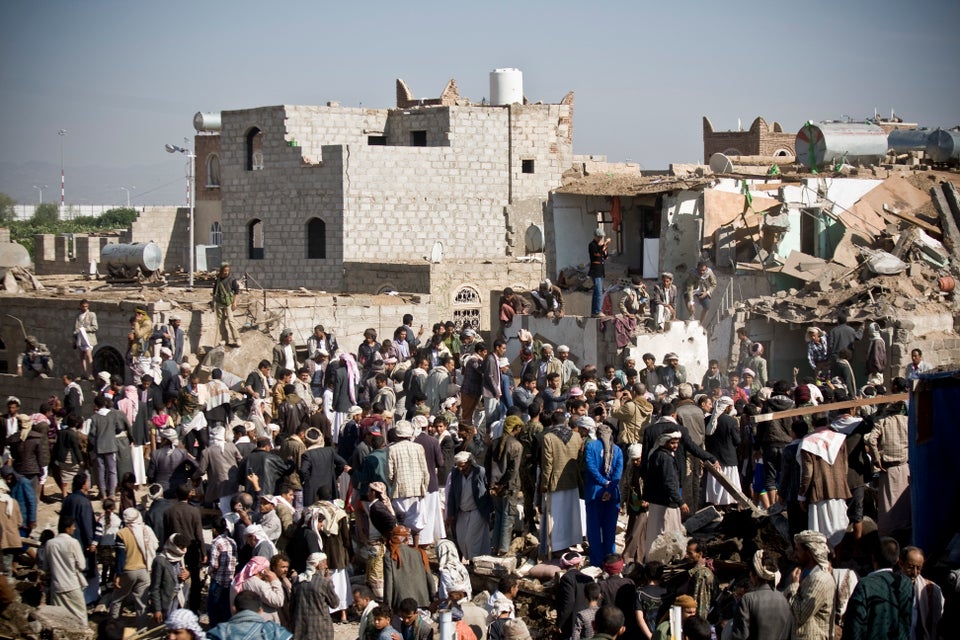 Saudi Airstrikes Yemen
Popular in the Community