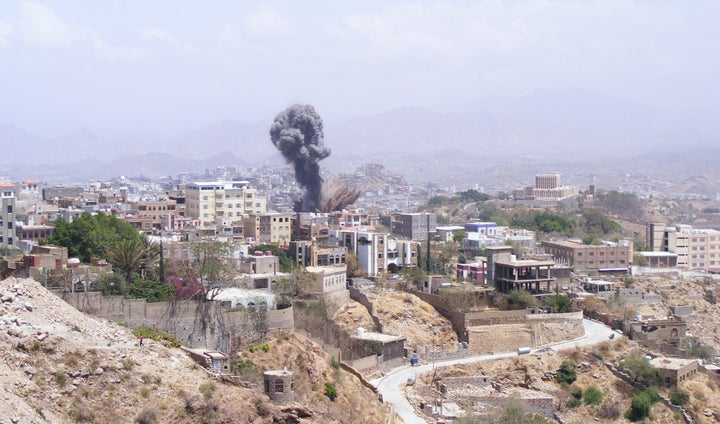 Abdul Kader al-Guneid managed to post one last tweet before he was dragged barefoot from his home in Yemen by plainclothes gunmen last week.
"Houthi militiamen are at my house," the 66-year-old doctor and human rights activist wrote on Wednesday afternoon. Then, his Twitter feed fell silent. His wife saw him being taken away by men she said she recognized as among the Houthi rebels controlling their hometown of Taiz. His family has not seen or heard from him since.
Al-Guneid's disappearance sent shivers through the small community of Yemeni activists trying to keep the outside world informed about the conflict raging in their country. "What happened to Abdul Kader freaked us all out," political analyst Hisham al-Omeisy told The WorldPost. "It sets a precedent that they take people who are just active on Twitter."
Al-Guneid is both a vocal critic of the Houthis and a tireless chronicler of the war. The day he was abducted began with his usual stream of Twitter posts. "Awaken by two blasts, that shook my house," he wrote that morning, referring to airstrikes from a Saudi-led campaign trying to oust the rebels and their allies. Like many others in Yemen, al-Guneid had stopped leaving his house unless absolutely necessary, his family said.
Many Yemenis live in fear of the relentless airstrikes and ground clashes that have claimed over 4,000 lives already. Severe fuel shortages make it nearly impossible to get around in any case. And al-Guneid had a particular cause for concern: the threatening phone calls and Facebook messages he had been receiving in recent months. So he was sitting at home, posting information about airstrikes, casualties and protests in his area, when the gunmen broke through his back door and took him away last week, according to his family.
"He was one of very few information sources in Taiz who wrote in Arabic and provided the English translation, which drew the attention of Western journalists and others," his 30-year-old daughter Nagwan al-Guneid, a graduate student living in Canada, told The WorldPost. "He believed in giving Taiz a voice through social media and international media outlets," she said.
A long string of activists, journalists and politicians have disappeared in Yemen since the Houthis captured the capital last September and put President Abed Rabbo Mansour Hadi under house arrest in January. Human Rights Watch's Yemen researcher Belkis Wille said it's hard to establish an exact number of the disappeared, but she's received dozens of reports about people who have been arbitrarily detained for different periods of time. In the past week, Houthi rebels have reportedly detained several leading members of the Muslim Brotherhood-affiliated Islah party, some of whom were later released.
Such abductions, Wille said, are not a new tactic. "Political parties in Yemen have been using this as a tool to silence opposition for decades," she said.
The Houthis, a predominantly Shiite group from northern Yemen with a long history of armed struggle against the government, won broader public support as an anti-corruption movement ahead of their rapid advance through the country earlier this year. Saudi Arabia accused them of being proxies of rival power Iran and launched airstrikes with Gulf region allies in March. Backed by those airstrikes and small contingents of coalition troops, loyalists of President Hadi managed to advance on rebel territory in recent weeks.
With their country now decimated by war, Yemenis are fiercely divided. Many are outraged at the Saudi-led bombing campaign, which has killed nearly as many civilians as combatants, according to United Nations figures. Others have accused the Houthis and their allies -- most notably, soldiers loyal to former President Ali Abdullah Saleh -- of showing the same disregard for civilian lives by restricting the movement of supplies, shelling residential areas, and abducting opponents.
Al-Guneid's disappearance is a reminder of the price that individual activists are paying to bring the war to international attention amid a dearth of foreign journalists in the country. Because of frequent power cuts and a lack of Internet infrastructure, Yemen's war has been far less documented on social media than other recent conflicts in Gaza or Syria. This puts even more focus on the small group of English-speaking, social-media savvy activists.
"Getting information out of Yemen is deeply difficult these days; the war has sharpened divides, meaning that even when one gets information, it's often filtered through the biases of interlocutors," Adam Baron, a former foreign correspondent in Yemen, told The WorldPost. "Providing information can often make one a target and, as the case of Abdul Kader al-Guneid demonstrates, even those with high profiles are not immune from being targeted by those who want to silence them."
Most international news organizations already had a thin presence in Yemen due to security restrictions, the risk of kidnappings and limited global interest in the region's poorest country. The recent turmoil has only made things worse. Some of the last foreign journalists based in the country, including Baron, were forced out last year. Since the war began, it has been nearly impossible for reporters to enter the country. Yemeni journalists, meanwhile, face dangers on all sides. Several of them have been abducted by Houthi rebels or killed in coalition airstrikes.
Al-Guneid is well-known as the go-to guy for contacts and information about Taiz. "He's someone who brings people together, not a rabble-rouser, not the guy standing at the front of a protest, and that's what's so unsettling out about this," Wille said. "It does make you wonder: As Houthis feel the tide turning on the battlefield, are they lashing out?"
Another Yemeni constantly cited in the international press is al-Omeisy, the 36-year-old political analyst who has virtually live-tweeted the war from the capital Sanaa. He has also received threats, but said he declined suggestions from Houthi contacts to "tone down" his comments.
"If we don't do this, the media will only get one side of the story," al-Omeisy told The WorldPost, referring to both Houthi and coalition attempts to skew information. "I don't agree with Abdul Kader on many things, but the fact is that he was a voice on the ground reporting what is happening at a time when everyone is afraid, and he was brave enough to have an opinion and be vocal."
Just before he was abducted, al-Guneid told the news site Middle East Eye that the less well-known critics of the Houthis often disappear without much public notice. "When they are gone, they don't get any mention, let alone attention," he warned.
His family and supporters have tried to prevent the same fate befalling him. Over the past week, Yemenis have launched a social media campaign to highlight his abduction and call for his release, coalescing around the hashtag #FreeGuneid.
"If today they take Abdul Kader and we're quiet, tomorrow they may take me or someone else," al-Omeisy said.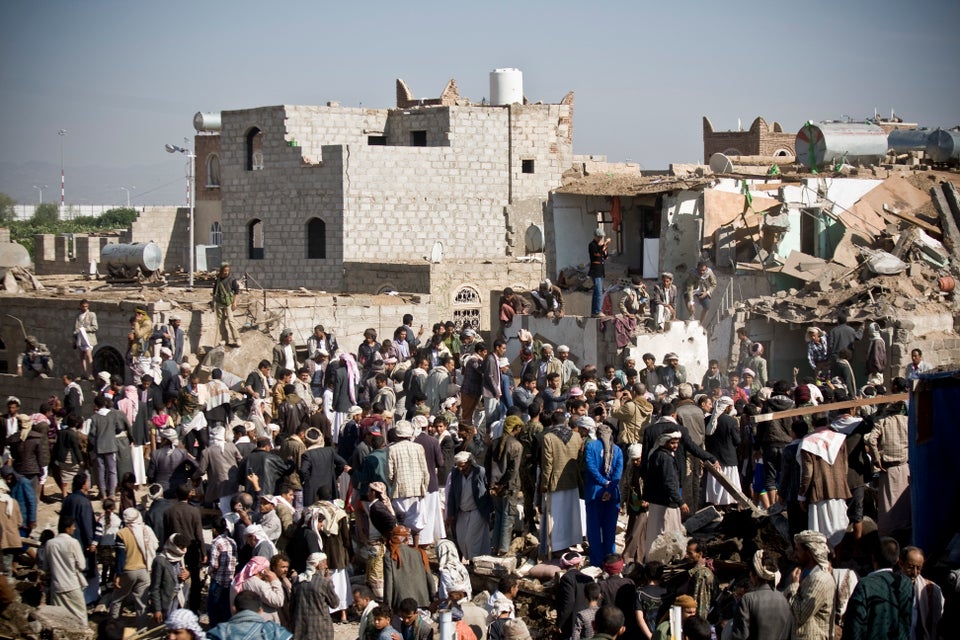 Saudi Airstrikes Yemen
Popular in the Community