LONDON, April 16 (Thomson Reuters Foundation) - Worsening violence in Yemen has made almost half the country's population "food insecure," with flour shortages, closed shops and disrupted supply routes driving up food prices, the United Nations World Food Program (WFP) said on Thursday.
The agency says someone is food insecure if they lack "all-time access to sufficient, safe, nutritious food to maintain a healthy and active life." It estimates 12 million Yemenis are in this category today, up from 10.6 million last year.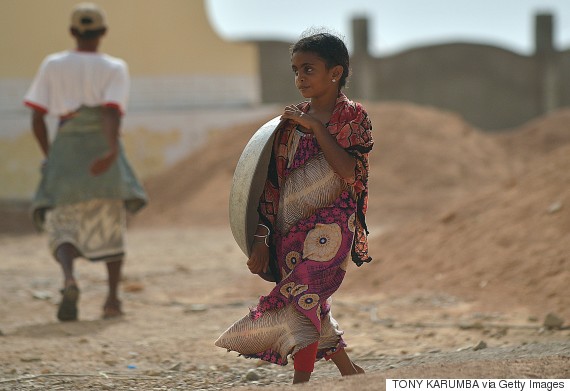 A young Yemeni girl holds a metal-basin as she heads to her chores on April 13, 2015 at a refugee boarding facility at Obock, Djibouti. (TONY KARUMBA/AFP/Getty Images)
The United Nations says the conflict in Yemen has killed 600 people, wounded 2,200 and displaced 100,000 since Houthi rebels allied with Iran seized the capital Sanaa in September.
The rebels now control most of Yemen and their advance towards the southern port of Aden triggered air strikes by a coalition led by Saudi Arabia to try to drive them back.
People face a shortage of wheat flour, especially in southern regions, as the price has increased by nearly 40 percent since the wider conflict began, the WFP said. Shops and food markets are closed across the country.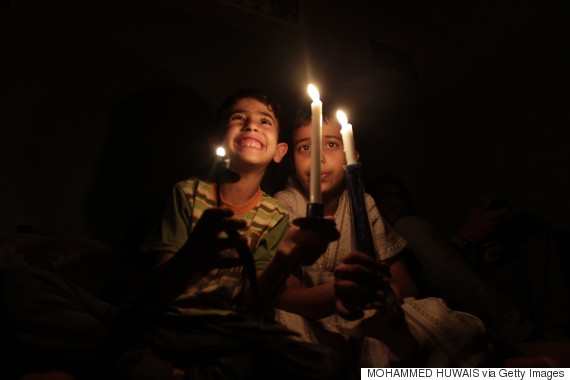 Members of a Yemeni family sit next to candles at their home in the capital Sanaa on April 14, 2015 during the second day of a power outage across the country. (MOHAMMED HUWAIS/AFP/Getty Images)
Yemen imports almost 90 percent of its basic food. This makes it especially vulnerable to disruption, as traders are unable to move freely when fighting is going on.
"We are struggling to reach people due to the deteriorating security situation," WFP spokeswoman Purnima Kashyap said in a statement.
Her organization, alongside partners, is distributing food for 105,000 displaced people in the city of Aden over the next few days. It has also helped refugees in the country, mainly Somali, to cover their April and May food needs.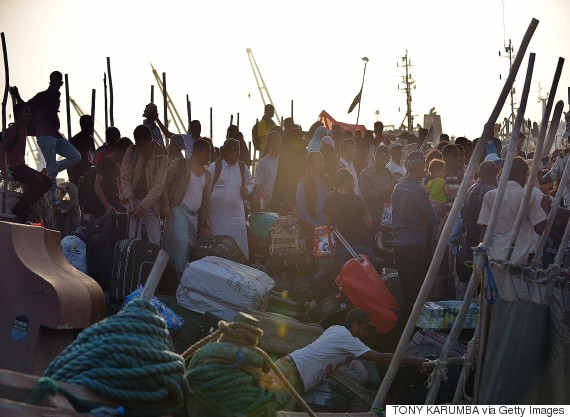 People arrive aboard a boat at the port of Djibouti after crossing the Gulf of Aden to flee Yemen on April 14, 2015.
More than 1,200 people fleeing the conflict have reached the Horn of Africa by boat in the past two weeks, using a route taken in the past by African refugees headed in the opposite direction, the U.N. refugee agency (UNHCR) said on Tuesday.
There are also severe fuel shortages in Aden and parts of Sanaa. "We appeal to all warring parties to the conflict to allow us to replenish our food and fuel stocks to save lives," said Kashyap. (Reporting By Joseph D'Urso; Editing by Tim Pearce)
Calling all HuffPost superfans!
Sign up for membership to become a founding member and help shape HuffPost's next chapter
BEFORE YOU GO
PHOTO GALLERY
Saudi Airstrikes Yemen