LONDON, April 21 (Thomson Reuters Foundation) - Health services in Yemen are on the brink of collapse amid critical shortages of life-saving medicines, oxygen and fuel, the World Health Organization (WHO) said on Tuesday.
Prices of essential medicines have increased by more than 300 percent, and the shortage of water has increased the risk of diarrhea and other diseases and is affecting basic hygiene in hospitals and clinics, the Geneva-based organization said.
"Over the past four weeks, national disease surveillance reports show a doubling in the number of cases of bloody diarrhea in children below the age of five, as well as an increase in the number of cases of measles and suspected malaria," WHO Yemen representative Ahmed Shadoul said in a statement.
"High rates of malnutrition among women and children below the age of five have also been reported."
Major hospitals will soon be unable to provide emergency services, perform operations and provide intensive care to patients because of lack of medicines and fuel, WHO said, citing the Yemeni Ministry of Public Health and Population.
Al Thawrah, Yemen's largest hospital with 850 patients, is at immediate risk of becoming unable to function because of critical shortages of fuel and oxygen, according to the U.N. Office for the Coordination of Humanitarian Affairs.
Fuel shortages have disrupted ambulance services and delivery of health supplies across the country, while laboratory and blood transfusion services face disruption from power cuts, WHO said.
There has been a 40 percent drop in the number of consultations in health facilities since fighting in the country worsened, indicating that street fighting and road barriers afre preventing ill people from reach facilities, WHO said.
Disruption of the distribution of vaccines is putting millions of children at risk of catching communicable diseases such as measles, and of polio which has been eliminated but is now at risk of reappearing, WHO said.
The United Nations says the conflict in Yemen has killed 600 people, wounded 2,200 and displaced 100,000 since Houthi rebels allied with Iran seized the capital Sanaa in September.
The rebels now control most of Yemen and their advance towards the southern port of Aden triggered air strikes by a coalition led by Saudi Arabia to try to drive them back. (Reporting By Magdalena Mis; Editing by Tim Pearce)

Before You Go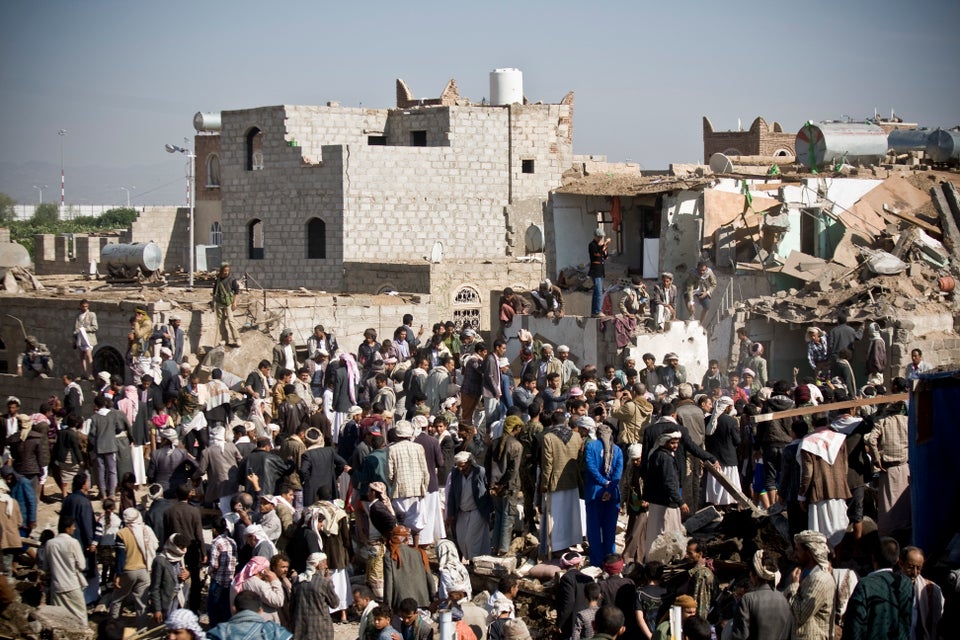 Saudi Airstrikes Yemen
Popular in the Community