WASHINGTON ― The lawmakers behind a major bipartisan effort to end U.S. assistance for a devastating Saudi-led military intervention in Yemen are getting help from big names in multiple arenas as they try to whip votes.
Reps. Ro Khanna (D-Calif.), Thomas Massie (R-Ky.), Mark Pocan (D-Wis.) and Walter Jones (R-N.C.) want an up-or-down House vote before the end of the week on a resolution to end American support for the Saudi-led coalition. A letter dated Oct. 9 and provided exclusively to HuffPost shows strong backing for their initiative from across the political spectrum and the national conversation: Foreign policy commentators like Noam Chomsky and Stephen Walt signed the letter, and so did actors Mark Ruffalo, Brie Larson and Martin Sheen, author Alice Walker, playwright Eve Ensler, prominent legal scholars like Harvard's Laurence Tribe and Yale's Bruce Ackerman, the tea party-linked group FreedomWorks, former officials under Democratic and Republican presidents, and former members of Congress from both parties.
"By invoking provisions of U.S. law allowing for the introduction of a privileged resolution to withdraw unauthorized U.S. forces from this conflict, you are reasserting the rightful role of Congress," reads the letter, formally addressed to the four congressmen. "We, the undersigned, encourage all U.S. Representatives to vote yes to this resolution. This measure strengthens U.S. governance to comport better with the Constitution, assists in reducing a genuine threat to national security posed by the expansion of Al Qaeda in the Arabian Peninsula, and promises to assist in ending the senseless suffering of millions of innocent people in Yemen."
The Saudi-led coalition began fighting Iran-aligned rebels in Yemen, the Middle East's poorest country, on behalf of the Yemeni government in March 2015. It received U.S. help from the start. Currently, aerial refueling provided by American aircraft enables bombing runs by the planes of Saudi Arabia and the United Arab Emirates (UAE), while the U.S. government provides the coalition with intelligence and fresh stocks of weapons.
But Congress has never authorized this military adventure or identified the Iran-backed rebel militia, the Houthis, as a threat to the United States.
President Barack Obama originally approved U.S. support for Saudi Arabia, the UAE and other U.S.-aligned governments in the coalition. Obama administration officials have since explained he did it to reassure those countries that Washington's support for them remained steadfast even after the U.S. reached a nuclear deal with Iran.
That logic, however, never satisfied constitutionalists and anti-war activists who saw the U.S. support as militaristic executive overreach. It's become less and less popular as the Saudi-led coalition has been accused of committing major war crimes in Yemen, which might implicate American officials, and of creating a humanitarian crisis with its naval blockade and bombing of key infrastructure in that country.
The letter points to U.S. culpability in the suffering of Yemen's people.
It also highlights a major conundrum for U.S. foreign policy makers. While executive branch officials have justified many recent military interventions, including counterterror operations focused on Yemen, on the basis of a broad authorization for the use of military force against al Qaeda and its associates that Congress approved in 2001, support for the Saudi-led coalition is largely unrelated to the fight against al Qaeda, the Islamic State and other Islamic extremist groups. In fact, according to the U.S. State Department, the Yemen intervention has created a situation that's benefiting the Yemeni branch of al Qaeda.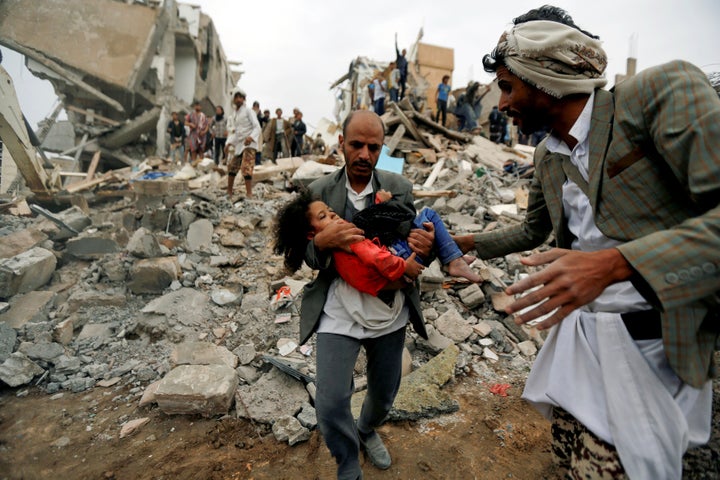 The proposed House resolution would end U.S. support for the coalition's operations against the Houthi rebels within 30 days. It's written to appeal widely. It frames the question as one of American constitutional authority, avoiding messy debates about international laws of war and specifically preserving U.S. operations in Yemen that are narrowly focused on al Qaeda and similar threats.
The resolution would be the most sweeping congressional action on the war yet. Previous efforts in both houses have targeted U.S. arms shipments to Saudi Arabia rather than the overall strategy of U.S. support for the campaign. Since 2015, lawmakers skeptical about the war have scheduled House and Senate votes aimed at those weapons sales. None of those measures passed, but they signaled how widely shared dislike of the war has become on Capitol Hill, with 204 House members supporting an effort to stop transfers of cluster munitions last year and 47 senators, including almost all Democrats, trying to block the sale of precision-guided bombs this summer.
Fans of those measures often spoke of them as efforts to pressure Saudi Arabia and the UAE to be more careful in how they waged the war and to move more quickly to negotiate an end to it.
In recent weeks, congressional staffers and human rights advocates have begun to focus more on American responsibility for Yemen's pain and the possibility of ending U.S. support altogether.
The logic behind the new House effort, backed by more than a dozen legal experts who signed the Oct. 9 letter, is that the War Powers Resolution of 1973 compels lawmakers to act because the ongoing American refueling and targeting assistance to the Saudi coalition constitute the introduction of unauthorized U.S. forces into hostilities ― and because there's a clear threat the executive will approve such use of U.S. forces again.
Congressional aides and activists trying to win support for the House resolution are concerned that GOP leadership may try to quash it. But the public approval of influential figures on the right and left, from former Rep. Ron Paul (R-Texas), a libertarian hero, to anti-war activist Phyllis Bennis, is giving them more confidence as they prepare for a vote on Thursday or Friday.
"My three colleagues and I are grateful for this strong endorsement of H.Con.Res 81 from some of our country's leading authorities in law, national security, and foreign affairs, as well as renowned creative artists and grassroots leaders from across the political spectrum," Khanna told HuffPost. "As millions of Yemenis suffer from unimaginable and avoidable hunger as a result of this unauthorized U.S.-Saudi war, our bill is the first step to fulfilling Congress's constitutional mandate to stop this war. We are channeling the aspirations of millions of ordinary Americans — left, right, and center — who seek a foreign policy of restraint and non-intervention."
Read the letter below or here:
Popular in the Community