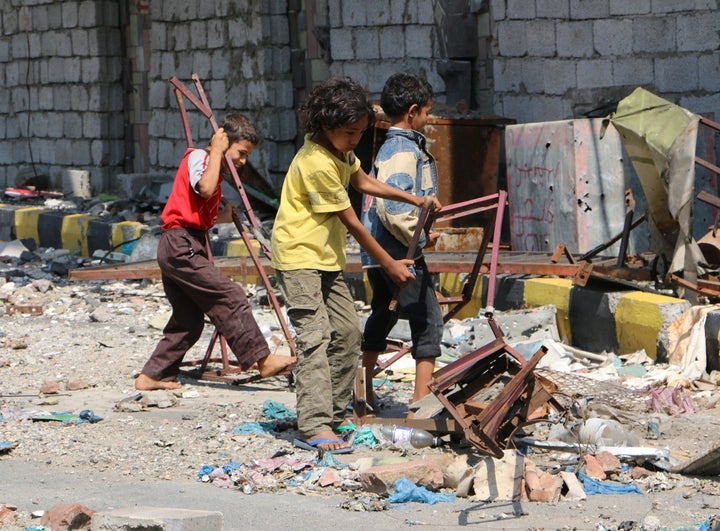 An airstrike on a wedding party in the village of Al-Wahijah in Yemen killed more than 130 people on Monday. The bombing, which residents attribute to the Saudi Arabia-led coalition fighting Yemen's rebels, was one of the deadliest in the country's civil war. 
As the war between President Abd-Rabbu Mansour Hadi's government and Houthi rebels drags on, fewer and fewer journalists are left on the ground to report on the war and its tragic effects on the lives of Yemenis. Journalists, both foreign and national, are on the decline not only because they're leaving for safety reasons, but also because of weak infrastructure and the lack of Internet access. The blackout on Internet and electricity makes it difficult for journalists to obtain information and to transmit it to the outside world. 
With little reporting coming out of Yemen, social media platforms have become one of the few ways for the outside world to learn about the dire situation. Some Yemenis on Twitter have gone to heroic lengths to illustrate the war's effect on those who remain in the country. 
Hisham Al-Omeisy is an analyst based in Yemen's capital, Sanaa, according to his Twitter bio. His tweets provide regular updates on the latest developments in the city, and also express his frustrations and disbelief about the daily shelling there.
Ammar Al-Aulaqi, another Sanaa resident, tweets about the circumstances his two young children are forced to endure every day.
Osamah Alfakih is a human rights researcher and the co-founder of Support Yemen, a media collective focused on social justice. Alfakih is using the #HRC30 hashtag to advocate for political action to help end the crisis in Yemen. The hashtag refers to the 30th session of the U.N. Human Rights Council, which is taking place this week. 
Alfakih's fiancee, Hana Alshowfai, is also a social justice advocate working for Support Yemen. Alshowfai is supporting the Netherlands' bid for an international probe of possible rights abuses in Yemen, and encouraging her Twitter followers to do the same by using the hashtag #DRIFFM, or Dutch Resolution International Fact-Finding Mission. In addition to campaigning for a political resolution, she live-tweets some of the explosions and fighting. 
Mohammed Al-Assadi is a media specialist based in Sanaa who is "trying to be the voice of the voiceless," per his Twitter bio. Assadi frequently tweets images of life inside Yemen that show the dire humanitarian situation and the toll taken on civilians.
PHOTO GALLERY
Daily Life In Yemen
Calling all HuffPost superfans!
Sign up for membership to become a founding member and help shape HuffPost's next chapter