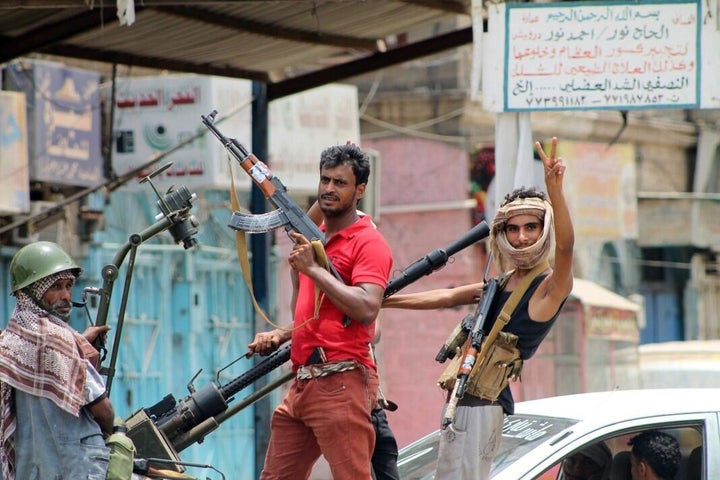 Every week, we bring you one overlooked aspect of the stories that made news in recent days. You noticed the media forgot all about another story's basic facts? Tweet @TheWorldPost or let us know on our Facebook page.
The international deal to curb Iran's nuclear program in exchange for sanctions relief has once again directed attention to Tehran's involvement in Yemen's bloody war, as opponents of the historic agreement point to the deadly conflict as an example of the dangers of Iran's regional ambitions.
Yet while some observers scrutinize Iran's support of Yemen's Houthi rebels, they often overlook the use of U.S.- and European-made weapons by their Yemeni and Arab rivals.
Over 3,600 Yemenis, about half of them civilians, have been killed in airstrikes and ground clashes that are part of a bloody and complex civil war. What began as a conflict between the government of President Abed Rabbo Mansour Hadi and Houthi fighters -- members of a Shiite group in Yemen's north -- now involves a plethora of fighting factions grouped in two loose alliances. Houthi rebels and loyalists of ex-president Ali Abdullah Saleh are on one side, pitted against troops loyal to the exiled Hadi and a diverse group of local and tribal militias who are aided by airstrikes by a Saudi-led coalition. Amid the chaos, al Qaeda has carved out a territorial stronghold, prompting continued U.S. drone strikes, while the Islamic State has upped its campaign of terror.
Now investigations have shown that American and European weapons have turned up on Yemen's bloody battlefields.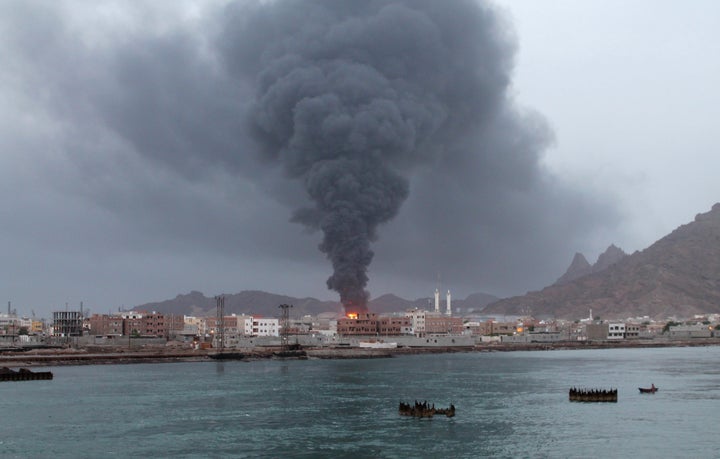 Human Rights Watch discovered munitions in Yemen, which an investigation by Malachy Browne for reported.ly traced to European shipments to the United Arab Emirates. The UAE is participating Saudi Arabia's airstrikes in Yemen. Browne found that components for MK82 and MK84 bombs, the same type that investigators found in Yemen, were manufactured by RWM Italia S.p.a, an Italy-based subsidiary of German company Rheinmetall, and shipped in May to a manufacturer that supplies the UAE military.
More disturbingly, human rights groups have documented U.S.-made cluster bombs, banned under international law because of the indiscriminate way they kill, in Yemen. Human Rights Watch recently found unexploded CBU-105 cluster munitions, manufactured by a Massachusetts-based company called Textron Systems, near a Yemeni village.
As Stephen Snyder reports for PRI, Textron says their weapons are not indiscriminate, but the U.S. itself classifies them as cluster munitions and oversaw their sale to Saudi Arabia in 2011 on the basis that they would not be used in civilian areas -- civilian areas like the Yemeni village Human Rights Watch visited, where residents said they saw parachutes falling from the sky one April day, followed by dozens of explosions. The U.S. State Department told PRI: "We take claims of misuse of US munitions seriously."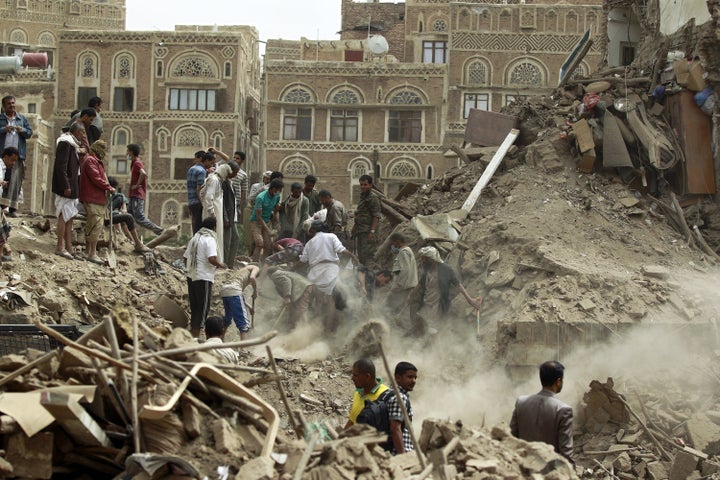 Some politicians and campaigners in Europe are questioning whether continuing to send weapons to Saudi Arabia breaches domestic laws on arms exports, pointing to UN concerns that the coalition airstrikes may have broken international humanitarian law. A U.K. government official told VICE News they were closely monitoring the conflict in Yemen. "Export licenses will not be granted where there is a clear risk that the exports might be used for internal repression or in serious violation of international humanitarian law," the spokesperson for the Department for Business Innovation and Skills told the news site.
Houthi rebels have also been accused of causing mass civilian casualties. Saudi Arabia argues that the Houthis, a predominantly Shiite group that found broad support as an anti-corruption movement, are a proxy of Riyadh's bitter rival, Iran. Tehran denies providing financial or military support to the group, while U.S. officials say the reality is somewhere in between -- Tehran has provided some arms and military training to the Houthis, but only has limited influence over the group's strategy and ambitions.
Saudi Arabia's Western allies say the only end game is a political solution in Yemen. But at the same time, the U.S. and U.K. have acknowledged providing intelligence and technical support to the Saudi-led bombing campaign against the Houthis. Both countries have military personnel on the ground at the coalition's coordination center, and officials told The Wall Street Journal that U.S. military planners are helping Saudi Arabia select targets.
Meanwhile, the "political solution" touted by Western nations looks no closer to materializing.
Several rounds of U.N.-brokered peace talks have quickly collapsed. Ceasefires have been announced and immediately ignored. The conflict was stuck in a stalemate before Saudi-backed troops recaptured the port of Aden this week. There are reports that ex-president Saleh, a notorious political survivor, might negotiate his way out of the conflict and abandon the Houthis, further swinging the balance of power in Riyadh's favor.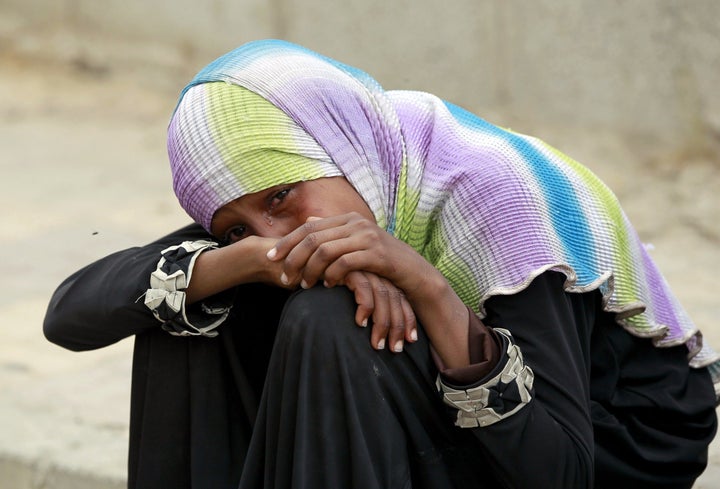 "Imagine the pain of watching your country burn with no hope for peace," editor of the Yemen Post newspaper Hakim Almasmari wrote on Twitter this week. "This is how 26 million [people] feel in Yemen."
More from The WorldPost's Forgotten Fact Series: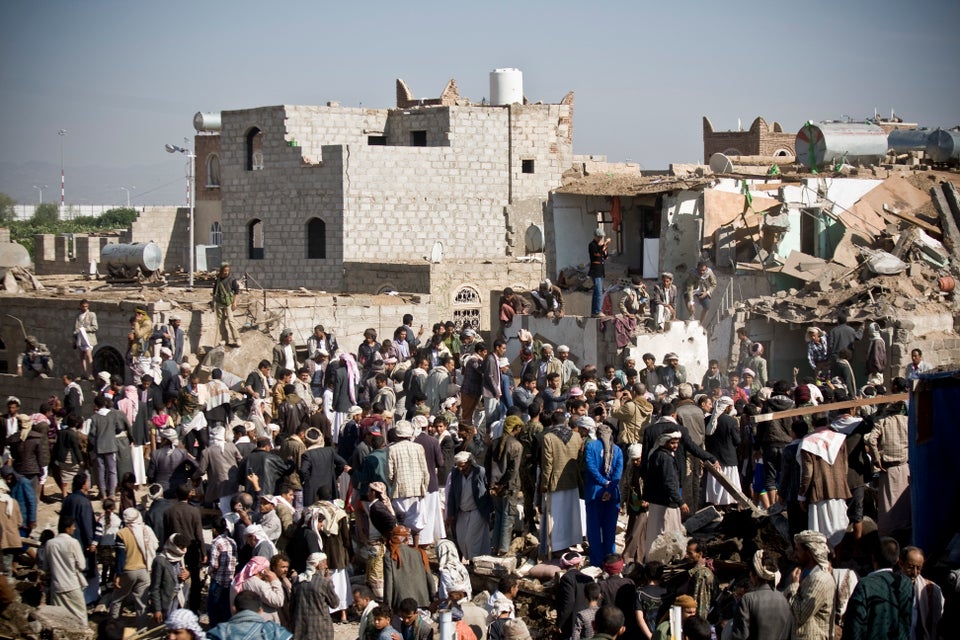 Saudi Airstrikes Yemen
Popular in the Community