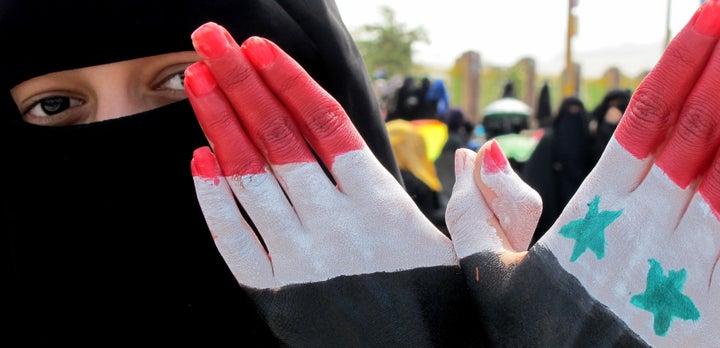 Seven women are dying every day in Yemen from childbirth. Why?
Is it because she is a woman, even while without women to give birth, life will not continue? Is it because she is a poor, illiterate woman living in a rural community and can't make decisions for herself?
Whatever the reasons, women deserve more.
Yemen is a low-income country with 23,887,000 inhabitants over an area of 555,000 square kilometers. About 75% live in rural areas in more than 135,000 population settlements. About half are less than 15 years old.
Besides the crises of this past year, Yemen has many challenges which affect mother, newborn and child health. High population growth combines with about 34% of the total population living in poverty and about 13.3% at the level of food poverty, living on less than one dollar per day. Illiteracy is high, particularly among women (70%). Women's empowerment is not a priority.
Maternal mortality is a critical development issue as well as a human rights issue as women's rights and gender issues are closely linked to maternal and neonatal mortality.
A lot of efforts are needed and ongoing to reduce needless deaths of mothers and newborns. There is a need for a strong partnership with all parties -- government, NGOs and development partners. An excellent model of this is led by WRA-Yemen, which consists of nine governmental institutions, seven NGOs and five elected individuals that came together to develop an alliance having one goal and working voluntarily to reduce mother and newborn mortality and morbidity. They work at every level from grassroots to government decision-making to address the multiple causes and many different interventions to save mothers.
The Yemeni community is conservative, and religious regulations have a big role in women's lives. It is important for Yemeni to know the religious opinion about reproductive health and family planning as, often, they are exposed to wrong interpretations by some of the religious leaders. For this reason, Ministry of Public Health and Population officials, in partnership with Ministry of Endowment and development organizations, targeted 40 religious leaders to promote education about safe motherhood, reproductive health, family planning, and child marriage. After training, they developed booklets called "Friday preaches" to be used in mosques on Friday prayers.
Another way WRA-Yemen is raising awareness about safe motherhood is to have more advocacy among youth in communities. WRA-Yemen worked closely with the Ministry of Health and youth NGOs to train 40 youth on advocacy. It was in 2011, during the crises, and the first day of training, guns were shooting. But young girls and boys were there, and although the situation was not safe, they continued for three days because they were so motivated to complete the training.
Another channel of communication to the community is the direct communication by men and women who are community health volunteers. These volunteers, who had been trained on community health message guidelines, visited homes, fields, and many other places where men or women gather to spread messages of how to save mothers and newborns, including the danger signs in pregnancy, birth, and after childbirth and how to make the right decision at the right time and be prepared for transfer to a health facility. Volunteers concentrate on men's involvement as they are the decision-makers in the family. Often, volunteers will distribute condoms and contraception pills during education sessions.
Radio, TV, and mobile cinema are also effective ways to send safe motherhood messages to the community. Targeted groups are all members of the community with a special focus on women and youth.
There is much improvement in knowledge and attitude of the community to safe motherhood issues and better acceptance of reproductive health and family planning issues. While 10 years ago these issues were taboo, now there is a weekly TV program called "Family Planning for a Better Future" which discusses these issues with doctors, midwives, religious leaders, policy makers, and youth. The program can receive questions from people and give answers live.
Much more can be done in Yemen. You can donate here. By giving to the Alliance, you can make a difference in the lives of thousands of women and newborns.
Jamela Saleh Al-Raiby is a pediatrician and the Deputy Minister of Public Health and Population in Yemen. She also is a member of the White Ribbon Alliance for Safe Motherhood Global Board of Directors. Dr. Al-Raiby's experience is in women's rights, prevention of violence against women, children, and the elderly, reproductive health, and safe motherhood. Dr. Al-Raiby is an advocate for legal issues that focus on child marriage, and is a promoter of the Safe Motherhood Law, which focuses on women's health, neonatal and children's health, and the prohibition of female genital mutilation.
Related
Popular in the Community