NEW YORK ― As the sun set Thursday evening, hundreds of Yemeni bodega owners lined up for prayers outside Brooklyn Borough Hall. An imam's chants of "Allahu Akbar" filled the air, and the storekeepers alternated between standing and kneeling onto the cold concrete. There was a lot to pray for.
President Donald Trump's ban on immigrants from Yemen and six other Muslim-majority countries has affected some of these bodega owners personally. Some have family members stranded overseas, the U.S. visas they worked so hard to obtain rendered useless.
Other shop owners are afraid to visit family outside the U.S., for fear that they won't be allowed to return to the country where they've lived and worked for years.
When the prayers were finished, the gathering turned into a full-fledged protest, with the bodega owners holding up American and Yemeni flags. Speakers often had to pause for loud chants of "USA!"
"Today, I'm not just a borough president," Brooklyn Borough President Eric Adams told the crowd. "Today I am Yemeni! Today I am Iraqi! Today I'm Iranian! Today I'm Sudanese! Today I'm Libyan! Today I'm Somalian! Today I'm Syrian!"
"Today is our day!" Adams continued, the crowd erupting in cheers. "We are here to protest, to pray and to show we are patriotic. We, too, are American. With your display today of closing your businesses, you are sending a clear and loud message to America that you have the right and your families have the right to be part of the American dream."
Yemeni-American activist Rabyaah Althaibani told the crowd her family has been in the U.S. for 40 years.
"We are landlords, business owners, professionals," Althaibani said. "We contribute. My cousins are NYPD cops and served in the Iraq War.
"He is a refugee, him and his family," Althaibani said. "He escaped the war and he has been in Jordan for almost two years as a refugee. He has been vetted. Him and his six children and his wife. And he's been cleared and he has been approved for resettlement in Michigan."
"But what happened the night Donald Trump signed the executive order? The Muslim ban. My uncle called me and told me, 'Rabyaah, this is not the America you've always told me about.' He was so heartbroken. He couldn't believe that this is going to happen to him. That he's going to be there for another six months."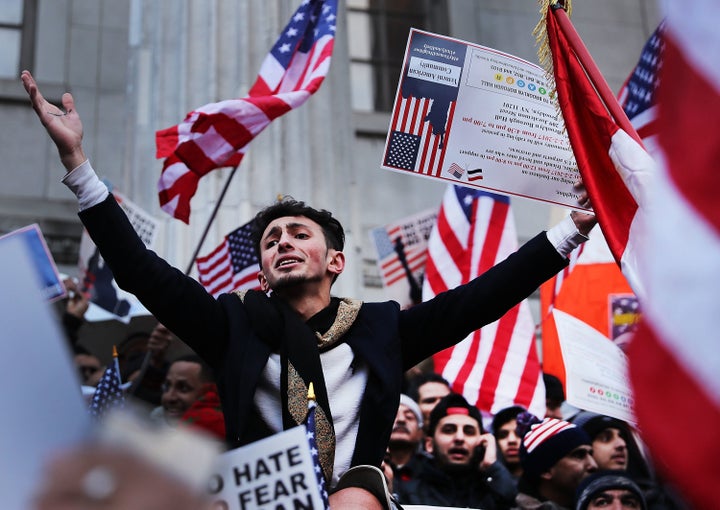 Trump signed an executive order last week that indefinitely bans Syrian refugees from coming to the U.S., shuts down the whole refugee program for 120 days, and bars all immigrants and visitors from seven Muslim-majority countries for at least 90 days.
Trump issued the order in the name of national security, even though there have been no fatal terror attacks on U.S. soil by immigrants from the seven banned countries. The order was a partial fulfillment of Trump's Islamophobic campaign promise to ban all Muslims from entering the U.S.
Hours after Trump signed the order, disturbing stories emerged of border officials across the country detaining or deporting immigrants, visitors and refugees.
Massive protests broke out at airports. Yellow cab drivers in New York, many of whom are from now-banned countries, went on strike and refused to pick up passengers from JFK Airport.
Thursday, the bodega owners went on a strike of their own.
"We are closing our business on Thursday 2-2-2017 from 12:00 p.m. to 8:00 p.m. in support of our families, friends and loved ones who are stranded at US airports and overseas," read posters many owners posted on shop windows.
According to the strike's organizers, some 1,000 Yemeni bodega owners took part.
"This shutdown of grocery stores and bodegas will be a public show of the vital role these grocers and their families play in New York's economic and social fabric," the strike organizers wrote on Facebook.
"Originally, we considered starting the shutdown at 8am, but the grocers, they made it clear they wouldn't be willing to close if that meant their regulars wouldn't get their morning coffee," rally organizer Debbie Almontaser, also a board member of the Muslim Community Network, said in a press release.
"Even when their lives have been turned upside down, they refused to disrupt the lives of the very people they serve daily."
"We are challenging the ban in the courtrooms, we are challenging the ban in the streets," Afaf Nasher, a Yemeni American and executive director of the New York chapter of the Council on American-Islamic Relations, told the crowd near the end of Thursday's protest. CAIR and other groups have filed a slew of lawsuits challenging the constitutionality of Trump's immigration ban.
"We are challenging the ban in our homes," Nasher continued. "We are challenging any discrimination to any Muslim American no matter where, when or how.
"And on this night, as I look across the crowd and I see your faces, I have to say I remember my own father, my mother, my brother, my sister. And the values we grew up with: Honesty, integrity, decency.
"And I want to say: Trump has none of those characteristics."
Popular in the Community