In a long-awaited and much-delayed milestone of the Arab Spring, Yemen's president, Ali Abdullah Saleh, has signed the peace agreement that removes him from office. He signed it in Saudi Arabia today and has told the UN secretary-general that he plans to travel to New York for medical treatment.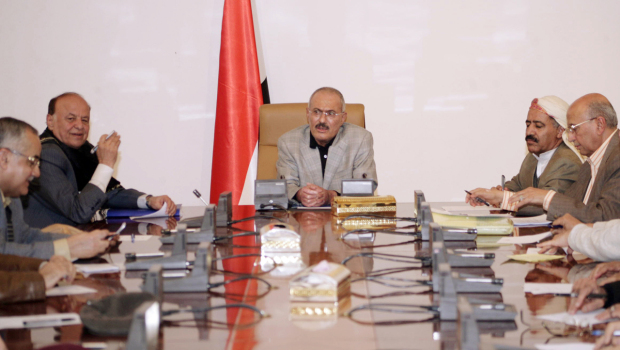 Saleh's resignation comes after nine months of street protests against him, violently repressed by his government. Parts of the military also defected from his side, creating a threat of civil war. And al-Qaeda-affiliated militants in the south of the country took advantage of the chaos to seize territory (although several of their key leaders have been killed by U.S. drone attacks this fall). Just today three Red Cross workers were kidnapped in southern Yemen.
Several times earlier this year Saleh promised to sign the deal, brokered by nearby Gulf states, only to back away. Saleh was almost killed by a bomb in June and went to Saudi Arabia for medical treatment, but recovered and returned to Yemen. He seemed to be the cat with nine lives, but today those lives finally expired.
Under the peace deal, power will be transferred to vice president Abed Rabbo Mansour Hadi and presidential elections will take place within 90 days. Saleh will get immunity from prosecution. For two years a national unity government will hold power and work on revisions to the constitution. The street protesters are not content with Saleh's departure, as they want broader political changes and an end to corruption. Nonetheless, the ouster of the fourth Arab leader by the Arab Spring protests this year -- following those in Tunisia, Egypt, and Libya -- stands as an important marker of the change that has swept the Middle East.
Yemen matters to the United States because it is the poorest Arab country and a hotbed of Islamic militancy, including plots directed against the United States (such as the "underwear bomber" and printer-cartridge plots). It also sits next to the Hormuz Straits through which Persian Gulf oil must pass en route to Western markets.
Related
Popular in the Community