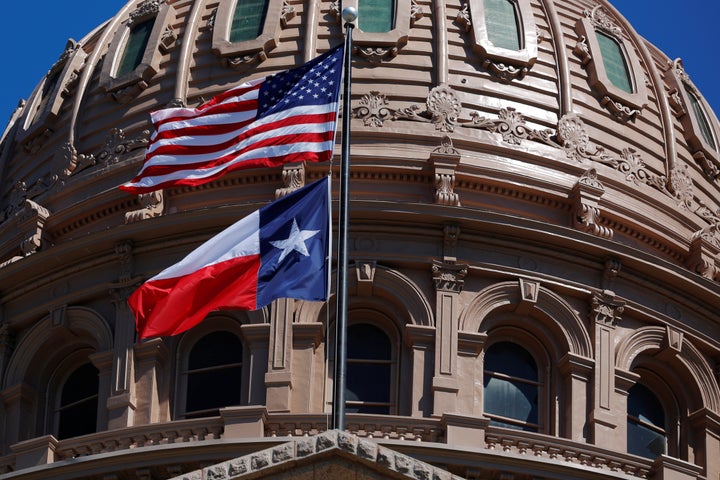 Celebration is in order in Texas and around the country, as an attempt to pass a transgender "bathroom" bill went down in flames in a special session. And wow, did we ever need a win at this time. As hate and ugliness envelop national politics, it's something to feel proud about and to revel in.
LGBTQ activists and allies rallied big business, from Amazon to Exxon Mobil, and brought pressure to bear. Hundreds of opponents of the bill descended on the state capitol again during the 30-day period in July and August. A bill limited to schools passed the Senate, but it stalled in the House. 
It was a major embarrassment for the homophobic, transphobic GOP lieutenant governor, Dan Patrick, who zealously pushed for a broad bill. It was, perhaps more of an embarrassment for Texas Governor Greg Abbott, who bowed to Patrick in calling the special session primarily to pass the bathroom bill after similar bills failed in the regular session. It was a setback for religious conservatives who have a stranglehold on the GOP in Texas. And it was a waste of time and money for all Texans. All of that should be enough to put the final nail in the coffin on the issue. 
It's true that support for equal rights for gay, lesbian, bisexual and transgender people continues to grow in polls, even in Texas, a large and diverse urban state. And transgender rights have surged forward. Just seeing the way that even GOP conservatives like Senators John McCain of Arizona and Joni Ernst of Iowa spoke out against Donald Trump's plan to ban transgender people from the military was heartening. 
But public opinion is not the same as political reality, as we certainly have come to learn in the Trump era, where a president could be elected without the popular vote and with the lowest approval numbers of any president at this time ― but with a loyal and fervent base to rely upon.
In Texas, social conservatives and far right extremists continue to consolidate power within the GOP (which dominates state politics), and only a month ago it was questionable as to whether the increasingly shrinking, more moderate and business-friendly wing of the party ― led by Texas House Speaker Joe Straus ― could beat back the bathroom bill. Thankfully it did, but the far right conservatives are only gaining in elections, as they are an energized group that turns out for GOP primaries.
They will now be even more energized moving forward. And Republican legislators are moving to restructure the leadership in a way that would deny a moderate like Strauss from being House Speaker. The governor may in fact call yet another special session in coming days, after a court ordered that 36 congressional districts be redrawn because of redistricting that violated the Constitution. A bathroom bill could be brought back in that session, and the issue will be back in other ways. As the Dallas News pointed out in a piece headlined, "The Texas Bathroom Bill is Dead ― For Now":
The bathroom bill may be dead, but the fight over transgender rights in Texas is just beginning. 

A top priority of Lt. Gov. Dan Patrick and other far-right Republicans, the issue will likely re-emerge as a conservative litmus test during next year's GOP primary elections, and the legislation itself could be resurrected during the next legislative session in 2019. Patrick and the proposal's other supporters will likely continue to frame the push as the only way to guarantee the privacy and safety of women and children, keep "men out of the ladies' restrooms" and boys off girls' sports teams.
Perhaps most importantly, we have to reckon with the fact that the more anti-LGBTQ religious leaders and politicians rail against transgender people and demonize them in the public square, it emboldens bashers who engage in violence against transgender people. On Saturday, 26-year-old Gwynevere River Song of Waxahachie, Texas, was shot and killed in the suburb south of Dallas. They are believed to be at least the 17th transgender person killed this year in the U.S. 
More LGBTQ people have been killed in 2017 than in all of 2016, and disproportionately affected are transgender women of color. LGBTQ people are targets of hate crimes more than any other group. The rhetoric from the statehouses and pulpits when people are demonized during debates about issues such as trans bathroom bills kills people. And that's not to mention the effect it has on discrimination in housing, employment and public accommodations. In Texas, transgender people, as well as gay, lesbian and bisexual people, have no statewide protections in any of those areas.
As Dan Quinn of the Texas Freedom Network, a group which is among those successful in beating back this years trans bathroom bills, noted, anti-LGBTQ religious conservatives in Texas have an "obsession" with this issue. And as we all know, obsessions don't go away easily. Anti-LGBTQ forces will keep coming back, and as they consolidate more power in Texas they will push even harder.
Each time we'll have to deal with the ramifications and fight twice as hard. So, it's important to take a breather and celebrate a victory. But let's take a hard-learned lesson from the recent past, and keep focused on the fact that the battle is far from over. 
REAL LIFE. REAL NEWS. REAL VOICES.
Help us tell more of the stories that matter from voices that too often remain unheard.
BEFORE YOU GO