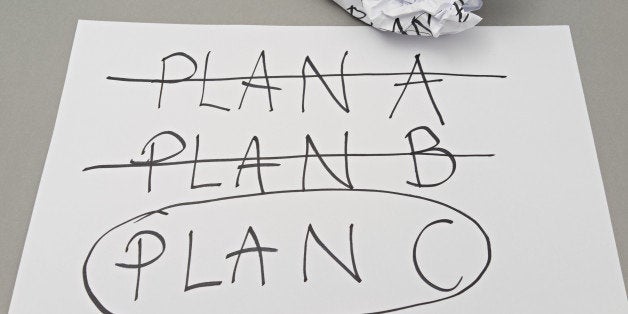 There's a lot of dialogue about whether or not a divorce is a failure or not. People get very defensive stating that "My divorce is not a failure because I have great kids from it," or "My divorce is not a failure because I learned to love," etc.
I as an almost officially-divorced woman, I understand the reasoning behind those statements. I too am a mother and am glad I was married if not only for the life lessons, but also for the chance to love and my gorgeous daughter. However, people have gotten too defensive and have forgotten the wonderful opportunity behind failure.
Failing means you tried to achieve something. Failure means you gave it all you got. Failure means you took a chance.
Take a step back and rid yourself of all the negative connotations in that word "failure" and let's consider how truly beneficial failing is for you and your life.
Think about something you're great at -- whether it's a hobby, passion or a job.
Did you start out rocking it? Or did you make a few stumbles and hit a few rough patches before reaching stride?
Think about what you learned from each mistake. Each downfail. Each god-awful yet lesson-rich failure.
If your marriage continued on as it was, you wouldn't have been happy. You wouldn't have learned.
Yes, your marriage failed, but in that failure you gained the moral of the story. You learned something you couldn't have possibly within the context of married life.
You can't be a success until you have failed and sometimes failed many, many, many times.
Of course don't go for broke with multiple marriages and divorces. Wink.
Yes, my marriage failed.
Yes, we both failed each other.
But in this failure, we have both gained so much.
A child. A (hopefully) friend. Maturity. The knowledge of what we need to succeed with another person on the next go-round.
We gained ourselves. We in some ways, gained our sanity back.
We accepted defeat but not without acknowledging how hard we had tried and what we gained from knowing each other.
Would it have been better if we succeeded on the first go-round for both myself, my ex and my child?
But it didn't turn out that way.
Instead, we failed but in this failure we can now win.
Accepting my big fat "F" with all the knowledge, heartache, grief, healing, and wisdom that comes from it.