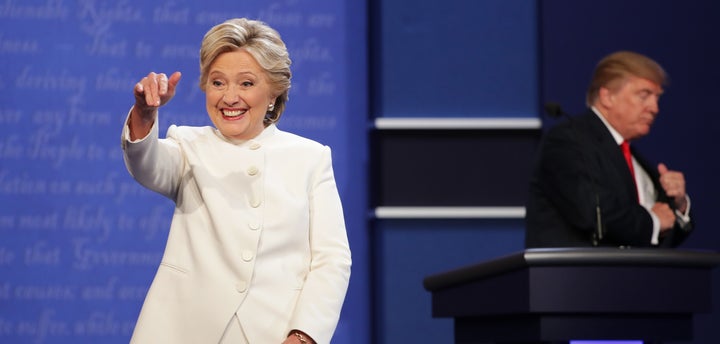 Ok, Chris Wallace said it first:
WALLACE: Mr. Trump, you're pro-life. But I want to ask you specifically: Do you want the court, including the justices that you will name, to overturn Roe v. Wade, which includes ― in fact, states ― a woman's right to abortion?
TRUMP: That'll happen ... because I am putting pro-life justices on the court...
WALLACE: Secretary Clinton, I want to explore how far you believe the right to abortion goes. You voted against a ban on late-term, partial-birth abortions. Why?
CLINTON: Because Roe v. Wade very clearly sets out that there can be regulations on abortion so long as the life and the health of the mother are taken into account. And when I voted as a senator, I did not think that that was the case.
CLINTON: I strongly support Roe v. Wade, which guarantees a constitutional right to a woman to make the most intimate...decisions about her health care. And it's not only about Roe v. Wade. It is about what's happening right now in America.
So many states are putting very stringent regulations on women that block them from exercising that choice to the extent that they are defunding Planned Parenthood, which, of course, provides all kinds of cancer screenings and other benefits for women in our country.
Donald... even supported shutting the government down to defund Planned Parenthood. I will defend Planned Parenthood. I will defend Roe v. Wade, and I will defend women's rights to make their own health care decisions.
No caveats about adoption, no retreat to "safe, legal and rare." Just women's rights to control their bodies and their lives. Just as the law says.
This matters because: Despite decades of lip service, til now politicians of all stripes have hedged their bets, or even dodged the question. The consequences are not trivial. When abortion is too stigmatized to discuss openly and directly, it is easy prey for opponents. For years "pro-choice" members of Congress routinely voted for the Hyde amendment in every annual federal budget, depriving federal funding for abortions to the women and girls who need it most: low income, girls and women of color, Medicaid beneficiaries, residents of Washington, D.C. Just one of those things. The same stigma that drove the Obama Administration to seriously compromise coverage for contraception and abortion per regulations that govern the ACA; that recognizes doctors' ""conscientious objection" to providing the abortions their patients want, or even referring for it, but does not recognize and honor the moral standing of the "conscientious provision" of abortion care.
Secretary Clinton, ma'am, I do hope you turn out to be a global peacemaker and a social and economic populist if you are elected as President. But I'm grateful to visionary coalitions like All Above All, and visionary leaders like Rep. Barbara Lee, and grateful to you, for addressing abortions rights straightforwardly, and with dignity. Thank you.
Calling all HuffPost superfans!
Sign up for membership to become a founding member and help shape HuffPost's next chapter