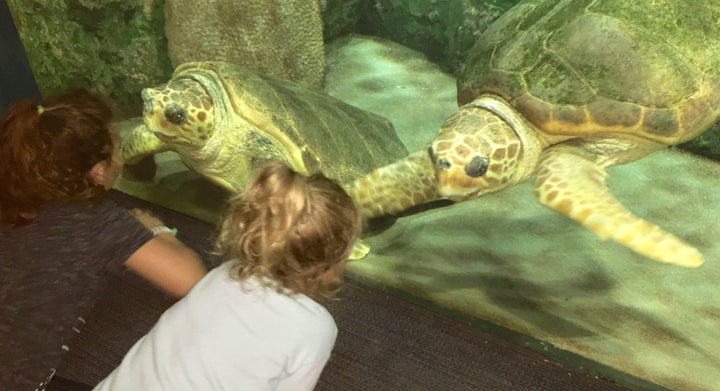 I've made plenty of unpopular decisions in my nearly 10 years of parenting. My kids stay up too late, watch too much television and see films considered inappropriate for their ages. I swear frequently, change bed sheets infrequently and read labels never. We eat too much food dye, zero tofu and not enough kale.
I'll never forget the day my sister took her kids to SeaWorld. I gave her such a hard time for it, likely shamed her for it. I reminded her of the powerful documentary "Blackfish", of which I've seen only clips because I was too traumatized to watch more. Then I warned her not to post about the day on social media, as I knew she would be chastised.
Admittedly I'd already been to SeaWorld many times, as a child in Florida and adult in San Diego. Several years ago (and pre-"Blackfish") I'd even produced a date there for the reality television show "The Bachelor" which included a behind the scenes tour that scarred me way less than a similar date for the same show at the Ringling Bros. Circus. I'd vowed that day to never bring my children to the circus.
Fortunately (and unfortunately) one of our family's favorite animals isn't one we can see at a zoo or theme park. Since the age of three, my eldest daughter has been obsessed with dinosaurs. From mini-archeological digs in a box and "Jurassic Park" inspired museum robots to simple imaginative play with rad shadow puppets at bedtime, she's done all she can to experience them. A doctor in the family even sent her some human cadaver bones to play with.
I would go to the end of the earth to help my daughter see a dinosaur, but clearly no distance we would travel could make that happen. Instead, we settled for mid-western America. At Chicago's Field Museum we met our old friend Sue. And by old, I mean 65 million years. Sue is earth's largest, most complete Tyrannosaurus Rex discovered to date. Not to put our girl on blast, but in her heyday she weighed roughly 9 tons, much like the largest killer whale on record.
Watching the incredible documentary "Dinosaur 13" taught us so much about Sue. FBI raids, government seizures, a tumultuous court case and ultimately jail time served made Sue's life after death way more dramatic than any reality television show I've worked on. At the end of the film, my daughter cried tears of joy for her friend. I cried because moms cry when their little girls cry.
So what does my daughter's love of dinosaurs have to do with our eventual trip to SeaWorld? To you, one may have little to do with the other. For me, the correlation is everything. As parents we make each decision carefully and with intention- or at least we should. I don't strive to understand why other parents lead as they do, but rather to truly comprehend (and sometimes defend) the justification behind each decision my husband and I make together.
Coming on the heels of our bond with Sue in Chicago, there was something about SeaWorld's announcement they would no longer breed orca whales in captivity that made me panic. I hadn't been to the park since the release of "Blackfish" out of meek silent protest. But would the whales, destined to spend the rest of their lives in a SeaWorld pool whether we visited or not, be my daughter's only chance to experience a living creature of such magnitude? More importantly, what potential inspiration could be forever lost for my daughter by denying her the opportunity to see them based solely upon my political beliefs? At what age do I let her have her own adventures and develop her own principles from them?
Fast forward through the loaded questions, obvious hypocrisy, expected judgment and splash-zone seating, I don't regret our first family visit to SeaWorld one bit. It was in fact the dolphins, not the orcas, which brought my now nine year old the only pause she's had toward being a paleontologist since she was three. "Maybe I could study Marine Biology," she whispered to herself in that moment, but not once since. Just having challenged something so deep within her was worth whatever criticism I face that comes along with it.
The warning I gave my sister not to post photos on social media from her trip to SeaWorld I've heeded myself- until now. To be fearful to share memories of the trip with my family implies that I feel shame, fault or regret. But if I firmly believe in the decisions my husband and I make as parents, why should I ever feel ashamed of them?
I do, however, I swear that I will never, ever bring my children to the circus.