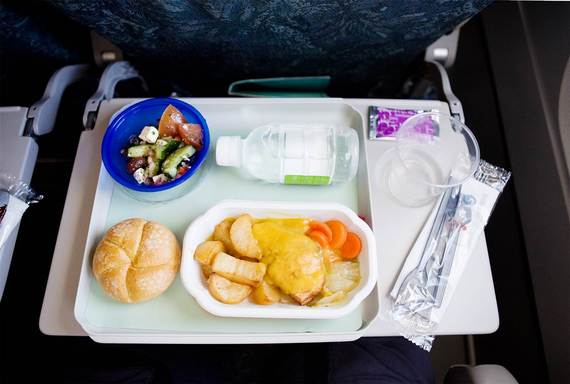 I have done more traveling in the last two weeks than at any other point in my career. New York to Rome to London to Rome to Milan to Madrid to London to New York and then New York to Mexico City to Sao Paolo to Los Angeles and back to New York.
Over 12 flights! Say what?!
On each and every flight, when the flights attendants rolled their carts down the aisle, no matter the airline, I thought of one particular friend of mine -- my friend who loves airline food.
I have to admit: I totally get it because I secretly love airline food too.
It's not the taste, and it's also not the plate presentation. If you've ever had a dinner in our house, then you'll discover real taste and amazing plate presentation (not that I can take any credit.)
To be honest, it's not the service either. Let's face it, with no offense to anyone, the service can be a bit of a crapshoot. Sorry.
No, none of those are reasons to love airline food.
For me it's the destination that makes me love airline food.
When I'm getting on a plane, I am going someplace. I'm going to work with colleagues, meet with clients or pitch exciting new business. Once in awhile I'm going on a vacation. And half of the time I'm coming home, in theory anyway.
So when that tray is put in front of me, no matter what state it's in or what state we are flying over, I think of where I'm going. And that's pretty exciting.
For my friend, this started young since he traveled with his family quite a bit from one cool destination to another. For that young boy, airline food meant he was going someplace fun.
For me, it started as an adult, but it's still the same emotion.
So the next time you start to grumble about how horrible the airplane food it, remember the point of your flight.
You are going someplace, so enjoy the ride. Tray, cart, and wrapped up utensils and all.
Popular in the Community