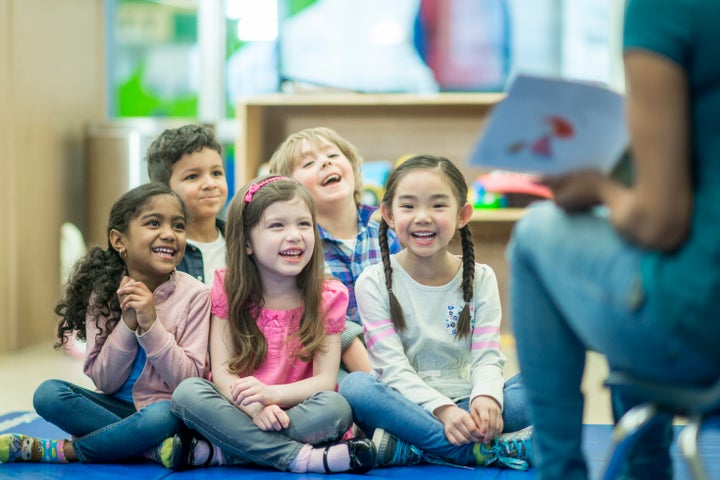 One of the most annoying aspects of the privatization movement is that they pretend to be progressives. They are not. They are reactionaries, and they have the history to prove it.
They stole the word "Reform," so they could pretend they wanted to make schools better instead of admitting that they want to replace public schools with religious schools, private schools, for-profit schools, online schools, anything but public schools. Hint: Destruction is not reform.
Take Jeanne Allen, the CEO of the misnamed Center for Education Reform. Jeanne worked for the far-right Heritage Foundation before she launched CER many years ago. She wants School Choice. She is indistinguishable from Betsy DeVos. She loves charter schools, vouchers, anything but public schools. She pretends that School Choice is a progressive cause. No, it is not.
She recently wrote an article criticizing some of us who support public schools (like nearly 90 percent of all families). She criticized the great Matt Damon, who narrated a new pro-public school film called "Backpack Full of Cash," because the film criticizes privatization. The film was made by professional filmmakers.
I urge everyone to arrange a screening in your community (public television showed a four-part series called "School" by the same team in 2000, but won't touch "Backpack" because it's too controversial).
Allen criticizes me too, because I flipped from being a supporter of charters to being an outspoken critic. She blames my conversion on my friendship with a union leader.
She had me stumped there.
Did she mean Al Shanker? He was president of the American Federation of Teachers when I first met him in 1974. He read my first book, a history of the New York City public schools, and he called out of the blue to say he loved it.
He wrote a weekly column in the New York Times, and he asked, "Do you want me to praise it or blast it?" We became good friends, had dinner, exchanged ideas. In the late 1980s, I visited newly freed Soviet satellite nations as part of an AFT group promoting democracy and civic education. Arch-conservative Checker Finn was part of the same group sponsored by the AFT. We visited Hungary, Czechoslovakia, Poland and Romania to talk to newly unionized teachers. Al Shanker was a great intellectual and one of my heroes. I was proud to call him my friend.
Did Allen mean Sandy Feldman? I knew her for many years too. I had many great dinners with her and her husband Arthur Barnes.
Maybe she meant Randi Weingarten? I have known Randi since 1998. I consider her a close friend, although I admit we sometimes have fights over issues. We differ over the Common Core; she likes it, I don't. We differ over charters. She likes some (the ones that join the union), I see them as the gateway to privatization. Despite our differences, we agree on the importance of public education, a strong teaching profession, well-funded schools, and the right of workers to join unions to bargain collectively.
I am also friendly with Lily Eskelsen Garcia, presidency of the NEA. we shared an evening of pizza and wine and laughs in my apartment not so long ago.
I have never belonged to a union, but I believe in them as democratic institutions. Jeanne Allen and her libertarian friends hate teachers' unions, and they think they can smear people by accusing them of being friends of unions. The reactionary right has done a good job of destroying unions, and they hurt our democracy by their anti-unionism.
Unions give working people a collective voice. A single worker has no voice. They can be fired arbitrarily. Unions protect a teacher's right to due process if their boss wants to fire them. They are entitled to a hearing and to know the charges against them. Unions fight to improve wages and working conditions. Unions protect public schools against budget cuts that harm education.
Above all, unions create a path into the middle class. As unions shrink, so does the middle class. As unions shrink, income inequality grows. Unions are especially important for people of color, who need a strong organization to fight for their job rights.
Jeanne Allen, Betsy DeVos, Donald Trump, the Koch brothers, and their billionaire buddies (some of whom are on the board of Allen's Center for Education Reform) would like to roll back the New Deal. Not I. I want us to have a vibrant society, strong unions, well-funded public schools, a respected teaching profession, and a genuine narrowing of the income inequality that blights our society.
We need to strengthen the New Deal, not get rid of it. Public schools are part of the promise of America. We cannot let libertarians destroy our public institutions by privatizing them. The good news is that the public supports public schools, not privatization. There have been 19 state referenda on vouchers, and vouchers lost overwhelmingly every time. Last fall, Massachusetts held a referendum on whether to expand the number of charters, and the proposal was voted down in almost every school district in the state (only the rich districts, which did not want charters for themselves, voted in favor).
I confess: I favor public schools. I oppose charters and vouchers. I support teachers unions. I am proud of my friendship with union leaders.


Popular in the Community