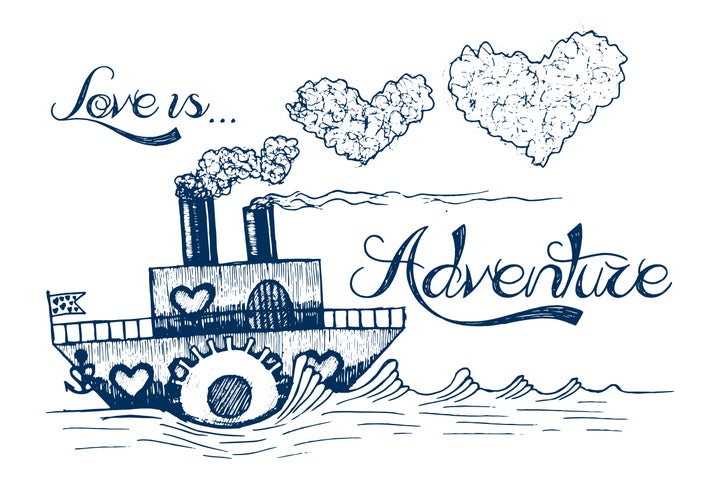 Ahoy Captain! Permission to come aboard? That was my very first line to the love of my life. I remember thinking, witty, flirty, but not too much. After all, she's a real life charter captain. As I waited anxiously for a response, "permission granted" came across the screen. It started a rapid pun filled rapport that has only gotten stronger!
Our first date was to see Seinfeld stand up, an awesome time all around. But how the hell do you follow that? He is a headliner! What was I thinking? No pressure for a second date. Maybe I could call Bono and his mates, see if they wouldn't mind playing a local acoustic gig for me.
Well as it turned out, I couldn't get through to U2, so I suggested we go to The Beach House, a local staple on Anna Maria Island. We, meaning me and my caregiver picked her up around 7:30 and made our way to the bar. It's a great view, literally right on the water. No Seinfeld, no problem. I had a sunset!
This is where things became atypical for a second date. Time to order drinks. I ordered my standard go-to, Miller Lite. She ordered Prosecco. Here's the point of the date when I have my caregiver unbutton the middle buttons on my shirt and poor an entire beer down my feeding tube. Totally normal second date stuff, right?
She could not have been more inquisitive and caring. I don't know how she did and now does everything with such ease. Feeling super comfortable and confident, I ordered a cocktail and ask if she wanted to try and give it to me. I'm still able to drink by mouth but it's not the easiest task for someone to do.
My drink arrived and she was ready but clearly anxious. I gave her a, "you got this!" She said she was nervous because of a previous bad experience in a similar situation. I was baffled, thinking this would all be uncharted waters.
She laughed and went on to explain that she was working as a waitress when a guest had a diabetic episode. She quickly poured a glass of orange juice and held it to the elderly gentleman's mouth. She saved the day but also chipped his tooth!
I reassured her I would be OK and I had dental insurance. And like a champion, she grabbed the glass and gave it a go! Success! We just kept drinking and talking until we noticed we were shutting down the place. However, you have to remember this Bradenton, not NYC, so it was probably only 10:00. We closed our tab and decided we'd go to another local spot for one more.
The rest of the night included a salty, smoke-filled bar, no cell service and the police! But you'll have to wait until next time for those details.