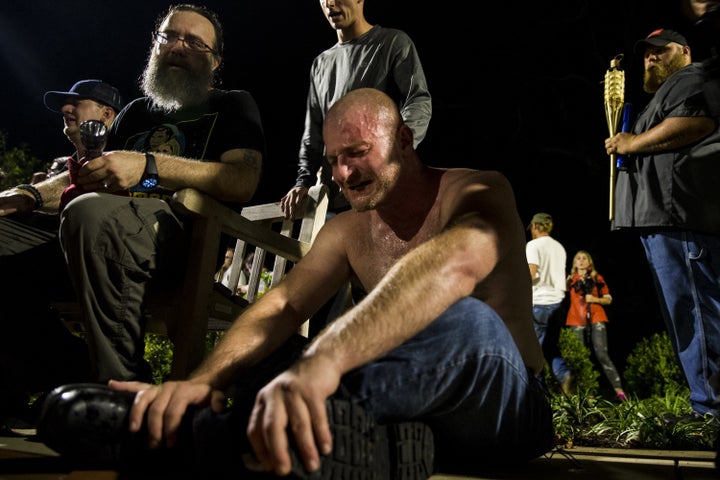 Jerrod Kuhn of Honeoye Falls, a small village south of Rochester, New York, told the Livingston County News: "I can't live in this community anymore. I'm in the process of figuring out what I'm going to do. I'm 21 years old and now my life is over in this area."
He'd just been outed as a Nazi. 
Specifically, Kuhn, who attended the white supremacist "Unite the Right" march last Friday and the rally the following day in Charlottesville, had been revealed all over town on fliers as a "leading figure with the Daily Stormer, an avowedly neo-Nazi website around which local groups have been organizing to promote anti-Semitism, white supremacy and violence against LGBTQ communities." The fliers included photographs of Kuhn holding a Tiki torch at the Friday night march and chanting angrily at the rally. The fliers were distributed by a group called Eastside Antifascists. 
Kuhn is one of several men who've been exposed in recent days online as white supremacists and neo-Nazis who participated in the Charlottesville events. A few of of them have been fired from their jobs. One man was publicly disowned by his family, while others, including college students, are facing backlash at their schools and in their communities. ( At least one man was wrongly identified by a Twitter sleuth, and later harassed; clearly, people should check their facts carefully before they reveal anyone.)
And in most of the media reports, the word "outing" is being used to describe what's happening. As someone who was at the forefront of the use of this term ― coined by Time magazine in 1990 to describe the reporting by some of us gay journalists who revealed the sexuality of closeted gay and hypocritical public figures ― I first felt mixed about the term "outing" being used now. I always hated the word because it's a violent-sounding active verb created by a now-deceased, then-celebrated Time writer, William Henry III, who I learned after his death (from his wife) was a closeted bisexual man, fearful of being exposed, and who coined and used the term to attack my work.
I was reporting relevant facts at the time about closeted public figures whose sexual orientation was important to the story in reporting on their anti-gay actions. I thought it should simply be called "reporting," as I've discussed in the past, because the word "outing" demonized those of us who were doing this work ― and we weren't revealing anything bad about people because we don't believe being queer is bad. 
But with regard to Nazis and white supremacists, I've decided I'm fine with the word ― and, absolutely, with the action. These people are in our communities, working against so many of us, promoting hate and violence, and here they went to a public gathering wearing no masks or hoods, brandishing flames, many armed with weapons, and chanting "Gas the kikes!" and "Fuck you faggots!," among many other horrible things.
The Honeoye Falls, New York, 21-year-old, Jerrod Kuhn, claimed he wasn't a Nazi, and had only gone to the event because he cared about "history" and the Robert E. Lee statue.
"I'm not a neo-Nazi. I don't belong to a German workers' party from 1933," he told the Livingston County News. "I'm a moderate Republican."
According to [volunteer Peter] Berkman, Eastside Antifascists came to the conclusion Kuhn was a neo-Nazi by tracking his online activity, especially on the Daily Stormer's website, over a period of time. Berkman also claimed that members of Eastside Antifascists followed and photographed Kuhn attending a meeting of Western New York fascists this past winter.
Berkman told the newspaper:  "[P]eople have a right to know if their neighbor is a violent neo-Nazi... I think it's important that people know the dangers the community faces and we think people having that information is important for them to protect themselves."
It's incredible that in 2017 we have to even think about outing Nazis. But Donald Trump has emboldened white supremacists, neo-Nazis and other haters, both in the past, during his campaign, and, even more, this week. If they're so proud of who they are, they should be public. And if not, the only right thing to do is to expose them. 
Calling all HuffPost superfans!
Sign up for membership to become a founding member and help shape HuffPost's next chapter
BEFORE YOU GO