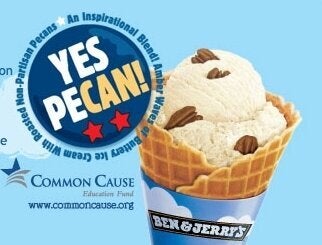 Ben and Jerry are it again: reintroducing classic flavors with clever new names. Now comes "Yes Pecan!" -- basically butter pecan -- as the unofficial Obama ice cream. Proceeds go to the Common Cause Education Fund.
"YES PECAN!" An Inspirational Blend! Amber Waves of Buttery Ice Cream With Roasted Non-Partisan Pecans.

If you decide to indulge in some "Yes Pecan" in Scoop Shops during the month of January, Ben & Jerry's is donating the proceeds to the Common Cause Education Fund.

Common Cause is a nonpartisan, nonprofit advocacy organization founded as a vehicle for citizens to make their voices heard in the political process. They are committed to honest, open and accountable government, as well as encouraging citizen participation in democracy. Their Education Fund conducts research, education, and outreach activities. Check out http://www.commoncause.org to take action.
Related